What Winnie Harlow Wears to Work
The supermodel shares her wardrobe staples and the inspo behind her 'Making the Cut' looks.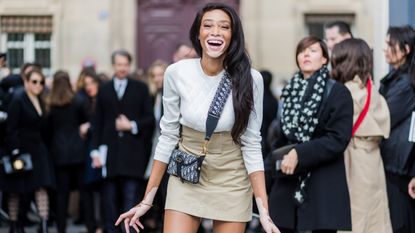 (Image credit: Christian Vierig)
Marie Claire Newsletter
Celebrity news, beauty, fashion advice, and fascinating features, delivered straight to your inbox!
Thank you for signing up to Marie Claire. You will receive a verification email shortly.
There was a problem. Please refresh the page and try again.
As a supermodel, dressing the part is in the job description—something Winnie Harlow not only knows well, but has perfected. Since breaking onto the fashion scene in 2014, the Canadian stunner has walked countless red carpets and posed for dozens of shoots in the most glamorous pieces (with a little help from stylist Jason Bolden). But off duty, the model prefers much more laid-back looks, from sweats to chic-but-comfortable pantsuits.
Now, as a judge on the second season of fashion design competition show Making the Cut (on Amazon Prime Video), Harlow is using her fashion expertise to mentor a crop of up-and-coming designers—but her experience as a judge has also been crucial to how she approaches dressing, she tells Marie Claire.
"I don't love fittings," she says. "I'm someone who hated going to Old Navy and trying on 50 pair of jeans with my mom for back to school. [When I first started modeling], I was like, Why am I trying on all these clothes? Just show me a picture [of everything] and I'll pick the best one. But it really matters how things fit, and even if I do love something, it may need to be tailored." From Jeremy Scott [designer and fellow judge on Making the Cut], she learned how a well-cut hemline or orderly stitch truly makes the difference for a perfect fit, and thus, the right look.
Ahead of the season two finale tomorrow, Harlow chats her closet staples, the important packing lesson Bella Hadid taught her, and how her style has evolved over the years.
Her Morning Routine:
The first thing I do when I wake up is pick up my phone. I get sucked into the whirlwind of being on my phone for at least an hour. And then I get up, take a shower, brush my teeth, all that good stuff. I go downstairs and see [my assistant] and she goes over what we have to do for the day. I stay in my pajamas until I absolutely have to change. A girlfriend of mine just created this pajama line called Sleepover; it is so soft and so comfortable. The material is just like sleeping naked, but not.
Her Getting Dressed Process:
The way I make an outfit is by choosing one piece that I really want to wear. It's so difficult when you walk into a closet full of clothes and you're just like, What do I do? Where do I start? So I always start with a statement accessory. Let's say it's a blue shoe: The outfit that's going to go with that [is a] blue outfit or a white one.
On Discovering Her Personal Style:
I definitely got inspiration from where I was raised and who I was raised by. My grandmother is a Caribbean woman who loves color and prints, so I definitely got my love for color from her. As I moved into the fashion industry, I learned more and experienced more; my style is just more refined now. Growing up, I wouldn't ever [imagine] I'd wear a pantsuit, but I love a good pantsuit now.
Her Model Uniform:
I dress very casually going to set. It's either sweats or biker shorts with a tee or a sweatshirt. The off-duty style I adore is Princess Diana's. It's goals. She always looked very chill but still put-together. Especially the sneakers with the long socks scrunched up [around the ankle]. I shop in my boyfriend's closet. That means a lot of Puma, who we're both signed to. Puma sends me things in my size, but I just really love wearing the extra large versions of stuff. If you see any pictures of me in sweats, it's usually [my boyfriend] Kyle's clothes.
On Choosing Her Making the Cut Outfits:
I basically told my stylist Jason that I wanted completely different looks every episode. I wanted different hair, makeup, and clothes than I typically wear because I wanted to give inspiration to the designers [who were competing in the show] by showcasing some of my faves, like Versace.
On Dressing for the Red Carpet:
I prefer to make an impact on the red carpet, so I do love wearing bright and vibrant colors. It's about having fun. I am fortunate to have some close friends in fashion so I always try and support them. Kim Jones at Dior and Fendi, Riccardi Tisci at Burberry, Laquan Smith, and, of course, Jeremy Scott are my go-to red carpet designers.
The Accessories She Can't Live Without:
I think jewelry is so important. I saw this meme that said, "Put hoops on anything and it makes the 'fit," which is so true. I just pop some hoops in, add a little gold necklace and I'm good to go. [Jewelry brand] Jenny Bird makes really gorgeous stuff.
Her Swimwear Staples:
When I first started traveling as a model, I wouldn't bring swimwear with me because I didn't think it was necessary, unless I knew I was going to Jamaica or [a beach]. I remember one year I went to Cannes Film Festival and Lewis Hamilton [the Formula 1 driver] invited a bunch of his friends to come stay with him on a huge boat. It was me, Bella Hadid, Barbara Palvin, and a bunch of his friends. It was such a last minute situation, and I was on this boat in the middle of the ocean with no swimwear. I learned from Bella Hadid to always pack swimwear. Every day she would give me a new bikini and just be like, "Girl, don't worry. Here you go." I was very grateful for that.
Someone who makes swimwear that I'm obsessed with is Melissa Simone. It just fits me in the right ways—the way she cuts the top is just perfect. There's not a lot of fabric that you're working with when it comes to a bikini, so making those small changes in the way that it fits is super necessary.
Go-To Travel 'Fit:
Travel fit for me is literally always sweats. I love when a brand comes out with really cool sweats, like Jerry Lorenzo does for Fear of God. I can still be stylish but comfortable because being comfortable on a plane for me is so important. I'm on planes so often [for work] and that's usually where I get, not very good rest, but some rest nonetheless. As for carry-on musts, I like to have my main makeup products—concealer, mascara, brow products, and a lip. Just the quick things so I can still freshen up even though I haven't slept for a day. I also always love to have a portable makeup mirror with a light. It works wonders for those times when you're stuck in a hotel room with horrible lighting.
Three Words That Describe Her Style:
Adventurous, true-to-self, and colorful.
Piece of Clothing That Makes Her Feel Powerful:
I don't think it's a specific piece. It could be a dress, it could be pants, it could be a skirt, but if it makes me feel good and look good, I feel powerful.
Something She Wears Every Day:
A wig. (Laughs)
RELATED STORIES
Celebrity news, beauty, fashion advice, and fascinating features, delivered straight to your inbox!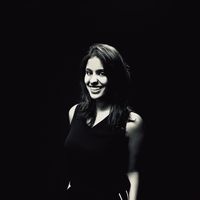 As Marie Claire's Entertainment Director, Neha oversees and executes strategy for all editorial talent bookings and culture coverage across the brand's print and digital entities, including covers, celebrity profiles and features, social takeovers, and video franchises as well as handles talent relations for MC's flagship summit, Power Trip. She's passionate about elevating diverse voices and stories, loves a hot-take, and generally hates reboots. She's worked in media for more than 10 years and her bylines about pop culture, film & tv, and fashion have appeared on Glamour, Vanity Fair, GQ, Allure, Teen Vogue, Brides, and Architectural Digest. She is a graduate of the Columbia School of Journalism.