Designing Women
It's the year of the woman: The world's most powerful women are turning to fashion's new establishment, female designers, to dress them for their biggest moments.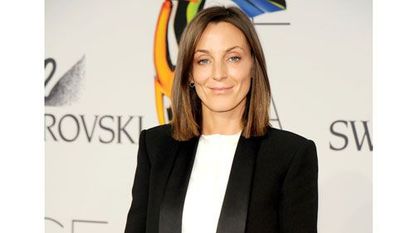 (Image credit: Getty Images)
Marie Claire Newsletter
Celebrity news, beauty, fashion advice, and fascinating features, delivered straight to your inbox!
Thank you for signing up to Marie Claire. You will receive a verification email shortly.
There was a problem. Please refresh the page and try again.
So synonymous was Coco Chanel's Little Black Dress with a modern woman's mobility that when it debuted in 1926, an American editor dubbed it The Ford — even though 99 percent of women weren't even driving in those days. Fueled by the same zeal shown by that first generation of fashion rebelles who, following Coco, doffed their corsets, swapped stiff brocades for boyish jersey, and bobbed their hair, today's alpha females are choosing women designers to dress them. So many major style moments of late reveal women designers in the driver's seat: Kate Middleton gets hitched to the future king of England in a flawlessly fitting Sarah Burton for Alexander McQueen gown; Modern Family's Sofia Vergara, siren du jour, glides into the Golden Globes in a mermaid-cut Vera Wang to collect her show's Best Comedy Award; Angelina Jolie kick-starts the press tour for her directorial debut in a sleek white Stella McCartney pantsuit; and Céline's infallible Phoebe Philo cops the coveted Council of Fashion Designers of America Award. (More? Just getting started here ...) The first lady hosts a state dinner for China's president, Hu Jintao, in a diplomatically Chinese red silk McQueen; McCartney is commissioned to design the uniforms of the London host team for this summer's Olympics; and next month's much-buzzed-about show at the Metropolitan Museum fetes two of fashion's greatest visionaries, Elsa Schiaparelli and Miuccia Prada. And though International Monetary Fund head Christine Lagarde selected a Karl Lagerfeld — era Chanel for a recent G20 World Economic Summit, it was undeniably inspired by the very "uniform" Coco had designed for herself: schoolboy tie, boxy blazer, white blouse, slim skirt. Its simple chic was as on-the-money as it had been almost 100 years ago.
"It-ness" is fickle and some megastars of today will burn out mañana, but women will never recede into the fashion wings ever again. The bigger the jobs women in society do and the more invested in their status they get, the more they're entrusting their images to fellow travelers and trusted sisters who've walked in their shoes, felt the same fabrics, and accommodated the same curves.
Rarely is the F word used in fashion, but there's a feminist cut to both Céline's tailored sleeveless tops and knee-length, knife-pleated skirts for spring — "I really do want to give women this sense of freedom," Philo once said. And there's a female friendliness to McCartney's subtly seductive lace minidresses, long-sleeved but slit to reveal just enough thigh. When asked if working in fashion had made her neurotic about her looks, McCartney conceded: "Only about my weight. And I hope my clothes reflect that. They're meant to make you feel good." Sexy but on a woman's terms also sums up McQueen's metallic tea-length skirts and clean-lined, pearl-embroidered tuxedo. Seems it takes a tough woman to make tender menswear.
For the leading ladies of luxe, the cause isn't sexual politics but entrepreneurship. Women designers seem too busy making wearable clothes to play the diva — this they leave to John Galliano, Christian Siriano, and Kanye West. Coco famously said she didn't make clothes "to have fun ... but to make a fortune." Georgina Chapman and Keren Craig of Marchesa have turned their fledgling brand into a red-carpet rival to giants like Christian Dior. One of Forbes' Most Powerful Women in the World in 2010, Tory Burch opened 32 new stores in Asia and Europe and an 8,000-square-foot flagship on Manhattan's Upper East Side — in a recession, no less. Rather than throw lavish, paparazzi-baiting parties on ostentatious yachts and splash their faces in magazine ads, Philo, Prada, and McCartney take notoriously modest nanosecond bows at the end of every runway show. Burton was so discreet about designing Kate Middleton's dress, it was said several of her own staff were kept in the dark. She confided to a London newspaper that her only thought while witnessing her fairy-tale designer moment unfold at Westminster Cathedral was: "I just hope I don't trip over" — Britishspeak for mess up.
Certainly there's an advantage to the artist and muse being one: Women designers don't need to research what their clients might want to wear; they simply ask, "What would I want to wear?" But today's most groundbreaking artist-muse relationships are true creative collaborations: Nicki Minaj and Betsey Johnson, Lady Gaga and Donatella Versace, Patti Smith and Ann Demeulemeester. And who but Donna Karan could Barbra Streisand have worn for her multiple farewell tours? When it comes to fashion statements, these women finish each other's sentences.
Of course, wondering What would my sister or daughter want to wear? also works. It's no accident that there are so many dynamic design dynasties. Between the female-dominated Fendi and Missoni families and newer creative clans like The Row's Ashley and Mary-Kate Olsen and Rodarte's Mulleavy sisters, male designers must envy their female competitors being able to swap clothes and ideas with each other — like, "Can you actually sit down in that skirt?" — all before breakfast. Carolina Herrera, Karan, and Versace have each designed collections with their daughters in mind. Sonia Rykiel actually started her knitwear empire because she couldn't find a thing to wear in all of Paris (really, Sonia?) when pregnant with her daughter, Nathalie — the very same daughter who now oversees the line and its major relaunch in America.
From the runway to the highest rungs of business, politics, and beyond, alphas abound. There are currently 19 female prime ministers and a record 18 female CEOs at Fortune 500 companies. Can fashion save the world? Perhaps not. But women just might, and we know who's sharpening their scissors, ready to dress them.
Celebrity news, beauty, fashion advice, and fascinating features, delivered straight to your inbox!