TOMS "One Day Without Shoes" in New York's Tompkins Square Park
This week, Amanda Hearst joined TOMS "One Day Without Shoes" Walk, and marched away with a better understanding of the campaign.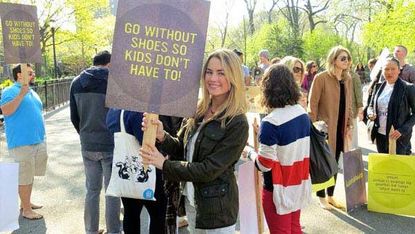 (Image credit: Archives)
April 10th was a big day for TOMS as people around the world participated in the brand's "One Day Without Shoes" campaign. Amsterdam, London, and Seoul were just a few of the cities that showed their support, and of course, New York came out in full force! We all woke up bright and early to take part in a march around Tompkins Square Park in order to help spread the word about how a single pair of shoes can change a child's life.
We took off our shoes and walked for about thirty minutes in and around the park.
I have to admit, my feet killed by the end of the walk. I can't imagine what it's like to go through life without shoes to protect your feet, and yet millions of kids do it. That's why TOMS is such an incredible company — it gives shoes to children who need them!
If you want to learn more about TOMS' message, click here (opens in new tab). The march was a truly eye-opening experience, and I'm definitely going to participate again next year!