Must-Attend Event: The Indagare Souk Spring Edition!
Amanda Hearst suggests you attend the Indagare Souk Spring Edition, a shopping event featuring international, locally-made items.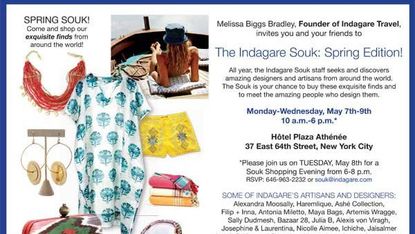 (Image credit: Archives)
One of my favorite luxuries in life is travel. Jet lag and lost baggage aside, it's an incredible way to learn about other cultures, meet new people, broaden your horizons....and do some amazing shopping! For those who aren't able to pop over to Cambodia, Colombia, Argentina, or India anytime soon, head to the Indagare Souk event, where one-of-a-kind items from these countries and many others will be available for purchase.
Melissa Biggs Bradley spent a decade as Travel Editor of Town & Country, and later served as the founding editor of Town & Country Travel. She then launched Indagare Souk, an online marketplace of global treasures. Through their travels, Melissa and her team have discovered designers and artisans who create beautiful and unique pieces that support local communities. The Indagare Souk event will be a great opportunity to reap the benefits of the Indagare curators' travels (think cute clutches, cozy kaftans) and meet the designers in person. It's a must-attend affair, and in case you don't believe me, below are a few cool pieces you should expect to see!
Celebrity news, beauty, fashion advice, and fascinating features, delivered straight to your inbox!