NYFW Fall 2014: Alice + Olivia's Well-Dressed Fairytale
It's always a party with Alice + Olivia.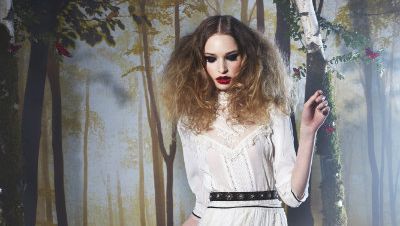 (Image credit: courtesy of Alice and Olivia)
The poppy exclamation point of the fashion industry, Alice + Olivia transported its showgoers to a fantastical universe of teased hair, Snow White, and Saturday Night Fever for its 2014 Fall presentation. Set in a mystical forest wonderland, there were deep v-neck dresses and disco suits reminiscent of Studio 54, juxtaposed with Victorian-inspired lace dresses and colorful stoles.
Inspiration for the scenic fairy tale was inspired by children's French pop-up book author and illustrator Benjamin Lancombe. "He creates these creepy fairy tale illustrations and I was obsessed with the book and wanted to do a whole story based around this — the first picture in this book are these butterfly wings so I wanted to do a butterfly print and create this whole fantasy world," said Alice + Olivia designer, Stacey Bendet, "It's supposed to be a modern Victorian feel so the dresses all have Victorian elements."
Decadent details like high lace collars and high sheen fabrics were evocative of royal tapestries, crafted into floor length dresses and pantsuits — the perfect party attire for any era.
No matter what decade you are dazzling in, Alice + Olivia knows how to throw one hell of a party — and dress the part.
Related Stories:

New York Fashion Week: Day 1 (opens in new tab)


New York Fashion Week: Day 2 (opens in new tab)


New York Fashion Week: Day 3
(opens in new tab)

New York Fashion Weel: Day 4 (opens in new tab)