Fur Lovers Who Don't Want to Buy New, Rejoice!
Want to stay warm? We have the details on buying vintage fur.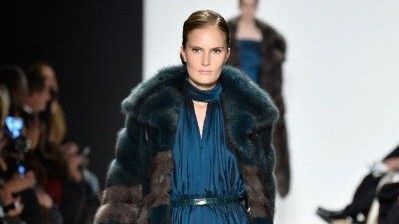 (Image credit: Courtesy of Getty)
Marie Claire Newsletter
Celebrity news, beauty, fashion advice, and fascinating features, delivered straight to your inbox!
Thank you for signing up to Marie Claire. You will receive a verification email shortly.
There was a problem. Please refresh the page and try again.
Fur has been the recent street style theme-de-jour, including fur stoles, trimmings, hats, and coats. And during the New York Fashion Week fall 2014 collections that just wrapped, runways showcased lots of fur between classic fur collars at Dennis Basso and brightly dyed fur at BCBGMAXAZRIA. I even woke up this morning, looked out the window, and saw that my neighbor was stunting a floor-length fur coat. Fur. Is. Everywhere. Hell, we've been living in the a polar vortex for weeks now and after living in Eastern Europe for an ample amount of time, I look at fur like a normal occurrence and a necessity. Facing a bitter Russian winter? Wearing that jacket that could once withstand a New York one will get you a ticket to the hospital with a bout of walking pneumonia (true story). With this crazy cold weather, which reminds me of those horrible Russian winters, I'd rather not take my chances.
So does the emergence of this haute fur trend mean that wearing fur is becoming less taboo? There is a divide—retailers like H&M and Topshop are pulling out of angora production due to disturbing images and video hitting the web on the heinous treatment towards fluffy angora bunnies and how they are stripped of their coats. Yet, the fashion set is still strutting in fur, show-to-show and party-to-party. And they look pretty warm.
But what about vintage fur? I wear a vintage fur jacket because it is the warmest thing I have. In fact, it was originally purchased used at a yard sale, worn by my mom and then handed down to me. Nonetheless, someone put a sticker that read "I'm an A**hole, I Wear Fur" on my jacket on the subway a couple weeks ago. Am I an a**hole for wearing vintage fur? No. Vintage fur is a compromise if you are caught in a hairy ethics dilemma—it is a great way to have an investment piece and something warm sans the guilt. And a lot less expensive.
It's not difficult to buy—vintage fur is everywhere, and it can be inexpensive depending where you buy it from. Yet, there is a question of quality—no one wants to buy a fur jacket with patches of hair missing. Or something that smells like it has been dead, literally, for 50 years. We chatted with Landon Miller of What Goes Around Comes Around, a leading consignment shop in NYC, on what to look out for when buying vintage fur:
Marie Claire: What should a person look for when they are buying fur (damage, wear, scent)?
Landon Miller: They should take a once over of the entire piece to see if there are any areas that are losing fur or thinning. I would also recommend check the seams on the pelt (skin that the fur is attached to), as over time, tears in the original seaming of the pelts can create holes and splits in the fur. Also, different furs age differently, so you need to make sure you like the texture before you leave the store, it won't change over time if stored properly, but prior damage is not reversible for the most part. (Although, you can always get an inside lining repaired).
MC: Are there certain types of furs that are better in investing in than others?
LM: The revered, yet common, mink is a key type of fur to invest in. Since you are buying vintage, there are some incredible furs that are no longer available that make great investment pieces, such as an ocelot coat. In addition, fox fur as well as rabbit are nice furs are great, too.
MC: What fur should someone absolutely not buy?
LM: You would not buy fur from that of an endangered species.
MC: Any trends you are seeing with vintage fur? What are your most popular styles?
LM: Vintage furs are timeless and can literally pass from generation to generation. This year, people seem to be gravitating towards white and colored furs! The puffier, the better! And obviously the fur collar trend is huge right now—from runways to the streets of Soho, on both men and women.
MC: How do you preserve it once it is bought?
LM: Furs need to be stored in a cold, dry place that has air circulation. Fur needs to breathe to sustain it's amazing quality aspects, so ventilation is key. Also, any dampness in the air could mold your fur, so you will want to make sure it is dry at all times. If it does come into contact with dampness, let it dry out before putting it back in a cool, dry area. You should avoid storing in direct sunlight too.
Landon's 5 Fur Must-Knows:
Mink: The fur tends to be shorter and is more coarse and insulating (dense undercoat). You'll find that the coat is also much shinier on minks and can come in a variety of colors and dyes.
Rabbit: Rabbit fur is the fine haired and silky. Rabbit is often dyed in a plethora of colors. Since the pelt of a rabbit is small comparatively, rabbits are often made into stoles and muffs as opposed to coats. They are generally more affordable, too.
Fox: Fox is notoriously full-furred with long, plush fur filling out a coat. The fur is always super soft. Usually coming in a cognac or grey/white hair mix.
Raccoon: Raccoon is very similar to fox but rarely comes in any other colors besides that of a typical raccoon which is naturally ombré.
Chinchilla: The softest fur available, chinchilla is very rare and very expensive as it has the highest density of hairs of any animal. They range in color form silvery grey to slate blues.
Celebrity news, beauty, fashion advice, and fascinating features, delivered straight to your inbox!