Behind The Face: Supermodel Lydia Hearst Talks Life on the Reality Show Catwalk
So. Much. Drama.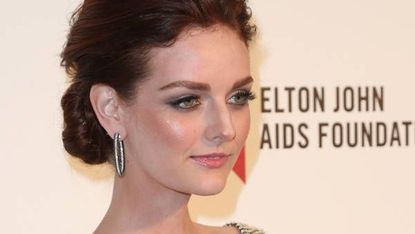 (Image credit: Getty)
Marie Claire Newsletter
Celebrity news, beauty, fashion advice, and fascinating features, delivered straight to your inbox!
Thank you for signing up to Marie Claire. You will receive a verification email shortly.
There was a problem. Please refresh the page and try again.
A lingerie runway show in Bryant Park, nude photo shoots, personalized Frédéric Fekkai makeovers, and modeling evening gowns on top of dinner tables—these are just a few of the hoops the "modeltestants" of season 2 of The Face have been asked to jump through so far. This season witnesses the return of executive producer Naomi Campbell as mentor along with newcomers and fellow supermodels Anne V and Lydia Hearst, who round out the coaching triumvirate as they shepherd their team of girls through the competition to become the next face of Frédéric Fekkai. Marie Claire caught up with Lydia Hearst to get the inside scoop on what went down on set.
Marie Claire: What an intense season so far! We're only three episodes in and we've seen more fights among the judges than the modeltestants.
Lydia Hearst: [laughing] Yes, there were definitely many intense moments. Because the real competition isn't necessarily between the modeltestants but between myself, Naomi, and Anne. But all of us are actually friends and we get along and love and respect each other.
MC: Had you met Anne and Naomi before the show?
LH: I've known both Anne and Naomi for years. Naomi was the reason that I came on board to do the show. So we have a lot of fun and when we do fight it's not like we're fighting for the sake of fighting, we're actually fighting for our girls.
MC: What was the most surprising thing about the season that you weren't expecting?
LH: Just how much work really goes into…everything. I always knew that a lot went into every individual editorial shoot, project and campaign but to be on the other side and have to make those decisions. Even the photo editing, if you choose unwisely you could potentially lose one of your girls.
MC: I love how you call them "your girls." And each of the mentors seems to be super close with their girls this season but with totally different mentoring styles. What would you say yours is?
LH: For my mentorship, I'm very much an open book. And I do have a big heart. So when I'm mentoring these girls I am more loving and nurturing. But at the same time as this competition goes on I realize that trying to build up self-esteem and get the girls to breakout of their shell and be nice about it really isn't enough. Sometimes you really have to come down on the girls and be tough. As I've said before, 'Life isn't fair and neither is fashion.'
MC: What's the best piece of advice you ever received in your career?
LH: It's such a fast-paced industry and it's so easy to get caught up in the next opportunity, the next job that when I was about 19 years old, Carol Alt, she sat me down and made me realize that if you keep focusing on the next project, the next opportunity, you're going to miss out on everything you're doing right then and now. And with fashion it's something you do because you love it and you have fun.
MC: Absolutely.
LH: You can't control anything that's going to happen and you can only control some of what's happening right now so you really need to just stop, take a moment, and appreciate everything that's happening around you right then and there.
MC: And what piece of advice can you impart on aspiring models today?
LH: Whether you're walking the catwalk or whether you're in front of the camera, there's no such thing as a signature pose or signature look or even a signature walk. You have to keep in mind that fashion is constantly changing and every runway show, every designer and every photographer—they are going to have a different vision in mind. You're there to become the personification of what it is that they're imagining. And if you're unable to do that, well, then they're going to find somebody else who is.
Watch the drama unfold on tonight's episode of The Face at 10pm PT/ET on Oxygen.
Celebrity news, beauty, fashion advice, and fascinating features, delivered straight to your inbox!