Cedella Marley is Paying Tribute to Her Legendary Father With Fashion
The eldest Marley daughter gets candid about style, family, and football.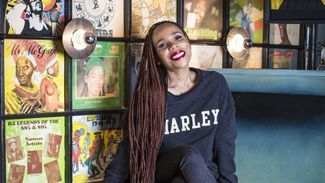 (Image credit: Archives)
It's been over 30 years since Bob Marley was taken from us, but there's no denying his spirit lives on through his music, ethos, and family. His eldest daughter, Cedella Marley, a singer, dancer, and designer is proof of just that. She has not only inherited his musical talent, but his charisma and distinct personal style.
As an ode to her father and his iconic '60s and '70s style, Cedella has launched a men's clothing line with a fitting moniker, Marley Apparel. The collection is a modern take on iconic pieces he wore including vintage-inspired T-shirts, varsity sweaters, board shorts, and jackets. The tribute pieces not only boast the singer's signature Rastafarian style, but are ethically made.
Proving that the Marleys are ever the soccer family — Bob Marley was a professional level soccer player — Cedella is also releasing a soccer-inspired capsule collection to coincide with the kick off of the World Cup. What's more is that she recently become an ambassador to Jamaica's national women's team, The Reggae Girlz.
We met up with Cedella at Miss Lily's, New York City's favorite Jamaican-style diner, and spoke with the reggae goddes about the three F's: family, fashion, and football.
Marie Claire: Your collection was inspired by your dad. What makes him so stylish and how do you incorporate that into the designs?

Cedella Marley: He put together looks so well with ease — it's just so effortless. How many people can naturally do that? Not many. If you go through the archives, you can find photos of dad rocking those same designs. All we had to do was tweak some things here and there — just to make it our own.
MC: What were some of his signatures?

CM: Denim on denim! He was fearless in his styling. He'd throw on a jacket, track suit pants, a graphic T-shirt, and wing-tipped shoes. He'd walk out and you'd think, "S**t, I want to get that look."
MC: From a women's perspective, what's it like designer menswear?

CM: It's been fairly easy, I like to stick to the Marley fit, which is a little slimmer on the body. I have seven brothers, so I've dressed each of them.
MC: How do your brothers' styles differ?

CM: Damian is more of a laid-back T-shirt and jeans guy, but when he hits the stage he'll do denim on denim like dad. Ziggy likes to embrace different looks. He's trying to dress more modern with tailored, leather looks. Rohan is a character — he loves his brands. Then there are my brothers who are strictly into the militant style, like bush jackets and camp pants. Their styles are similar, but unique at the same time.
MC: Music is obviously a huge part of your life — how do you think it plays into fashion and vice versa?

CM: Music can make you feel a certain way, just like dress. So when those two things come together, it's beautiful.
MC: Your passion for soccer has had a big influence on the collection — how has soccer shaped your upbringing?

CM: Football is something that we grew up around and have always loved. It was my dad's thing — that was his getaway. He took his game seriously. It was something that made him feel free. He used to say, "Football is freedom," and I think it helped him feel like he could conquer the world. Dad was only 5' 6" or 5' 7" but he was a powerhouse. I think he'd be proud that football is becoming an even bigger part of our lives. It's not just recreational. We can help bring change to Jamaica.
MC: You recently became an ambassador to the Jamaica girls soccer team, The Reggae Girlz. What compelled you to get involved?

CM: In Jamaica, there is no support right now for women's soccer from sponsors. They believe women should not be playing football because it's a "masculine" thing. There is this inequality and struggle to get the proper resources.They're not even being given the proper nutrition as an athlete. You can't come off the field dehydrated and be given coconut water. Mind you, the Jamaican reggae boys are funded up-to-here. They're playing all over the world right now and our girls weren't given a dime to travel. So, the family jumped on board. These are girls who have given up everything and are trying to represent their country. Now, the Marleys are stepping up to the plate. We truly believe in what we speak and talk about. We believe in one love. We believe every man has the right to their own destiny.
You can donate to The Reggae Girlz fund for training and travel costs here.
Cedella's son models one of her designs.
Celebrity news, beauty, fashion advice, and fascinating features, delivered straight to your inbox!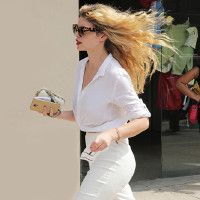 Lauren is the former beauty editor at Marie Claire. She love to while away the hours at coffee shops, hunt for vintage clothes, and bask in the rough-and-tumble beauty of NYC. She firmly believes that solitude can be a luxury if you've got the right soundtrack—that being the Rolling Stones, of course.