Cool Guys Talk Fashion
Mostly we dress to please ourselves and impress our GFs, but here we let the guys weigh in!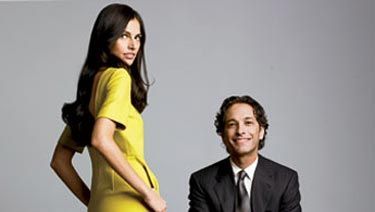 (Image credit: Taghi Naderzad)
The man: Elia Zois, film director
The woman: Mariana Zois, art student (and Elia's wife)
Trend tested: The neon mini, la 3.1 Phillip Lim
ON THE TREND:

"Mariana looks amazing in this. I'd generally choose subdued colors, but neon...well, it would make it easier to see her at night. And I definitely like the mini trend."
ON SPENDING:

"I find it a little disturbing that women feel they have to spend a ton to keep up with trends. Personally, I wouldn't know the difference if a dress was this season or last — nor would I care."
DREAM WARDROBE:

"A girl can't go wrong in the black strapless gown Anita Ekberg wore in the fountain scene in Fellini's La Dolce Vita. If I had to choose one outfit for Mariana to wear forever, it would be a black cocktail dress that doubles as a negligee. And heels at all times. Little joke. As for designers, Prada always looks nice."
NIGHTMARE WARDROBE:

"Most floral prints make women look like a shower curtain. In winter, I hate real fur jackets. It stems from seeing my grandma in one and thinking if it were hunting season, she could get shot! Apart from the fact that wearing innocent animals for adornment isn't cool, you look ridiculous."
HIS STYLE TIPS:
The man: Sean Avery, left wing for the New York Rangers
The woman: Lauryn Flynn, director of celebrity services at Calvin Klein (and Sean's best friend)
Trend tested: The sack dress, la Calvin Klein
ON THE TREND:

"This dress looks comfy, and if I were a woman, I'd probably wear it. It's not traditionally sexy since it doesn't show curves, but it does leave something to the imagination. It's also not Lauryn's style — which is early-'90s Seattle grunge — but it totally works with her signature battered biker boots. They always bring her into her expensive-tomboy comfort zone. I think shoes make an outfit."
ON SPENDING:

"Blow it on a smart jacket. And accessories can always make an average — or even a very cheap — outfit look striking. I'm strangely fascinated with women who wear top-to-toe labels. So few can do it tastefully. Of course, some say I'm not in touch with reality: I sleep in Tom Ford pajamas!"
DREAM WARDROBE:

"Alexander McQueen jeans — skinny ones are always hot — a Rick Owens leather jacket, a white T-shirt, Calvin Klein underwear, Chanel flats, and an oversize Gucci bag. Go crazy when it comes to the bag! I'm not a label whore, but I love seeing people looking good."
NIGHTMARE WARDROBE:
"I despise wedges! No matter how gorgeous a woman is or what else she's wearing, if she adds wedges, it ruins her whole look. Why would you want to make your feet look blocky? Very unattractive. What makes this worse: high-waist jeans. Never, please."
HIS STYLE TIPS:
The man:


Pete Bici, NYC firefighter
The woman:

Bridget Hall, model (and Pete's GF of two years)
Trend tested:

'50s retro chic, la Gucci
ON THE TREND:

"If I were meeting Bridget for the first time, I'd think she was a brave girl who has fun dressing. This has a great '50s

Grease

feel but is probably too costumey for most men. Bridget's a natural girl who hangs out in jeans. She'll get dressed up for a night out, but she downplays her beauty."
ON SPENDING:

"Why spend big to look good? Sex appeal depends on your attitude."
DREAM WARDROBE:

"Like most men, I'd say stiletto heels and lingerie — for wearing around the house, that is. Big hoop earrings are sexy, too. But it's great when women dress outside the box, in something that sparks our interest."
NIGHTMARE WARDROBE:

"Anything Britney Spears would wear. Boho tank dresses are only sexy if they're long — midcalf looks terrible. And what's with the furry high boots — even in spring?!"
HIS STYLE TIPS:
Celebrity news, beauty, fashion advice, and fascinating features, delivered straight to your inbox!