Meet Pursuit of Shoes Blogger Ashley Torres, Who's Basically Living Your Dream Life
The accountant-turned-style-guru gives you all her best tips.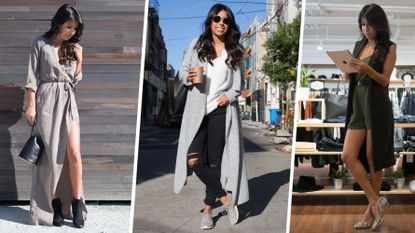 (Image credit: Gordon Huang)
Ashley Torres is living the dream—after deciding that her accounting career wasn't cutting it in the My Life Is Fun department, she took a leap and launched personal style blog The Pursuit of Shoes (opens in new tab). Now crushing it in the digital fashion sphere, she shares killer career and fashion advice—plus, the must-have shoes everyone should own.
I studied business and accounting at University of Southern California; I was an auditor at Deloitte & Touche straight out of college. It was the perfect choice for me at the time; the accounting industry felt safe.
Toward the end of my tenure, I felt a serious creative void, which led me to start my personal style blog: Pursuit of Shoes (opens in new tab). Blogging helped land me my next job at HauteLook (opens in new tab), where I was able to combine my analytical skills with my passion for fashion.
Five years ago, I never could have predicted my current career —after stints in production and social media, now I'm a freelance digital marketing consultant for Azalea (opens in new tab), an independent fashion boutique in San Francisco. (Luckily, as long as I have a laptop and internet connection, I can work from anywhere!)
It's not nearly as glamorous as it seems on Instagram! I work from home, so I'm in front of my computer from 8AM - 9PM every day. My responsibilities center around analytics; mostly a mix of creating spreadsheets, SEO and SEM calls, budget forecasting, conference calls, in addition to tapping into my creative side to assist with photo shoots, editorial planning and networking events. I love working with numbers just as much as I love style, so I've found that fashion marketing is my professional sweet spot.
1) Be nice to everyone, and approach everything with a positive attitude. 2) Network, then follow-up, and always say thank you. 3) Never stop learning and asking questions!
Attainable and not too fussy.
I wore a uniform throughout high school; that played a big part in my sudden obsession with fashion once I started studying at USC. Though these days, I tend to stick to a style formula. For a meeting, I'll wear skinny denim + a button-down blouse + flats. For date night, it's a sexy LBD and lace-up heels. When I'm lounging at home, I'm more than likely wearing cut-off jean shorts and a slouchy tee. And when I'm posting on Instagram, it's of course all about the shoes.
I have so many. My surroundings—I think the fashion in L.A. is the best in the states. There's a lot of individuality. I'm always inspired by images on Pinterest and Instagram. And sometimes I think my style influence comes from my own experience. I'm almost 30, and I've gone through so many rounds of trial and error to figure out what works for me. That'll continue to evolve as I do...
If the shoe fits, buy it in every color. (My shoe closet can vouch for this!)
New York and Las Vegas! That's when I just go crazy and all common sense goes out the window—almost my entire designer shoe collection was purchased in one of these two cities. That, and online, of course.
You have to know how each brand fits your foot—sizing is not consistent. That's why I love shopping on the Nordstroms of the world; you have an incredible selection of styles right at your fingertips, along with great customer service—and amazing return policies in the event that something doesn't fit.
22, after I passed the CPA exam. Originally $600, they were my present to myself, even though I caught them on sale. I still have them and wear them every so often.
Not always! Typically with a shoe over $300+, you're likely paying for the designer name; not necessarily exponentially better quality. Amazing quality can be found in the $150 - $300 range!
Clockwise from top left: Cole Haan ZerøGrand Perforated Oxford, $198, nordstrom.com (opens in new tab); Cole Haan Bethany Pump, $199, shop.nordstrom.com (opens in new tab); Cole Haan Tali Bow Ballet Flat, $168, shop.nordstrom.com (opens in new tab); Cole Haan Hayes Bootie, $278, shop.nordstrom.com (opens in new tab).
These four pairs are my favorites this fall! Together, they're essentially a complete fall shoe wardrobe. I love that they're all comfortable and neutral, so pair well with almost anything in my closet.
Booties have become the new flats; they're basically in my shoe rotation all year long. A great block-heel is comfortable and stylish, like the 'Hayes' Bootie. I like to opt for neutral colors like brown, black, and grey to give endless shoe pairing options! This season I'm wearing them with long silk maxis and girier pieces to give that feminine vs. masculine juxtaposition.
A classic pump is seasonless, but for me it comes down to the toe-cleavage. A great contemporary pump shows just a peek of toes a la the 'Bethany' style from Cole Haan. For fall I like to show-off that post summer tan with a leggy romper look and long vest–it gives a little movement when strutting down the street in my pumps.
The ultimate shoe silhouette is ballet slipper. There's nothing that says classy, casual, fall ensemble like ballet slippers paired with ankle–length denim and an oversized sweater. Just talking about it makes me want to snuggle up with hot cocoa and Netflix!
Last but not least, I love 'fancy' tennis shoes like the Zerogrand. Lately I've been wearing the Zerogrand with denim cut-offs, an IRO cotton tee, and a long olive-duster for busy days out and about. When the temps cool down, I'll be wearing these with my J-brand denim and cashmere sweaters.
The perforated details on the Zerogrand make them a shoe-in (pun intended!) for work. For a corporate office they could easily be paired with trousers or slacks, or even culottes if the office is more contemporary; I think of the Zerogrand as a sporty oxford. If the office is more creative with a casual dress code, I love them paired with a skater skirt and blazer in the warmer months or distressed denim and a long jacket in cooler weather.
After the CPA story, it would probably buying my first pair of Gianvitto Rossi heels. I was going to an intimate dinner with Gianvitto himself and wanted to make sure I was representing! The plexy suede pumps did not dissappoint.
Sneakers seem like the smartest choice! Those toe shoe things–although they're not cute, they appear to be extremely functional. And, finally, a pair of red heels–I probably wouldn't be able to wear them but they'll put a smile on my face and give me hope for getting rescued!
Ahh... this is music to my ears! 90% of the time my outfit is determined by the shoes. I truly feel that shoes can determine your outlook and overall feeling during the day. When I throw on a pair of 4" pumps I'm ready to take on the worlds vs. wearing a pair of flat lace-up sandals that have casual brunch vibes written all over them.
Honestly, since I've started wearing the Zerogrand I wouldn't pick anything else. They're light, airy, and very supportive. I'm a big proponent of the "athleisure" trend because it allows us all to look amazing while still being comfortable.
I'm all about Instagram for the images and creativity, and Snapchat for that raw, unedited, behind the scenes feel. Lately I've been working on trying to be much more personable and real, and give my followers an inside peek at my silly sense of humor. Snapchat is perfect for that; social media seems to have become a highly manicured highlight reel, and I think people are growing tired of that.
I've been in the space for 6+ years. In the beginning I used to over think everything. I spent a lot of time getting over the fear of putting myself out there on display. I've also realized there's often no rhyme or reason as to why some content performs better than others, or why one person's following grows exponentially faster than someone else's. Dealing with ebbs and flows and things you can't control is always a challenge.
I have a firm no computer/no email policy on Saturdays and Sundays, unless I'm on a deadline. I've also started purposely leaving my phone in other rooms. Out of sight, out of mind, right? It's insane how much I mindlessly check my phone when it's right next to me.
Hip-hop dancing, riding my bike and playing tennis! I live by the beach and I love to be outside; lately my boyfriend and I have taken to exploring new spots in Marina Del Rey, Venice, and Santa Monica.
Managing editor. Bona fide beauty addict. Full-time globe-trotter. Part-time DJ. Skinny leather pants lover. Exercise hater. Deep-fried tofu fanatic. Recovering red-lipstick abuser.