6 Things You Need to Know About Anouck Lepère
With wit and charm, the top-brass model opens up about the less-than-glamorous aspects of runway work.Plus: Our photo shoot with Anouck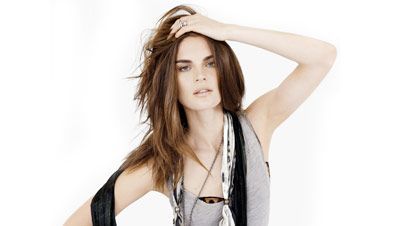 (Image credit: Simon Burstall)
She proudly hails from Belgium: "I miss the innocence and sense of freedom there."
She was discovered after she'd already walked the runway: "I started walking in shows for Dries Van Noten and Olivier Theyskens when I was studying at the Academy of Antwerp. One day in Paris when I was 21 years old, the modeling agency IMG New York invited me to come to New York. That's when my career really kicked off."
Don't expect her to remember your name: "I'm jealous of people with natural social skills. In the beginning of my career, I mixed up so many names. You meet so many new people every day! Once, I was at a party and I thought Ben Stiller was a hairdresser."
"The military trend creates the idea of a fashion army that conquers the world with strong, sexy women. I think I am a bit of that already!" —Anouck Lepère
She has a thing for architecture: "I studied architecture before beginning my modeling career, and I think that has helped me stay focused. Modeling, you end up in the most amazing places, and I've really been able to appreciate each city through an architectural eye."
She has scars on her ears: "I used to have Spock ears, but I got them corrected when I was 6 years old."
Modeling isn't all parties and fancy clothes: "Luxury is a very bendable concept. Everybody thinks that glamour makes life easy, but in the end, the fashion world is a very tough school. Fantastic, but tough."