Global Shopping Guide: Marrakech
Follow Global Shopping Editor Dayna Spitz on her journey to Marrakech to hunt down the best treasures both in and outside of the souks!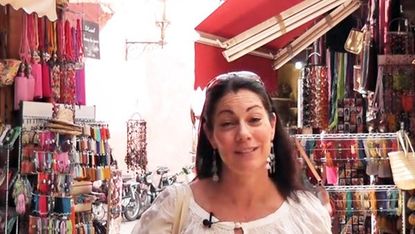 (Image credit: Archives)
Marrakech is truly a shopper's paradise! Not only is it filled with the most fabulous finds everywhere you look, shopping in the souks pumps up your adrenaline and gives you the best "shopper's high" ever — even more so than finding that pair of Marni shoes at a deep discount! Part of the thrill of the hunt is definitely in the art of bargaining, which is certainly an acquired skill-set that improves throughout the trip. However, it's also indescribably inspiring to be in such an exotic atmosphere surrounded with such beautiful objects. And, just for the record,I arrived with one suitcase and left with two — thanks Fabrizio for the loaner. Now that's what I call a successful shopping trip!
Shops:
BOUTIQUE BEL HADJ (antique jewelry)
21-23 Souk Founouk Ouarazi, Bab Ftouh
AIT OUFKIR ABDESSALAM (poufs)
14 Souk des Teinturiers
RACHID GRARI (embroidered straw bags)
20 Souk el Ghassoul
CHEZ BEL HAJ (caftans)
88 Sidi Abbelaziz Rue Dar El Bacha
HAJ AHMED OUELD LAFRAM (babouche slippers)
49-51 Souk Smata
33 RUE MAJORELLE (handmade cosmetic bags)
Rue Yves Saint Laurent
FENYADI (amira candles)
219 Zi. Sidi Ghanem (Industrial zone)
Places to Stay:
LA MAISON ARABE
A lovely intimate, yet spacious riad, which has both traditional Moroccan and modern style rooms. The common areas are beautifully designed and make you feel like you've just stepped into a jewel box. An added bonus: the best cooking school in Marrakech.
LA MAMOUNIA
A hotel that makes you feel like you are a member of the Royal family. Perhaps it's because of it's Royal owner — the King of Morocco. Every little detail throughout La Mamounia is a work of art, including the large platter of figs in the entrance. It's a feast for the senses!
AMANJENA
Located just outside the city, Amanjena is a peaceful oasis with a sprawling landscape that will impress even the most design-savvy traveler.
For more information on Marrakech go to: www.visitmorocco.com.