Anya: The Style Rookie
Pairing novice sewing skills with an unstoppable drive, Caribbean queen Anya Ayoung-Chee made it work in a shocking Project Runway finale.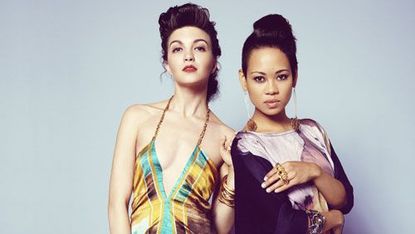 (Image credit: Brooke Nipar)
Has your win sunk in yet?

It's getting there. For Trinidad, where I'm from, this has been the equivalent of the World Cup. One of the first congratulatory e-mails I got was from the prime minister saying what it means not just for the country, but for the entire Caribbean region.
Last year, Gretchen Jones was blasted for winning over fan favorite Mondo. What reactions have you seen?

Ninety-five percent of the comments out there are positive, with that small dissent of, "Well, Viktor [Luna] was a great tailor," or that I didn't show enough range in my collection. And I one hundred percent agree with all that. But the reality is, I can't sew that range yet. It's not that I can't design it, but I wasn't going to try to sew things I knew I couldn't pull off on my own. So I went with my strengths.
You didn't have any finished garments to show Tim Gunn during your home visit. What on earth were you doing during those five weeks?

I landed in Trinidad and was completely overwhelmed. Suddenly, the entire country knew I was on Project Runway, and there was so much anticipation. We're a country of only a million people, so it sat very heavily on my shoulders that everyone expected me to do well. It really got to me.
In September, Anya Ayoung-Chee sent her island-chic collection down the catwalk to garner a from-behind win. Here, the season nine champ talks about procrastination, sewing skills, and the legend of "Reggae Jesus."
So you suffered the designer's equivalent of writer's block?

Absolutely! I'd blast music trying to inspire myself; I'd drape fabric on the form and rip it off; I'd go up to the roof to have a beer or wine, and then back down again. Nothing was working.
Was Tim's visit a reality check?

Yes. He wisely told me to lock myself in a room, ditch the sketches, and start making clothes. In the end, I came to New York with 10 pieces — I didn't love them, but at least I had them.
Were you the kid who started her book report an hour before it was due?

[laughs] Oh, yes. I come from a last-minute culture, but I'm not going to pat myself on the back for that. It became such a workroom joke — when people needed to redo a dress last-minute, they'd say, "I have to pull an Anya."
Halfway through the season finale, were you convinced that you had lost the competition?

At that point, I ranked myself in last place. I felt so dejected because it wasn't my best work. There was no question Viktor's collection was strong; I really thought he would win.
Do you think that you would have won without that extra $500 at Mood?

No. I made four brand-new looks in a day — 40 percent of the collection.
A lot of people don't believe that you learned to sew just months earlier.

That's a roundabout compliment because that means I did it well. But I really did start sewing lessons in the four months leading up to the show.
Model Behavior

Name: Svitlana Glebova

Hometown: Lviv, Ukraine

How were you discovered? At 15, I walked into a modeling agency by myself after hearing a friend talk about it.

Funniest Project Runway moment? During lunch breaks, all the models wore giant black garbage bags with holes ripped out for our heads and arms so the garments didn't get dirty.

Behind-the-scenes scoop: On runway days, Anya never took the time to eat, so one day I left to get her a coffee, but when I got back, Tim Gunn was already in the workroom. The entire room watched me try to sneak in coffee behind my back.

Any scars? At 4, I was running with a green-colored pencil when I fell, and it went right into my cheek — I've had a green scar there ever since.

Website you check daily? Tsn.ua — it's a Ukrainian news site.

Trend you love: Trenchcoats.
Celebrity news, beauty, fashion advice, and fascinating features, delivered straight to your inbox!