Feel-Good Fashion: Rwanda by Design
Deborah Lloyd, creative mastermind of Kate Spade, heads to Africa to hunt inspiration for new handmade products that will help women rebuild their lives.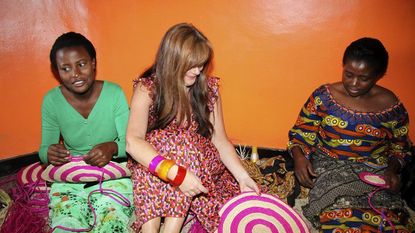 (Image credit: Jacquline Rutagarama)
Marie Claire Newsletter
Celebrity news, beauty, fashion advice, and fascinating features, delivered straight to your inbox!
Thank you for signing up to Marie Claire. You will receive a verification email shortly.
There was a problem. Please refresh the page and try again.
It's a humid December afternoon at the Caplaki craft market in Kigali, Rwanda, and Deborah Lloyd is power-shopping her way through its 40 stalls. The market is a tad touristy for the president and chief creative officer of Kate Spade New York--she didn't come all this way for gorilla key chains and T-shirts that read "muzungu," slang for "white person." But Lloyd is determined. "I have laser-like vision," she says. "If there's something to find, I'll find it."
Sure enough, Lloyd zeros in on patterned fabric ball necklaces; delicate, ropy jewelry made of painted dried beans; cow-horn bangles, each dyed a lush (and very Kate Spade) jewel-tone like fuchsia and orange. "Such good colors!" she says. "These will look so stylish when they're layered on an arm."
Lloyd isn't shopping for the sake of it--she's doing research on a new product line that could create a road out of poverty for hundreds of Rwandan women and their families. Since 2006, Kate Spade has teamed up with the nonprofit Women for Women International (WFWI) to work with artisans in former war zones such as Rwanda, a country still grappling with the aftermath of the 1994 genocide that killed 800,000 people in just 100 days.
It's a business partnership with a philanthropic twist: As part of a holistic program including health and life-skills education, WFWI trains local women to make one-of-a-kind handicrafts that are designed and sold by Kate Spade, providing the artisans with much-needed income. Last spring, the company's first Rwandan product, a raffia handbag, sold out online days after being featured in Marie Claire. On March 8, International Women's Day, the latest items will hit shelves, including hand-beaded jewelry and woven clutches.
What's next? That's the question that propels Lloyd's weeklong Rwandan expedition scouring markets and meeting with female artisans. She's investigating local techniques and materials that can be used to create more products American women will crave, and not only because they're for a good cause.
For Lloyd, the challenge is a creative as well as a moral one. Making Kate Spade goods can more than double a Rwandan woman's earning power and help feed and send her kids to school; it's not a stretch to say that the work can save lives. But if it stops, so do the life-changing ripple effects. "You can't just say, 'It's beaded necklaces this season, and then I'm going to do something totally different,'" Lloyd says. "You feel a responsibility to keep these women working."
Although Rwanda has come a long way since the genocide, quality of life for many is still relatively dismal, with 60 percent of the population getting by on the equivalent of 40 cents a day. Still, the women Lloyd meets through WFWI are strikingly resilient. In Fumbwe, a village outside Kigali, Lloyd attends a ceremony for about 500 WFWI graduates. Several approach the microphone to give testimony about how the program has changed their lives. Cecilia, a lanky woman in the traditional ceremonial dress known as mushanana, says that before she joined WFWI, her husband used to ration her meat. "Now I buy my own meat!" she says in her native Kinyarwanda. Her husband doesn't beat her anymore, either, since she told him it's against the law, something else she learned through WFWI. "I know my rights now," she tells the cheering crowd. "The transformation in these women is amazing," Lloyd says.
The following afternoon, at Gahaya Links, a factory cooperative in Kigali, Lloyd watches about 100 WFWI artisans work on the spring 2012 collection. In one room, weavers sit on floor mats making colorful clutches. Nearby, rows of women sit hunched over piles of the multicolored "seed beads" they're using to make vibrant, chunky link necklaces. It takes about two days to complete one necklace, a meticulous process that requires adding beads one by one. When Lloyd asks the women what they want most from her, one replies, "Please keep sending us more orders."
Toward the end of her trip, Lloyd gets to visit the real--not the muzungu--market. Kimironko is a bustling shopping center in Kigali where locals buy and sell everything from housewares and live chickens to what Lloyd has been after all along: colorful local textiles.
Her eyes scan the bolts that reach practically to the ceiling. "Fabric heaven!" Lloyd exclaims. She zooms in on those of the best quality, discarding those that aren't ("That one's polyester, I can just tell," she says, from about 10 feet), and holds up fabric to her body. "That is so Kate Spade!" she says, admiring a zebra pattern.
Victorious, Lloyd leaves with an armful of material and maybe that next big idea for her Rwandan team: sundresses. "They'd be fun, fresh, made with traditional fabrics, and we'll have Women for Women artisans tailor them," Lloyd says. "You just don't want the income to stop for these women."
Help a woman in Rwanda join WFWI for $30 a month at womenforwomen.org.
Celebrity news, beauty, fashion advice, and fascinating features, delivered straight to your inbox!