Stay Shady: The History of Sunglasses
The accessory that's always been both practical and fashionable.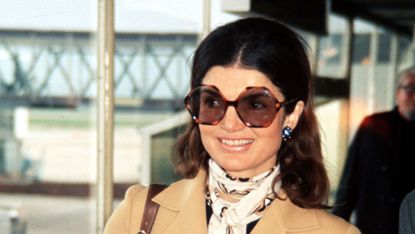 (Image credit: ARCHIVES)
1. Now Trending, Prehistoric Times:
Inuit people wore flattened walrus ivory "glasses," looking through narrow slits to block harmful reflected rays of the sun. Later, in 12th century China, sunglasses were made from flat panes of smoky quartz.
2. Hollywood Style, Early 1900s:
The use of sunglasses became more widespread, especially among movie stars. Famous actresses used shades to avoid recognition by fans and paparazzi, but also because they often had red eyes from the powerful arc lamps needed with the slow speed film stocks that were used.
3. Gone Mainstream, 1920s and 1930s:
Sam Foster introduced inexpensive mass-produced sunglasses in 1929, finding ready consumers on the beaches of Atlantic City, N.J. Polarized sunglasses hit the market in 1936 after Edwin H. Land experimented with making lenses using his patented Polaroid filter. In 1938, Life magazine called sunglasses a "New fad for wear on city streets...a favorite affectation of thousands of women all over the U.S."
4. Cat Eye, 1950s:
The cat eye style swept the 50s, with Marilyn Monroe notably rocking the look of the moment. The trend made it's way into Breakfast at Tiffany's in 1961, making Audrey Hepburn (and Holly Golightly) style icons for years to come.
5. Big and Bold, 1960s:
Among the decade's tie-dye, flared jeans, and mod patterns came huge, bug-eyed sunglasses in both circle and square shapes. Former first lady and fashion icon Jacqueline Kennedy Onassis was known to rock these statement shades.
6. Flower Child Style, 1970s:
The laid-back vibe of the 70s included all different kinds of sunglasses — big, plastic, wire, and even rimless frames were in style. Fading lenses also became fashionable, donned by Diane Keaton in Annie Hall and Jane Fonda in Klute.
7. Pretty in Plastic, 1980s:
The 80s — perhaps one of the most fun decades of fashion — allowed women to get even louder with their sunnies. Teased hair and leg warmers went with eccentric sunglasses in colorful, plastic frames. Princess Diana often opted for her big, white sunglasses, while Molly Ringwald wore a bright red pair in Pretty in Pink.
8. Small Frames, 1990s:
Suddenly, tiny, wired frames were the move, seen on the likes of Britney Spears and female stars of 90s sitcoms, like Friends and Seinfield. The Olsen twins, though barely teens at the time, also brought the style into the spotlight.
9. A Booming Business, 2014:
Today, sunglasses remain their own multi-million dollar industry. Luxury eyewear company Luxicotta, for example, manages brands such as Ray-Ban and Oakley, as well as glasses from designer brands such as Chanel and Prada. We know we can always count on our shades to block those harsh rays in the summer (and even on cloudy days, too).
Related:
10 Iconic Women and Their Outfit-Making Sunglasses
Pucker Up: The History of Red Lipstick
11 Things to Never Say to a Shoe Addict
Two-Piece Wonder: History of the Bikini
Photo Credit: Getty Images