Editors handpick every product that we feature. We may earn commission from the links on this page.
The Hottest Spring Trends & Where to Buy Them
From the runway to your closet, we've pulled and shopped! our favorite fashion statements of the season.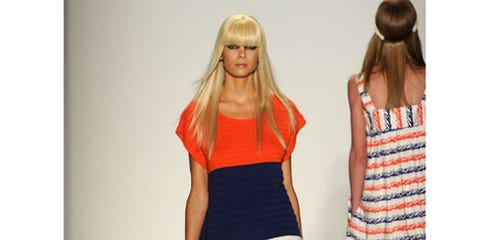 From the runway to your closet, we've pulled — and shopped! — our favorite fashion statements of the season.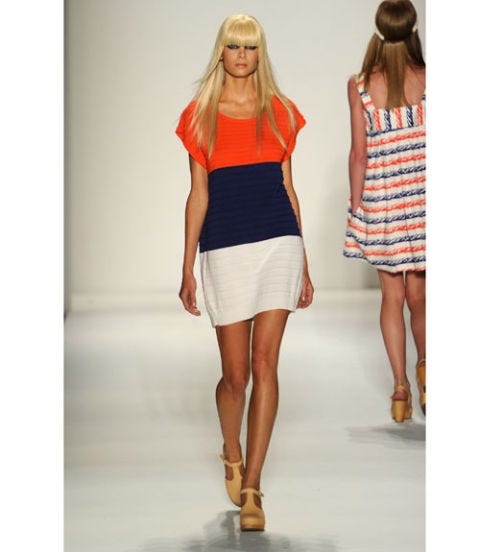 Bold Color Blocking
The runway: Ivana Helsinki

The look: A nice change of pace from the frilly styles and muted tones of the fall, splashes of bright color are making bold statements this season. This graphic trend works its magic by pairing either contrasting primary colors or complimentary jewel tones — a sophisticated shout-out to the '60s and '80s.

Why it works: The pure geometry of the solid shapes creates an incredible visual that can also be used to camouflage problem areas while calling attention to one's best body parts.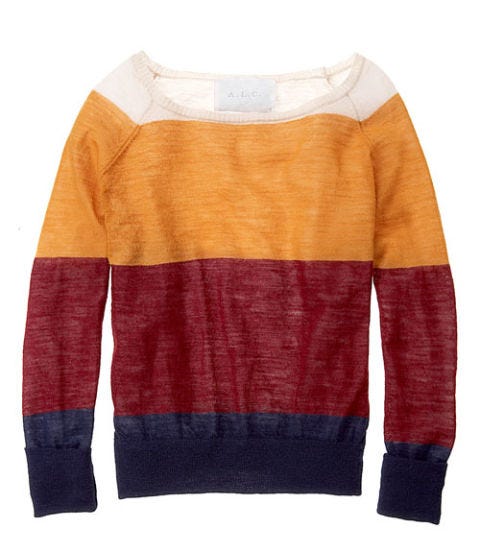 Bold Color Blocking
Best bet:
This lightweight jewel-toned sweater from A.L.C. is a perfect match for a solid colored skirt or trouser. $295;
alcltd.com
for stores.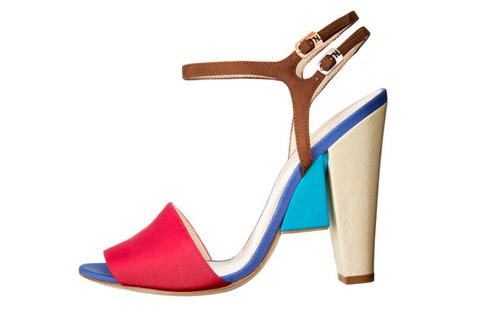 Bold Color Blocking
Best bet: These strappy heels from Fendi speak to the most playful aspects of the trend without completely dominating the overall look. $740; (212) 759-4646.
'70s Retro Chic
The runway: Thakoon

The look: Shelve your skinny jeans because the days of disco, earth tones, and free-flowing hemlines are back. Influenced by classic '70s swagger, designers are making use of soft fabrics and exaggerated lines à la Saturday Night Fever, with collections featuring statement sleeves, faded denim, and flare-legged trousers.

Why it works: Fluid lines and billowy fabrics cinch at your most flattering points, adding a sexy girl-next-door vibe for an upgraded flower child look.
'70s Retro Chic
Best bet: A button-up version of the peasant blouse, this pretty top by Giles at Blake will look good tucked into corduroy, denim, or satin. $590; (212) 759-4646.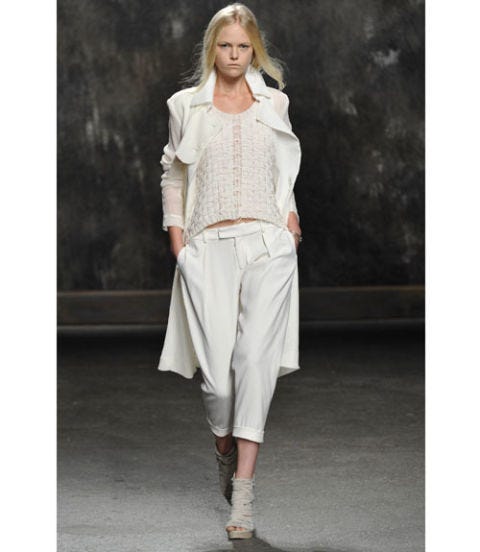 The All-White Ensemble
The runway: Doo.Ri

The look: Modern and minimalistic, streamlined white pieces ruled the Spring 2011 runways. From simple staples like shirt-dresses and trench coats to elaborate knits and blouses, this one-color look is far and away one of the most popular new trends.

Why it works: Rocking an all-white outfit is both fearless and chic. Practically speaking, it's also a traditional spring color — white reflects light, which literally gives you a glow, keeps you cool, and complements almost every skin tone.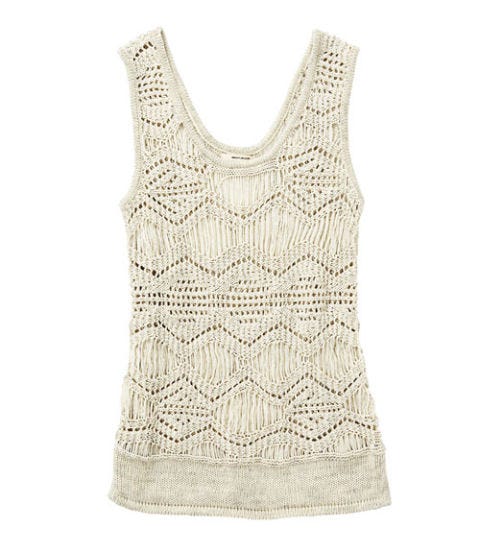 The All-White Ensemble
Best bet:
This DKNY Jeans sleeveless sweater is a gorgeous spring knit, showing off just the right amount of skin. $69;
dknyjeans.com
.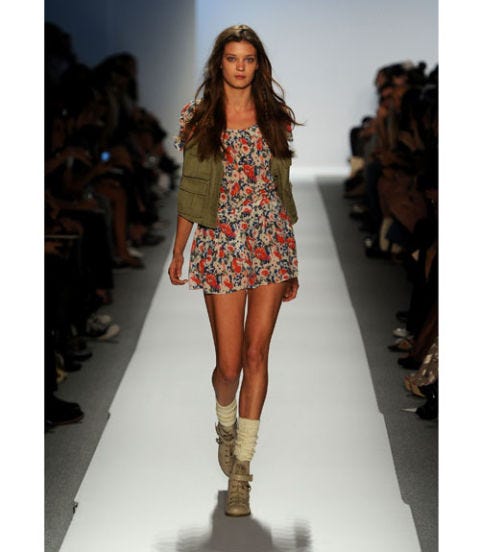 Flirty Florals
The runway: Charlotte Ronson

The look: This isn't your average floral. For spring, it's all about duality — where girly girl gets some edge, and where femininity balances otherwise utilitarian looks. As such, floral patterns on sweet skirts and delicate dresses are being paired with more androgynous pieces or menswear-inspired accessories.

Why it works: Whether you lean toward glamourous or gamine, a tiny swirl of rose buds or full-on bouquets will give an outfit more range, letting you express your soft, or not so soft, side.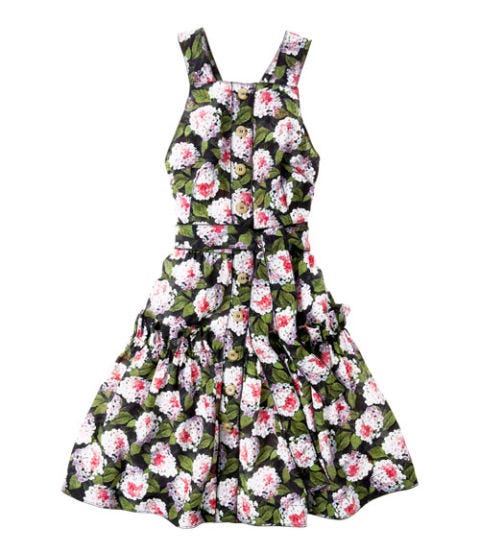 Flirty Florals
Best bet:
Take an adorable little sundress, like this one from D&G, and pair with pearls or a motorcycle jacket. $745;
dolcegabbana.com
for stores.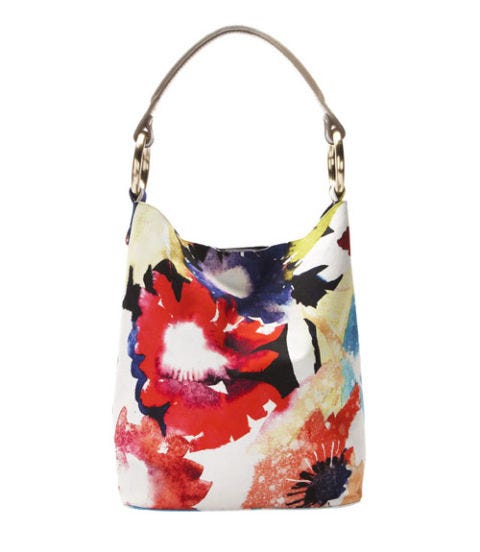 Flirty Florals
Best bet:
Not ready to delve into Pollyanna land with full-on, head-to-toe floral? Add something small, like this Sequoia bag to an everyday look. $224;
sequoiaparis-usa.com
.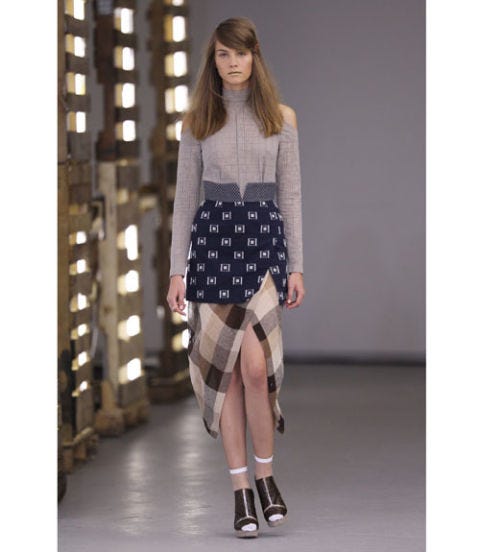 Mixed Prints
The runway: Rodarte

The look: One of the more daring trends for spring, designers create a mish-mash of various textures and patterns to generate collectively distinctive pieces. By keeping an outfit within a specific color palette, the contrasting patterns work together to give off an avant-garde air of sophistication.

Why it works: Although newbie fashionistas might hesitate to try this look, combining pieces that would appear to clash is more intuitive than it looks. Staying within your color comfort zone will enable you to match up different design arrangements for a cohesive look.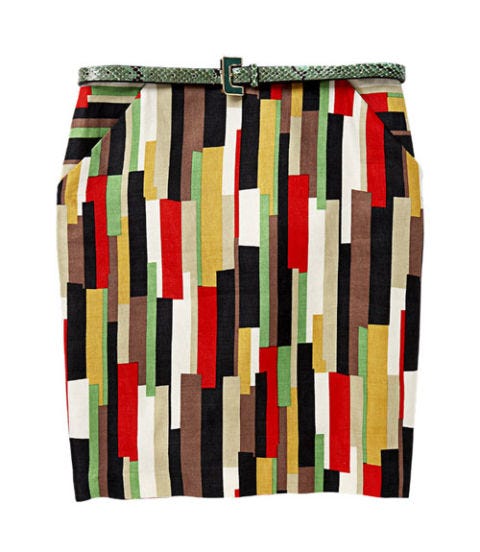 Mixed Prints
Best bet:
Match up a horizontal-striped or tartan button-down with this abstracted skirt by Milly to pull off the perfect mixed prints look. $180;
neimanmarcus.com
.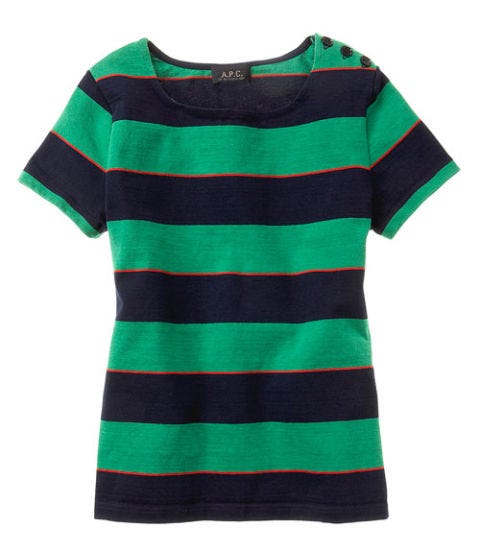 Mixed Prints
Best bet:
Mix a conservative crew neck, like this one by A.P.C. with a wild patterned pair of pants or shorts from the same kelly green color family. $135;
apc.fr
.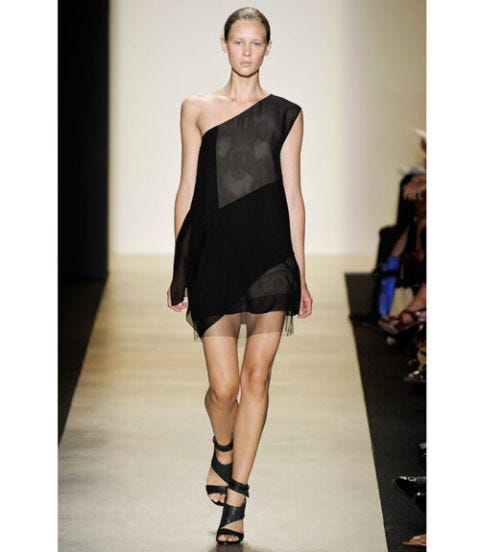 Sheer and Simple
The runway: BCBGMaxAzria

The look: A luminous range of voile, chiffon, batiste, and tulle will be headlining looks this spring. Without being overtly sexy, just the illusion of skin can amp up the sex appeal of even the simplest ensemble.

Why it works: Designers included sheer elements to both eveningwear and sportswear to add a hint of sensuality to severe cuts and fabrics. To pull off the trend with the right amount of sophistication — and avoid showing too much skin — incorporate a sheer layer on top of another piece.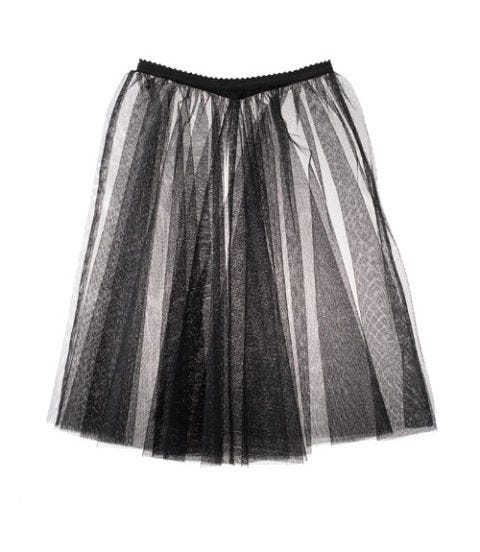 Sheer and Simple
Best bet:
This gorgeous McQ by Alexander McQueen tulle slip can be worn on top of or underneath your favorite skirt. If you're not the type to pile on the frills, pair with some black leggings instead. $128;
ssense.com
.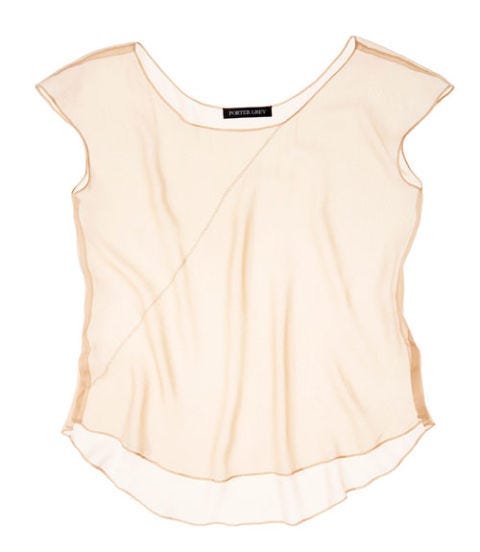 Sheer and Simple
Best bet:
Elegant and romantic, this cream-colored chiffon top by Porter Grey recalls old-school chic and looks stunning thrown over a dark tank. $225;
portergrey.com
This content is created and maintained by a third party, and imported onto this page to help users provide their email addresses. You may be able to find more information about this and similar content at piano.io