The 9 Bag Trends of Fall 2022 to Reach For
Grab hold. These are the handbags to get excited about.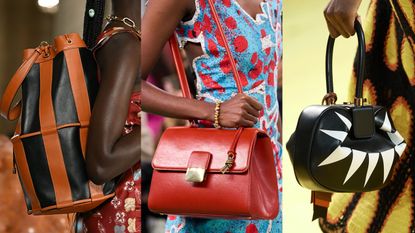 (Image credit: Ulla Johnson, Bottega Veneta, Gabriela Hearst)
As we return to office mode and travel and various other outings, you don't have to sacrifice utility in the name of fashion. The fall 2022 trends have spoken, and there are plenty of practical types of handbags for the season. On the other hand, small clutches that are more evening-appropriate and fuzzy, lap dog-like purses are also reigning king. Woven fabrics and geometric prints are omnipresent and drive home the industry's widespread embrace of craftsmanship. Meanwhile, modern interpretations of old standbys—like crossbody bags and backpack styles—mean you can save those tiny micro-purses for the next time the trend comes around town. Remember, you can always level out your purse personality with fall's widespread footwear, jewelry, and color palette options.
Fuzz Factor
If you never could commit to getting a four-legged friend, this is possibly the next best thing, and if there was ever a handbag that could keep you warm, it's these fluffy creations. They came flooding the runway in all shapes, sizes, and colors. So whether you're looking for a pocket-sized pet or something that can hold its own, designers from Dries Van Noten to Fendi have it covered.
Check Please
There's nothing quite like a check or plaid motif to usher in the back-to-school mood—and designers provided no shortage of inspiration for fall's fresh bout of style. From Chanel's iconic checkered tweeds on classic flap bags to Gucci's cool diamante pattern splashed across totes, this autumnal it-print gets an A+ from us.
So Clutch
We're used to the handbag trend pendulum swinging back and forth—one season, we're singing the praises of oversized tote bags and micro bags the next. Still, the popularity and usefulness of clutch bags never seem to waver. They're ideal for storing small items—for those who prefer to leave their whole kit and kaboodle at home.
Slouch Appeal
The slouch bag, sometimes referred to as a "hobo" style, was traditionally used as a practical means of keeping one's belongings in tow via a cloth sack that was tied around a stick. The same silhouette has been replicated by a slew of modern accessories designers. At Khaite, slouchy bags were dramatically oversized and given a metallic coating. Bottega Veneta fastened their signature woven leather bag on a gold hardware handle, while Loewe added a monochromatic chain to their benchmark puzzle bag style.