Marie Claire's Guide to Holiday Dressing
Look festive while still feeling like yourself.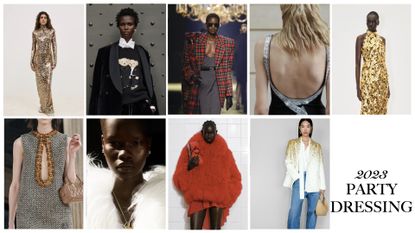 (Image credit: Courtesy of brands)
Every year, the anticipation of the holiday season seems to start earlier and earlier. We love a reason to celebrate: clinking fizzy glasses of champagne, dressed to the nines. But no matter how far away it seems, the holiday season always creeps up. Suddenly, it's here—and piecing together all of the components of festive holiday party looks can feel overwhelming, especially with a mounting pile of save-the-dates. But gearing up for a glitzy night out or night in (if you're the one hosting) should, at its core, be all about having fun, and feeling like your best self. Dressing the part is often about formulaic styling tips and tricks that can transform your winter wear into party wear. Luxe fabrics (in sophisticated silhouettes), festive accessories, and maybe a fun new piece to throw into the mix will carry you through the holidays, from Thanksgiving through New Year's Eve. Have a flawlessly-fitted black blazer at home? Add a vintage-esque feathery plume brooch. Heels just not in the cards this year? Opt for an embellished ballet flat or a sleek loafer instead.
---
In many ways, velvet is synonymous with special occasion wear, especially in the colder months, considering the fabric's weight and hand feel. Worn right, and there's no other material that proves as regal. But unlike centuries ago when the fabric was worn exclusively by clergy members and nobility, today's velvets are taken far less seriously, available in a wide array of colors and prints— encouraging a sense of whimsy. To keep your velvets fun yet elevated, layer a piece or two with a grounding fabric, like wool, add a quirky accessory, or mix a pop of color with neutrals.
---
Historically, wearing feathers was much like wearing fur, and there were two camps—love it or leave it. But with eco-friendly alternatives on the rise, you don't have to compromise your party style or values. Which is excellent news, because what's a party without a little plume? If you don't love an attention-grabbing look, you can feel out the right amount of feathers for you— from the simple addition of a feather brooch (like this investment Saint Laurent style. This one is a great, very affordable option as well) to a full-on feather look.
---
Winter's florals are a bit different than their warmer weather counterparts—a bit more subdued, moodier, and more abstract than the maximalist blooms of spring and summer. For holiday wear, a bud or full bloom is also a great accompaniment to festive fabrics like metallics and silks. While brocade and embellished florals err on the fancier side, they're still ideally suited for everyday wear, so you don't have to run home or tote around an extra change of clothes for the holiday office party. Go from day to play without missing a beat—because who has time for weekday outfit changes?