The 26 Best Necklaces for Women to Wear Every Day
Every good outfit needs the staple accessory.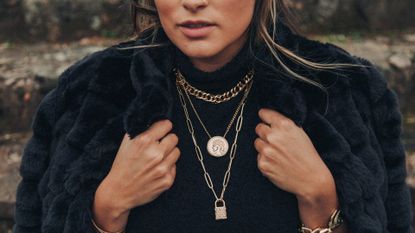 (Image credit: Daniel Viero/Getty)
Most of us have probably heard the famous Coco Chanel saying: "Before you leave the house, look in the mirror and take one thing off." While that advice may apply to that extra hair clip or scarf you threw on at the last minute, I'd argue that the designer wasn't thinking about necklaces when she spouted that piece of style wisdom. When it comes to accessories, a necklace is almost always an essential piece—hence why the best jewelry brands all include necklaces in their collections.
Of course, your necklace of choice will vary depending on your style and needs. Maybe you're in the market for a chunky chain necklace to hit on one of the biggest fall 2023 jewelry trends. Or maybe you need a dazzling choker to go with your date night LBD. Whatever kind of necklace you're on the hunt for, we've got you covered. Ahead we've rounded up the most stunning pendants, chains, lariats, and more to make sure your neck always has at least a little bling for any occasion you may have on your radar. And don't worry—we've included pieces for every budget, as some of the best necklaces for women come from incredibly affordable jewelry brands.
Best Charm and Pendant Necklaces
Best Chain Necklaces
Best Choker Necklaces
Best Layered Necklaces
Best Lariat Necklaces
Brooke Knappenberger is the Editorial Fellow at Marie Claire, where she writes across the board from fashion and beauty to books and celebrities. As a pop culture junkie, Brooke obsessively consumes and writes about the latest movie releases, streaming TV shows, and celebrity scandals. She has over three years of experience writing on fashion, beauty, and entertainment and her work has appeared on Looper, NickiSwift, The Sun US, and Vox Magazine of Columbia, Missouri. Brooke obtained her Bachelor's Degree in Journalism from the University of Missouri's School of Journalism with an emphasis on Magazine Editing and has a minor in Textile and Apparel Management.