The French-Girl Guide to Layering Jewelry, by Two French Girls
You, too, can have that je ne sais quoi.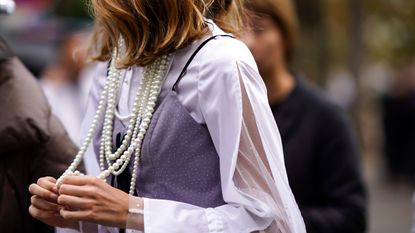 (Image credit: Edward Berthelot)
Marie Claire Newsletter
Celebrity news, beauty, fashion advice, and fascinating features, delivered straight to your inbox!
Thank you for signing up to Marie Claire. You will receive a verification email shortly.
There was a problem. Please refresh the page and try again.
It was among winter's coldest days in New York City when I walked over to French jewelry designer Yasmina Benazzou's Upper West Side home. The apartment is stunning, something straight out of Architectural Digest, adorned with art from the likes of André Willequet and Jean Lurçat. Benazzou's appreciation for design is evident not only through her home, but also in her style: When we met, Benazzou was covered in layers of artful pieces, including necklaces of all kinds, from ornate gold baubles to carved stones and pearls. They were all from her handcrafted fine jewelry line, Haute Victoire.
Originally from France, Benazzou has that je ne sais quoi attitude and style that is often ascribed to French women. Not long afterwards, I met founder of CKPR, Celine Kaplan, who is also French and was also decked out in head-to-toe jewels. I was both obsessed and inspired by their accessory-layering techniques. I need it all! How do I recreate it? More importantly, what is it about French-girl style that appeared so effortlessly chic?
Sheepishly, I asked. Kaplan lets out a laugh, inviting me in on a secret. "It's all fake news," she said; anyone can have that French-girl flair, she added. Her answer was refreshing, but I still wanted tips on how to achieve said flair. I prodded more, taking notes on how to dress like the French and how to layer jewelry like the French do.
Marie Claire: What is it about French-girl style that makes it so effortless?
Yasmina Benazzou: I think French culture has a great influence on how women look. In France we don't show how beautiful, amazing, and successful we are. Elegance is in restraint, and intelligence is more important than our looks. Also, women's emancipation brought us the confidence to be ourselves and our effortless style shows that we don't need to follow any rules. Our hair and nails can be undone, but we use a good face cream and wear pretty lingerie. Even with the changes in the last few years, with social media and people exposing more and more of themselves, I think a French woman's effortless look will remain part of our French identity.
Celine Kaplan: The [idea of] effortless [is a] myth…French-girl style is not really 100 percent effortless. It is learned behavior from your mother, friends of the family, and grandmothers, mixed with a French innate attitude and the need to be different.
MC: If you had to give three tips on how to layer multiple jewelry pieces, what would they be?
YB: The pieces need to be different sizes, styles, and vintage. For necklaces, the chains should be of different thickness and length with distinct styles of medals and pendants. Don't forget to bring in color with some vintage coral, pearls, and colored stones. Beads are fun to mix in with necklaces and bracelets. For rings, blend statement rings on one finger and stack smaller rings on the other fingers.
CK: Choose one color metal. The season and of course, your outfit, can change the way you layer. A '70s or '80s vibe will help direct your pieces. For necklaces, you can layer different lengths in order to add dimension. With rings, you can be playful. Stacking is great, but don't overkill it. With bracelets, accumulation is the way to go. I always try to add one unexpected piece that is a conversation starter. It might be a very [culturally local] piece from my travels. Mix it up, don't be afraid!
MC: What is the secret to layering statement jewelry pieces?
YB: Unlikely statement pieces work together, so dare to mix the old and new, precious and less valuable, and pieces of the same dimension. Chokers go well together or opera-size necklaces can be fun to stack. For statement rings, don't try to wear one on each finger, I like to leave two fingers bare because the effect is stronger.
CK: I am inspired by Hollywood icons and photographs or the book Swans by Assouline. Statement pieces need their own space, so if it is a statement ring then only wear that one. The same rules apply for necklaces and bracelets. The goal with fashion is to be inspired and to have fun. If it feels like too much and you're already out, you can always take a piece off. That is the beauty of jewelry.
With Benazzou and Kaplan's tips in mind, check out the visualization ahead on layering accessories, then shop the pieces to get your stacking game on.
Layer Your Necklaces
Layer Your Bracelets
Layer Your Rings
For more stories like this, including celebrity news, beauty and fashion advice, savvy political commentary, and fascinating features, sign up for the Marie Claire newsletter.
Celebrity news, beauty, fashion advice, and fascinating features, delivered straight to your inbox!
Katie Attardo is the Accessories Editor at Marie Claire, covering all things fashion and jewelry-related.