32 Best Red Carpet Moments of the '90s
Get ready for a wild trip down memory lane.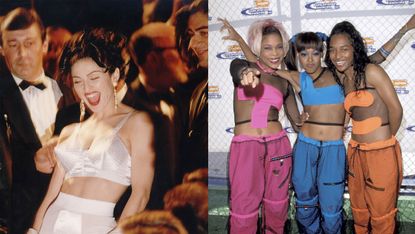 (Image credit: Getty Images)
The 1990s were a time of interesting (and often iconic) style, as well as a new attitude towards celebrity. More and more, we cared about the lives and outfits of the famous people we saw in Us Weekly and People, and wearing a daring dress might be enough to launch you into stardom or infamy (or both). It was also a time to be experimental and individual with fashion—including for events that were historically buttoned-up, like the Oscars—and we had red carpet outfits ranging from torn jeans and old boots to the most gorgeous low-cut Versace dresses. We had looks that caused quite a stir at the time but actually deserve a recalculation in 2023, as well as looks that might not have seemed as iconic as they do now.
Some of these looks you're going to be familiar with (hello, Lil' Kim, in your very daring purple ensemble!), and some of them you might not (ever heard of Lizzy Gardiner? Just wait), but keep scrolling, because the best red carpet looks of the '90s are a truly wild trip down memory lane.
Drew Barrymore at 'Guilty by Suspicion' Premiere,' 1991
With a perfect cute/grunge red carpet aesthetic (often with a cigarette in hand), Drew Barrymore was the casual queen of '90s events. This is the perfect iteration: matte lip, cream cardi, ripped jeans, worn brown boots.
Kate Moss and Christy Turlington, CFDA Awards, 1993
The two ascending top models brought casual-chic style to the CFDAs with what would become the iconic look of the '90s: minis and short jackets. Moss, who was a Calvin Klein muse, became particularly synonymous with the simple sensuality of the decade's fashions.
Julia Roberts and Kiefer Sutherland, the Oscars, 1990
Remember when Julia Roberts and Kiefer Sutherland dated? Also remember when they showed up to the Oscars with the same hairdo? In case you've forgotten, the then it-couple got engaged later that year and then suddenly broke it off—followed by a love triangle featuring Sutherland's good friend Jason Patric.
Lizzy Gardiner, the Oscars, 1995
Long before Lady Gaga even thought about her meat dress, Gardiner, a costume designer, went to the literal Oscars wearing hundreds of legit, expired Amex cards. Apparently it was an old (unused) costume. At the time, critics hated it, but it helped inspire creative red carpet fashion.
Angelina Jolie, screening of 'Gia,' 1998
Jolie did all-black, modern, goth styling way before it was cool (and she can absolutely be credited with bringing the style to the red carpet). Back in the day, pairing your black sparkly dress with a knee-length black leather trench was incredibly surprising. This portrayal of the tragic Gia Carangi cemented her as both a talented actor and fashion force.
Kim Basinger, the Oscars, 1990
Kim Basinger actually designed this wedding-esque gown herself, and critics...mostly hated it, to be honest. It was like a wedding gown merged with a smart white suit, but in hindsight (hindsuit?) it's actually a pretty fun moment.
Whoopi Goldberg, the Oscars, 1993
While most people at the time used the Oscars to break out their most formal couture gowns, Goldberg opted for a Wizard-of-Oz-esque pantsuit and green and purple cape. She was apparently "inspired" by Disney, and it was deemed a fashion fail at the time (and memorable today).
Fran Drescher, Golden Globes, 1996
Considered an "unsung hero" of the '90s Golden Globes, Fran Drescher went full Nanny with a simple, low-cut white dress and then just a full bouquet of flowers on her head. She was by now an eye-catching fashionista, so this was just the look to outdo herself.
Mariah Carey, 1997 MTV Video Music Awards
Just after announcing her separation from husband Tommy Mottola and deciding to reinvent herself, Mariah Carey donned this epic outfit that felt like some pretty amazing revenge dressing. Carey was leaning into a new sound, and this accompanying new look was a hit with fans.
Jennifer Lopez, Limelight Club 'Notorious' Magazine Party, 1999
J. Lo's been a style icon for a long time, but this look was one of the first. She was at an event with and being styled by Donatella Versace, who have had a long friendship. This would be only a year before J. Lo would don that green Versace, with the low front slit to her naval.
Cher, the Oscars, 1998
Not quite the black spiky dress she donned in the '80s, Cher nevertheless turned heads in this white Bob Mackie number that featured sheer details. She had long been known as "the person who dresses in the wildest Oscar outfits," but fun fact: She hated this dress, but just never told the designer.
Celine Dion, the Oscars, 1999
Lots of people have at least a vague recollection of this Dior suit—mainly because Celine Dion chose to wear the blazer backwards and don a fedora. People haaaated it at the time, but it actually gave us an intriguing backless shape that was a taste of Dion's fun fashion choices to come.
TLC, Nickelodeon's 12th Annual Kids Choice Awards, 1999
TLC did fun matching outfits way before other "girl groups" did, but this graphic, color-blocked set of outfits for the Nickelodeon Kid's Choice Awards might be the most notable—it's known as one of the cutest coordinated looks the awards show has ever seen.
Kurt Cobain, Courtney Love, Frances Bean Cobain, MTV Video Music Awards, 1993
In a grunge-focused awards ceremony, the late Kurt Cobain made a rare red carpet appearance with wife Courtney Love. The two posed as a family with daughter Frances Bean, with Cobain sporting a bottle as an accessory.
Mary J Blige, the Grammys, 1996
Blige has always been a fashion innovator, but in 1996, when she took home a Grammy, she bedecked herself in head-to-toe animal print. It's considered one of her most iconic looks and a sign of the fashion she would bring to the world over the next several decades.
Julia Roberts, World Charity Premiere of 'Notting Hill,' 1999
Unfortunately, the concept of a woman having body hair was pretty taboo in the '90s. So when Roberts raised her arm to wave at fans and revealed a tuft of armpit hair, people lost their minds. Roberts said that she wasn't trying to make a statement (and the visible hair was an accident) but it still remains an important moment of celebrities bucking tradition and "norms" for women.
Uma Thurman, the Oscars, 1995
In contrast to her character on Pulp Fiction, Uma Thurman was all light and pastel in this purple dress at the Oscars. At the time, Prada wasn't as well-known as it is today, but this dress is credited with raising its profile (and spawning about a million imitiations in the '90s).
Cindy Crawford and Richard Gere, the Oscars, 1991
This plunging red Versace was also the first time Cindy Crawford and Richard Gere appeared together as a couple. What a dress to accompany this announcement, long considered one of the most iconic, memorable Oscar dresses of all time.
Nicole Kidman and Tom Cruise, the Oscars, 1997
This gorgeous chartreuse John Galliano Dior dress helped make Nicole Kidman (then married to Tom Cruise) a fashion force. It was divisive at the time—some called it the first real couture Oscars dress, some said it made them vomit—but is now considered one of the most iconic Oscars dresses ever.
The Cast of 'Friends,' People's Choice Awards, 1995
Friends premiered in fall 2004, and the cast became instant household names. At their first People's Choice Awards the following year, the first season finale had just aired, and the cast was the talk of the town.
Britney Spears, 1999 Teen Choice Awards
Britney Spears was a relative newcomer to the red carpet when she attended her first Teen Choice Awards. She may only be 16(!) here, but already you can see the beginnings of her fun, glittery, statement-making style, even at a relatively "buttoned-up" event like this.
Kate Winslet, the Oscars, 1998
According to Kate Winslet, this Givenchy dress (which she wore when she was nominated for Titanic) is apparently her favorite red carpet gown ever. "I have to be honest, the dress was not entirely comfortable to wear. Or sit down in. But it was worth it because [Alexander McQueen] had made it."
Spice Girls, BRIT Awards, 1997
The Spice Girls' headlining performance BRIT Awards, where they dressed in their now-iconic "personalities," brought their over-the-top styles to the public eye (especially Ginger Spice and her Union Jack dress). Every teen picked the Spice Girl they identified with and began to copy their look immediately.
Sharon Stone, the Oscars, 1996
If you're familiar with the term "high-low fashion," combining couture elements with inexpensive retail clothing, this was the popularization of the idea. Sharon Stone actually did it twice, but when she wore this Valentino skirt and Armani tuxedo jacket with a Gap turtleneck (that she owned herself), it was actually because the dresses she originally had for the events weren't working and she was dealing with a fashion emergency.
Rose McGowan, 1998 MTV Video Music Awards
There was no VMAs dress more talked about in the '90s than Rose McGowan's see-through chainmail dress—which inspired many years of sheers on red carpets to come. McGowan later explained that it was a way to reclaim her body after being assaulted, to tell the world, "I'm gonna blow your brain up."
Jennifer Aniston and Brad Pitt, 'Fight Club' Premiere, 1999
At the time, magazines and newspapers were absolutely buzzing: Were the two hottest actors on Earth, Brad Pitt and Jennifer Aniston, actually dating? Well, at the Fight Club premiere, we got our first (red carpet) look at the couple who would redefine celebrity gossip as we knew it.
Lil' Kim, 1999 MTV Movie Awards
From the side, Lil' Kim's purple pantsuit just looks like a normal glittery outfit. But then, from the front, it's got a deeply revealing neckline with strategically placed pasties. This look was apparently inspired by Missy Elliott and marked the rise of not just more revealing red carpet outfits but also an approach to style for women rappers that celebrated their femininity.
Madonna, 'In Bed with Madonna' premiere, 1991
To celebrate her documentary premiere, the Queen of Pop attended the red carpet in a pink dress that she then removed to debut (what else?) a John Paul Gaultier cone bra. Long before the "red carpet stunt" was a thing, Madonna shocked and delighted us all.
Gwyneth Paltrow, the Oscars, 1999
This pink, princessy, stunning Ralph Lauren dress was the total opposite of the prevailing aesthetic at the time—and thus, when Paltrow wore it, some critics didn't initially love it. But with a single dress, Paltrow's credited with bringing back the color pink and "prom ballgown" vibes. So, if you ever wore a similar dress in the late '90s/early '00s, this is why.
Julia Roberts, Golden Globes, 1990
Back in the day, menswear dressing for women wasn't as ubiquitous as it is today. Roberts wore this oversized Giorgio Armani suit complete with tie, and it was apparently something she bought off the rack. Combined with that signature curly hair meant that Roberts (just 23 at the time) basically broke the fashion world wide open.
Elizabeth Hurley and Hugh Grant, UK Premiere of 'Four Weddings and A Funeral,' 1994
Four Weddings and a Funeral might have been Hugh Grant's movie, but when he and then-girlfriend Elizabeth Hurley showed up to the premiere, his date absolutely stole the show in a Versace "safety pin" dress. Hurley was a relative unknown at the time, but the daring and gorgeous creation vaulted her to stardom. It's probably the most well-known Versace dress, too.
Princess Diana, Vanity Fair Party, 1994
It doesn't matter how much you know about the (highly contentious) divorce between Princess Diana and Prince Charles in the '90s. When you see this photo of Diana in this daring Christina Stambolian dress on the way to an event at Kensington Gardens (after Charles admitted infidelity publicly), you know exactly why it was called "the revenge dress."
Marie Claire email subscribers get intel on fashion and beauty trends, hot-off-the-press celebrity news, and more. Sign up here.