The 30 Best Women's Winter Gloves for Every Occasion
Whether you're bundling up for a formal occasion or a long day on the slopes.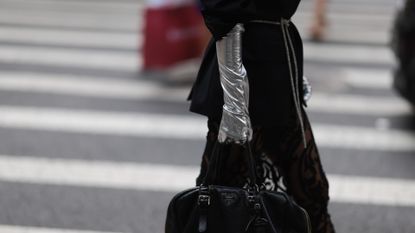 (Image credit: Jeremy Moeller/Getty Images)
Many of us dread the onset of winter. Frigid temperatures, inclement weather, and shorter days fill many with sadness and resignation, but it's important to remember that there are also myriad elements to love about the season. I love winter fashion, with its cozy cable-knit sweaters, funky puffer coats, and sky-high boots. I also love that colder temperatures offer a more significant opportunity to accessorize. Pieces like hats and cashmere scarves are, indeed, necessities when it's freezing outside, but they're also exciting touches that can breathe life into an outfit. One accessory I intend to elevate this winter is the winter glove—a staple for anyone who braves the cold, wind, and snow.
Winter gloves serve many functions. When worn in terrible weather or during winter sports, gloves keep hands from growing dry, cracked, and numb. At the same time, elevated options (mainly leather and fur-lined numbers) lend elegance to any look. For optimal form and functionality, it's best to invest in gloves that will keep your hands as warm as possible, allow you to function while wearing them, and fit in with the rest of your wardrobe.
"High-quality items, in general, are items we love and want to use repeatedly," agrees Ellinor Sedig, designer and product developer at Hestra Gloves. "We believe that if you can, buy high quality and less. That is sustainability!"
But the most suitable glove depends on the occasion, your personal preferences, and what you're wearing. For that reason, we've broken down the basics about every type of glove and explained how to find premium pairs of each option. Say goodbye to cold hands—and to bland winter dressing.
Finding the Best Gloves for You
Several types of gloves are available on the market, made from different fabrics and boasting varying levels of warmth. Therefore, when searching for your next set of winter gloves, it's essential to consider what activities you'll be partaking in while you wear them.
"The consumer should consider the use of the glove and their everyday life," agrees Sedig. "For example, am I biking to work and eating out for lunch? Then maybe a washable glove is preferred, or a glove with removable, washable lining to feel fresh even off the bicycle saddle. What are the weather conditions where I live? A waterproof and windproof glove is important to keep the hands warm if it rains a lot. If the consumer lives in a frigid city, choose a glove with insulation, not only a glove with lining."
Above all, she says, invest in gloves made from premium materials. Not only will this extend your gloves' lifespan, but it will also save you money in the long run.
Best Leather Gloves
Leather is one of the main fabrics that Sedig recommends for lasting, high-performance winter gloves.
"Each hand is unique, and using your glove makes it a perfect fit for your hands," she explains. "Leather, compared with other materials, only becomes more and more soft and comfortable when wearing."
She notes that Hestra makes several leather gloves with this philosophy in mind, saying it's best "to make gloves that the consumer can wear for a long, long time and wear together with their favorite jackets or coats in all different occasions appearing in their lives." Leather, in particular, transcends trends "but still feels current," according to Sedig, and can come in several colors and styles, so you can rest assured that you'll find something that "you'll like for a long time and that goes well with your wardrobe."
Regarding the best occasion to wear leather gloves, she advises opting for the fabric when taking public transportation or walking short distances, noting that in these situations, "weatherproof and washability isn't as important." She suggests opting for a leather glove with wool lining for added warmth.
Best Wool Gloves
Wool is one of the most popular fabrics for winter gloves. It's warm, more animal-friendly than leather, and doesn't require breaking in.
"Wool is a fantastic fabric," attests Sedig. "Wool makes you warm when it's cold outside, it gets warm in wet conditions, and it has a cooling effect when you are too warm. It has self-cleaning attributes as well!"
She adds that wool gloves can feature wool entirely or be made from another fabric while featuring a wool lining. The latter is excellent, she says, for frigid temperatures.
"Style [wool gloves] with your overshirt, a lightweight jacket, a pile- or fleece sweater, or a trench coat," she suggests.
Best Fur-Lined Gloves
As Sedig mentioned, fur-lined (including faux fur-lined) gloves are perfect for those who need an extra layer of warmth during the cold months. She also points out that wool-lined options, referred to as "lamb fur-lined" gloves, are great fur alternatives that "keep your hands very warm and give you a very soft and comfortable feeling."