I've Embraced the Clean-Girl Look—These Are the 30 Pieces Helping My Aesthetic
Prepare to be influenced.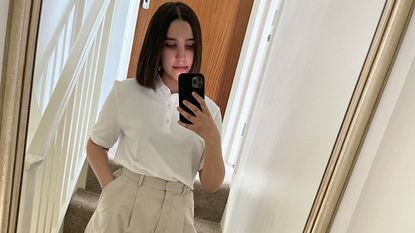 (Image credit: Humaa Hussain)
Most Coveted is a new shopping series sharing our editors' curation of the must-know items they can't stop thinking about.
I'm 90% sure everyone here is familiar with the clean-girl aesthetic because it's been going viral lately for its no-fuss, minimalist approach to beauty and fashion. That said, I've been living the aesthetic since my early teens. I have always been a lover of minimalist style and have never strayed into colorful and printed pieces for apparel. And though I do love to play around with my makeup, nowadays, I'm more into the "10 minutes and I'm out the door" look.
Seasonal, tonal dressing just adds to my clean-girl aesthetic, and since we've seen an array of retailers drop their variations over the last few weeks, it only seems fair to add a few more pieces to my collection. Below, I've curated an edit of the 30 fashion and beauty products I've already bookmarked.
Associate Shopping Editor
Humaa is the Associate Shopping Editor at Who What Wear and Marie Claire where she oversees all affiliate organic and branded content for the fashion, beauty and home verticals. Before joining Marie Claire, Humaa was Commerce Editor at British Vogue where she wrote all affiliate stories to help build up on organic E-Commerce revenue. When she's not trying to save the world one cashmere sweater at a time, on her off days you can find Humaa with her head buried in the most romantic of romance novels.