15 Summer Pieces Under $100 That Won't Give You Buyer's Remorse
That $23 top? I'll take TWO.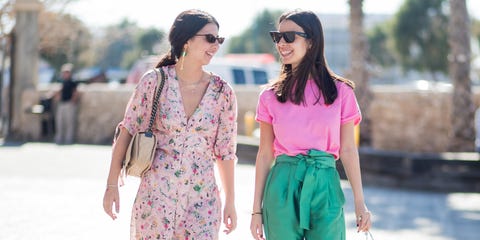 I like to hoard items in my online checkout cart, look at the total (oh, $879?), and then immediately close my window. Seeing the cringe-inducing actual number is my way of combating an otherwise frighteningly long credit card bill. (This works most of the time.) My wardrobe, however, could stand to use a few more seasonal pieces and my need to buy something, anything has returned like a pesky itch. In an effort to find the middle ground between my online shopping addiction and a third-party collections agency, I'm keeping the price range for any clothes to under $100. If you, too, are in need of a budget-friendly wardrobe refresh, shop along with me. (The Zara striped tunic dress, below, is already in my shopping bag.)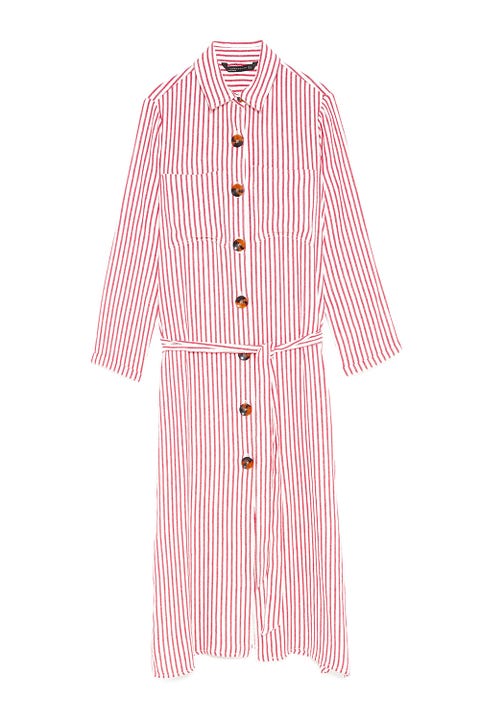 You're in need of a new summer dress, you say? Direct your attention to this perfectly crafted striped dress from Zara. The tunic style is easy to wear and will be your "something red" for Fourth of July. Arrive to your family's backyard BBQ in style.
Zara, $70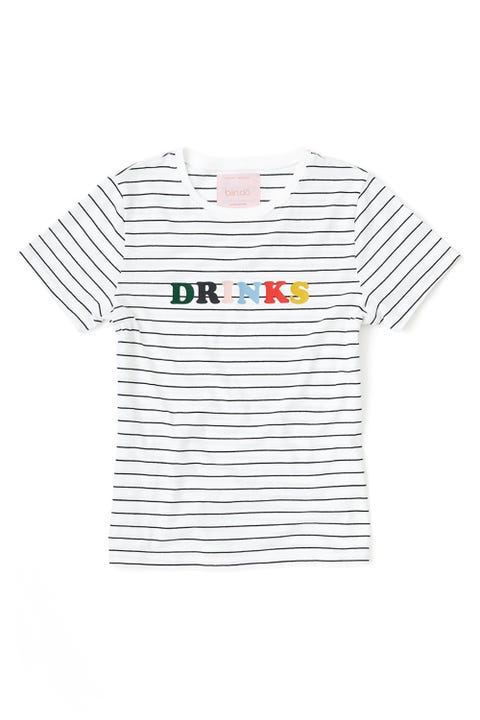 I never say no to a second round of spicy jalapeño margs and this tee makes that explicitly known to the bartender. While it's suited for the weekends, I'll happily wear this shirt to the office Monday through Friday with a pleated black skirt and pumps. Sorry, boss?
Ban.do, $44
3
A Pair of Eco-Friendly Pants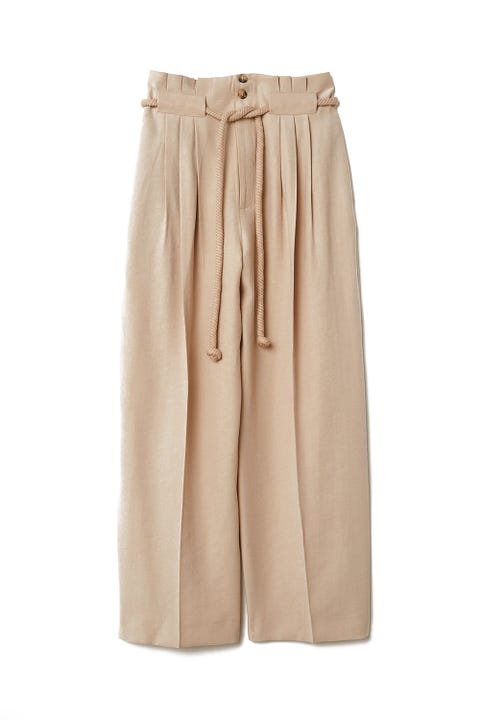 Dear environmentally-conscious shoppers, you'll want to quickly add these pants from H&M's sustainable collection to your checkout cart. Made of recycled fabric, the high-waisted twill style comes with a removable belt and tapered bottoms, so they move as you walk. Let that summer breeze hit your skin.
H&M, $60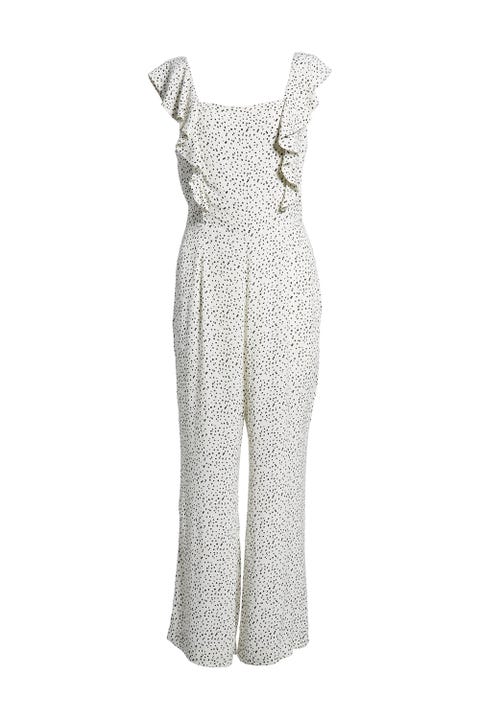 When you're in that Monday morning rush, you don't have time to second guess your outfit choices. This cute jumpsuit (paired with colorful mules) is an easy solution for getting dressed quickly, so you make that train or bus.
Leith, $79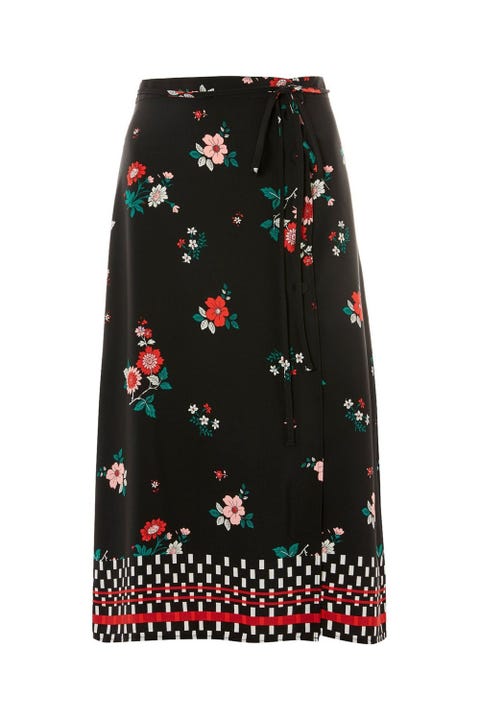 Sure, summer is all about bright colors, but you don't have to neglect your love of black just because temperatures hit 90 degrees. This Topshop piece comes in a dark hue but still seems sunny, thanks to the tiny colorful florals. Wear with sneakers and a white silk tank.
Topshop, $68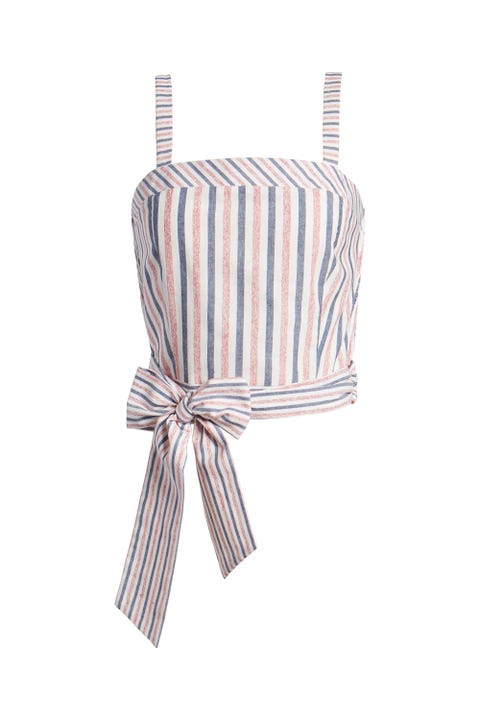 This striped top can be styled in every way imaginable. I would wear it with white culotte pants and neutral block heel sandals one day, and blue jeans and sneakers the next. The outfit options are endless, saving you from any future impulse buys.
Storee, $49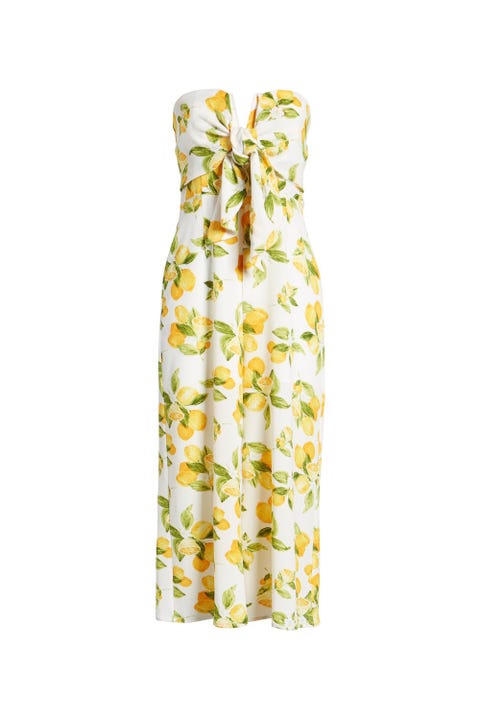 I've never met a fruit print I didn't like. And this lemon motif jumpsuit with its vibrant summertime colors is one of my favorites. Every time I look at it, I find myself daydreaming about another trip to the Amalfi Coast. And this time around, I'm bringing the jumpsuit with me.
Socialite, $65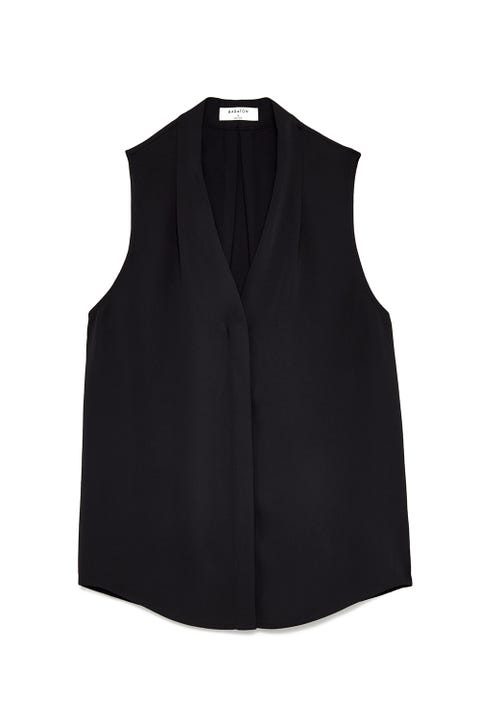 It's difficult to find stylish yet office-appropriate tops, but Babaton's "Aiken" blouse solves that problem. The matte satin material drapes beautifully and goes well with trousers, pencil skirts, and even blazers. I'll take this 9-to-5 top in all three colors, please.
Babaton, $88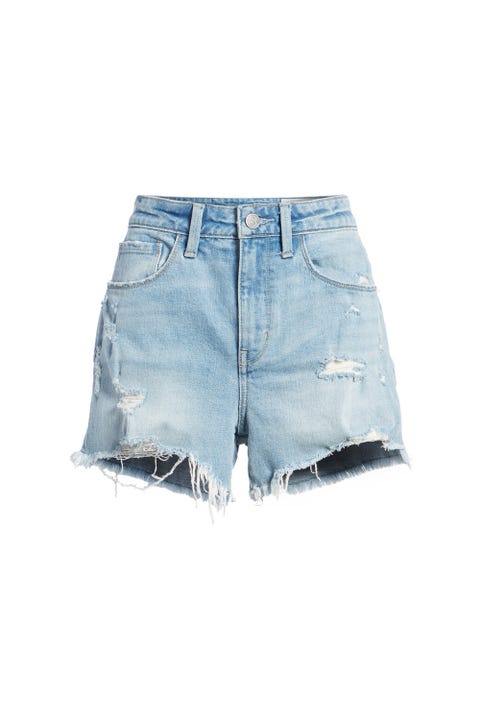 Daisy dukes may not be part of your "adult" wardrobe, but that doesn't mean you have to completely give up denim shorts. Look for high-waisted styles with longer hemlines, so your tush stays covered, but your legs can still see the sunlight.
Treasure & Bond, $69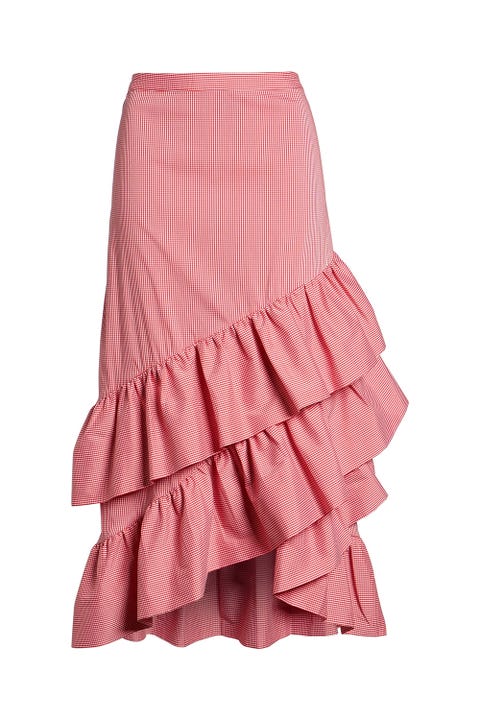 You can dress up this gingham ruffle skirt with heels or dress it down with sneakers—the styling hacks are limitless. The cool sweeping design is a smidge dramatic, so it adds that fashion kick to your everyday wardrobe.

Chelsea28, $47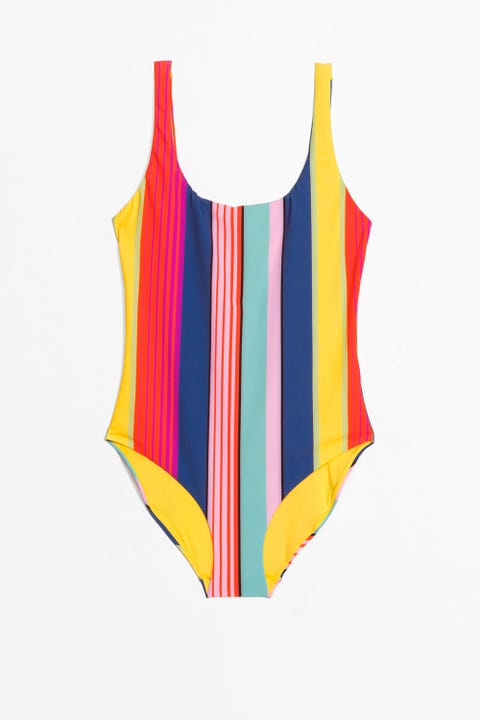 Swap your basic black bikini for this colorful one-piece swimsuit. The multi-colored stripes are a treat for the eyes, so you'll stand out in style at the pool or beach. Don't be wary if strangers come up to you to dole out compliments.
& Other Stories, $55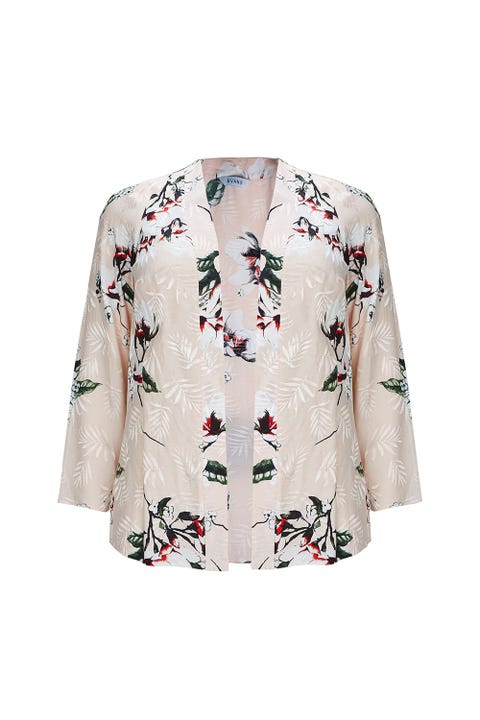 When someone in the office cranks up the AC, drape this floral kimono over your shoulders. The print will brighten up any meeting you walk into.
Evans, $69
13
An Off-the-Shoulder Dress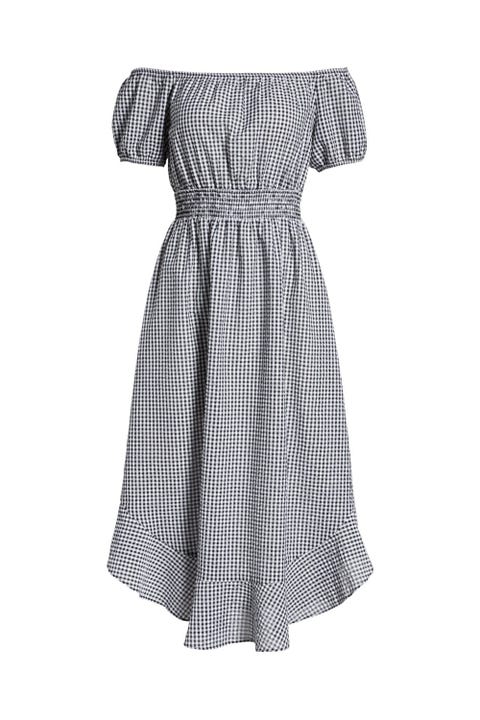 This off-the-shoulder dress is for the ladies who like a little country charm. The flounced ruffle hem and gingham print will pair nicely with these white cowboy-inspired boots from Ganni. Now, someone book me a flight to Austin, Texas.
Treasure & Bond, $89
14
A One-Shoulder Ruffle Top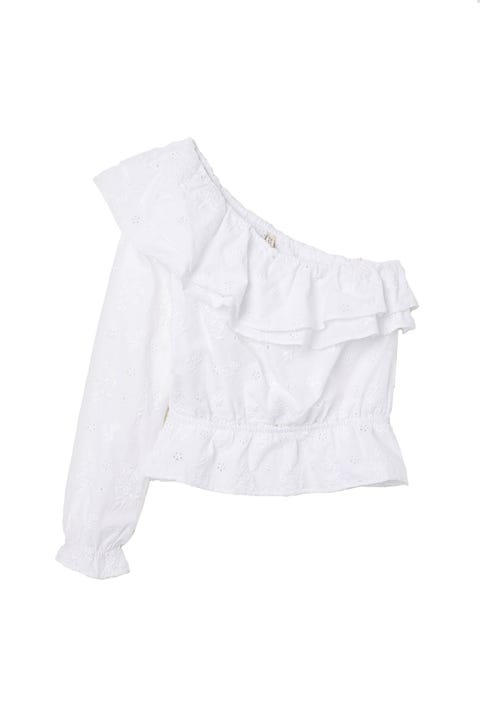 On the weekends, your top can be a little more flirty and less conservative. While this eyelet embroidered shirt might raise a few eyebrows in the office, come Saturday, your shoulder is ready to be shown off. Style the feminine and sexy look with jeans or a maxi skirt.
H&M, $35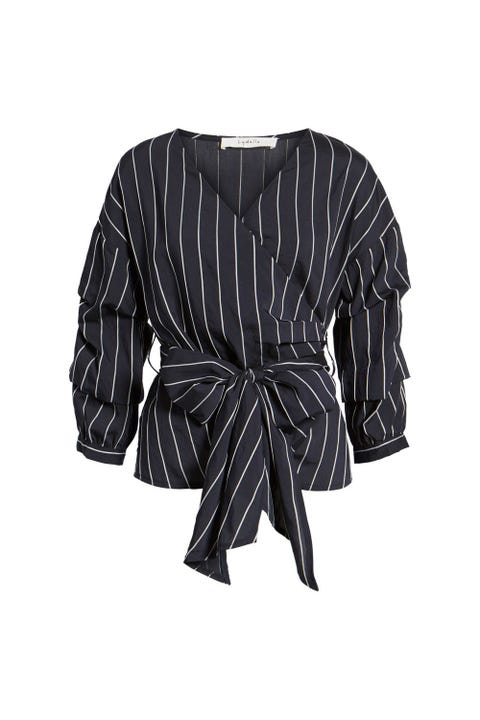 Pinstripe details are classic, but add in a ruched design and the piece becomes trendy. This dynamic top will add flavor to your workday outfits, so prepare to command that board room in style.
Lydelle, $23
This content is created and maintained by a third party, and imported onto this page to help users provide their email addresses. You may be able to find more information about this and similar content at piano.io