The Best Supermodels of the 1970s
From Jerry Hall to Iman, these are the iconic models of the disco era.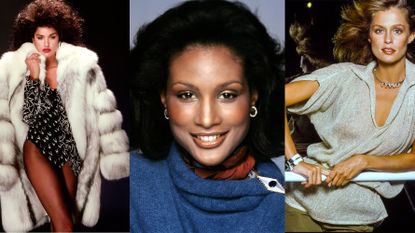 (Image credit: Getty Images)
Marie Claire Newsletter
Celebrity news, beauty, fashion advice, and fascinating features, delivered straight to your inbox!
Thank you for signing up to Marie Claire. You will receive a verification email shortly.
There was a problem. Please refresh the page and try again.
Much like the supermodels of the 1960s, the cover girls of the '70s mirrored the changing times. Whether they were breaking down barriers or just shaking things up, each girl left her own footprint on the industry. From Janice "the first supermodel" Dickinson, to future Bond babe Grace Jones, we've gathered a list of the legendary icons who set the stage for future supermodels.
1/20
Jerry Hall
Jerry Hall left her home in Texas at 16 with dreams of being a supermodel. She booked a one-way ticket to France and was discovered on a beach in St. Tropez. Within weeks of being discovered, she was being photographed by Helmut Newton and went on to cover 40 major fashion magazines. Hall was also famous for her high profile relationships. She was the girlfriend and muse of Bryan Ferry, then went on to marry Mick Jagger.
2/20
Lauren Hutton
Lauren Hutton was a 12th-generation Southerner and raised in the Florida Everglades. During her late teens, she had stints at New York's Playboy club and Al Hirt's jazz club in New Orleans. She eventually met and impressed Diana Vreeland, who sent her to Richard Avedon. She would go on to book over 25 covers between 1966 and 1975 and pursued a career as an actress, starring alongside Richard Gere in American Gigolo.
3/20
Janice Dickinson
In the early '70s, Janice Dickinson moved to New York City to pursue modeling after winning "Miss High Fashion Model." After being turned down by Eileen Ford herself, she was discovered by photographer Jacques Silberstein. She went on to cover all of the top fashion magazines, including Marie Claire, and calls herself the "world's first supermodel."
4/20
Gia Carangi
Gia Carangi was always known for her wild ways. Her career began at 17-years-old when she was signed by Wilhelmina agency. By 18, she was making $100,000 a year and starring in many major campaigns. Sadly, while becoming a nightclub regular, she became addicted to drugs, her career declined, and she eventually died of AIDS-related complications. She was portrayed by Angelina Jolie in 1998's Gia.
5/20
Iman
Iman was discovered in 1975 by Peter Beard who saw her on the street in Nairobi and was taken with her statuesque Somalian beauty. At the time she was at university majoring in political science and fluent in five different languages. She exploded onto the fashion scene, booked many major fashion spreads and covers, and served as a muse to the likes of Thierry Mugler, Calvin Klein, and Donna Karan. She went on to win the affections of another '70s icon, David Bowie, who she married in 1992.
6/20
Marisa Berenson
Yves Saint Laurent dubbed Marisa Berenson "the girl of the Seventies." Considering her grandmother was the legendary couturier Elsa Schiaparelli, fashion was part of her DNA. She began modeling at 16-years-old and Diana Vreeland eventually took the star under her wing. She worked with the most storied '70s designers including YSL, Azzedine Alaïa, and Halston, as well as legendary photographers Richard Avedon, Helmut Newton, and Irving Penn.
7/20
Patti Hansen
Patti Hansen was discovered in 1972 while working at her father's hot dog stand in Staten Island. During the beginning of her career, Patrick Demarchelier took her on her first trip to Paris. Soon after, she starred in Revlon ads shot by Richard Avedon. She was a fixture on the Studio 54 scene and at 23-years-old, she met her future husband Keith Richards on the dance floor.
8/20
Beverly Johnson
Beverly Johnson paved the way for African American models, breaking down many racial barriers in the '70s. When she first pursued a modeling career, she was rejected by every modeling agency she reached out to. However, after things began to shift culturally, her phone began to ring off the hook. She appeared in over 500 magazines and walking the runway for Yves Saint Laurent, Ralph Lauren, and many more.
9/20
Cheryl Tiegs
Cheryl Tiegs embodied the girl-next-store look with her sun-kissed tan, healthy physique, and cover girl smile. She began modeling at 16, working for department stores for $25 a day. Her first major campaign was a swimsuit ad that appeared in Seventeen. She went on to cover many fashion magazines, as well as Sports Illustrated many times over.
10/20
Rene Russo
After being scouted at a Rolling Stones concert in 1972, Rene Russo was signed to Ford Modeling Agency and her career took off. The fashion industry fell in love with her cutting cheekbones and wide set eyes — Brooke Shields once described her as "the most beautiful thing that ever walked the face of the earth." After a successful decade run, she retired from modeling at 30-years-old and went on to have a successful acting career.
11/20
Kelly Emberg
Kelly Emberg was in high school, a member of the school's female drill team, when she was discovered by a local photographer in Houston. She eventually landed in New York City where she signed with Elite Model Management and went on to cover major fashion magazines, make multiple appearances in the Sports Illustrated Swimsuit Issue, as well as book campaigns with CoverGirl and Calvin Klein.
12/20
Grace Jones
After signing with Wilhelmina Models New York in 1966, Jones moved to Paris in 1970, where her modeling career truly took off. Parisian fashion houses lived for Jones' androgynous and mysteriously bold appearance. She walked the runways for Yves Saint Laurent, Claude Montana, and Kenzo Takada, as well as appeared on the covers of Elle, Vogue, and Stern. She was a frequent model for Azzedine Alaïa, and also lived with fellow supermodel Jerry Hall and actress Jessica Lange in Paris. She eventually transitioned from modeling into music and acting, releasing 10 albums and starring in a James Bond film. She's an icon in her own right, serving as inspiration for artists such as Rihanna, Lorde, and Lady Gaga. In December 2016, Billboard Magazine ranked her as the 40th most successful dance artist of all time.
13/20
Margaux Hemingway
Standing tall at six feet even, the statuesque granddaughter of Ernest Hemingway was the first supermodel to land a million-dollar contract for Fabergé. Dubbed one of the "new beauties" by TIME Magazine in 1975, Hemingway appeared on the covers of Cosmopolitan, Elle, Harper's Bazaar, and Vogue at the peak of her career. A staple at Studio 54, Hemingway eventually retired from modeling and had a brief film career.
14/20
Gia Carangi
Carangi's meteoric rise started with her move to New York from Philadelphia at the age of 17 in 1978. A favorite of photographers such as Richard Avedon and Francesco Scavullo, Gia modeled for the top fashion houses and appeared on the cover of multiple issues of Cosmopolitan, Vogue UK, Vogue US, and Vogue Paris from 1979 until 1981. She was so famous that she went solely by "Gia" at the height of her career. Tragically, after the death of her mentor and agent Wilhelmina Cooper, Gia turned to heroin, and her modeling career was cut short. She passed away at the age of 26 from AIDS-related complications on November 18, 1986.
15/20
Karen Bjornson
One of designer Halston's "Halstonettes", Bjornson's career has been an interesting trajectory. After meeting Halston one month after arriving in New York from Cincinnati, she served as Halston's muse for two years. She also walked the runways for Calvin Klein, Perry Ellis, Ralph Lauren, Donna Karan, and appeared on the covers of Newsweek and Cosmopolitan. After retiring in 1989 to take care of her two daughters, Bjornson returned to the runway at the age of 50.
16/20
Karen Graham
Graham is a legend in her own right. She was the first exclusively-contracted model for Esteé Lauder from 1970-1985 and muse to photographers Irving Penn, Richard Avedon, and Vogue editor Diana Vreeland, and appeared on the Vogue cover twenty times between 1970 and 1975. She eventually retired from modeling after turning 40 in 1985 to pursue a career in–get this–fly fishing. She returned for a brief modeling stint with Estée Lauder in 1999, but it seems fly-fishing is where her heart lies.
17/20
Cristina Ferrare
When her family relocated to Los Angeles when she was 14, Ferrare's modeling career quietly took off. At 16, she was hired by Max Factor and was "The Max Factor Girl" for a decade.
18/20
Dayle Haddon
Haddon is a legend in every sense of the word– a 35 year career in which she is the only model who has held four major cosmetic contracts, representing Max Factor, Revlon, Estee Lauder and L'Oréal. A former pageant queen, Hadden also appeared on the cover of the Sports Illustrated Swimsuit Issue in 1973 and was twice named to Harper's Bazaar's "Ten Most Beautiful Women."
19/20
Lisa Taylor
After leaving junior college and getting cut off by her parents, Taylor walked into Ford Models in pursuit of money, and was signed immediately. Almost overnight she was the next It Girl, most known for the daring poses she allowed herself to be photographed in. She eventually retired from modeling, only to emerge alongside Naomi Campbell, Kate Moss, and Iman for Vogue's Millennium cover, solidifying her place as one of the greats.
20/20
Rosie Vela
Vela began her modeling career in Arkansas, but after the death of her first husband she moved to New York City and her career took off in 1975. She appeared in Newsweek and in Vogue, and did numerous television commercials and appeared in films. She transitioned into music in the 1980s and works as a background singer.
Celebrity news, beauty, fashion advice, and fascinating features, delivered straight to your inbox!
Amanda Mitchell is a writer and podcaster with bylines at Marie Claire, OprahMag, Allure, Byrdie, Stylecaster, Bon Appetit, and more. Her work exists at the apex of beauty, pop culture, and absurdity. A human Funfetti cake, she watches too much television, and her favorite season is awards season. You can read more of her work at amandaelizabethmitchell.com or follow her on Instagram and Twitter @lochnessmanda.