The Iconic Supermodels of the 1980s
The faces that defined the decade.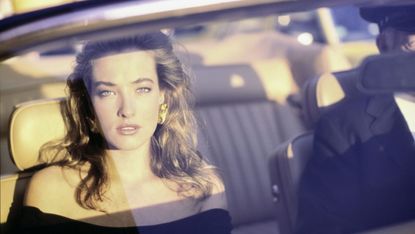 (Image credit: Getty Images/Arthur Elgort)
Yes, the hair was bigger, but that wasn't the only thing to set the cover models of the '80s apart from the rest. The term "supermodel" may feel synonymous with the '90s—Naomi, Kate, and all the other greats that only go by one name—but the breakout models of the '80s paved the way for their cool-girl predecessors. And we continue to see the influence of these '80s models in fashion today: This season, Chanel sent byzantine jewelry pieces down the runway that resembled the Christian Lacroix sweater from Anna Wintour's first 1988 Vogue cover. There were also '80s influences in the looks of Saint Laurent and Louis Vuitton's fall 2020 runways. From new '80s babies like Cindy Crawford and Brooke Shields, to already established beauties like Jerry Hall and Gia Carangi, below we put together a list of the top models of this decade.
•••

For more stories like this, including celebrity news, beauty and fashion advice, savvy political commentary, and fascinating features, sign up for the Marie Claire newsletter (subscribe here).
1/20
Jerry Hall
Though Hall came to rise in the '70s , she was absolutely thriving in the '80s. (Hall boasted 40 magazine covers by the time she was only 21 years old!) She graced the covers of French Vogue, walked in Chanel shows, and was on the arm of eternal rock star Mick Jagger. The couple broke up in 1999, however, and have four children together.
2/20
Ines De La Fressange
La Fressange's career took off in the late '70s and n 1983, she became the first model to sign an exclusive contract with Chanel. In 1989, Fressange and Lagerfeld had a public falling out, but made up when she walked his show once again in 2011. La Fressange most recently starred in Uniqlo's spring/summer 2020 campaign.
3/20
Gia Carangi
This model from Philadelphia was known for her troubled past and early death, but she was also considered one of the first supermodels of all time. She was discovered in a night club in 1976 and modeled for brands like Dior and Versace in the late '70s and early '80s until she died from AIDS in 1986 at age 26. Carangi's life was made into a movie named Gia, which starred Angelina Jolie.
4/20
Farida Khelfa
Muse to Azzedine Alaia, Jean-Paul Gaultier and Jean Paul Goude, this French-Algerian model was discovered at age 16 at a Paris night club. At 6 feet tall, she stood out, and was the subject of some of Goude's most iconic photos of all time. The stylish model is also an actress and filmmaker and now lives a relatively private life. "I'm very flattered to be described as a style icon. Coming from an immigrant family, it was always very important to me to dress well. It was a way to be accepted," she said to L'Officiel.
5/20
Cindy Crawford
Before Cindy Crawford became a supermodel, she was on an academic track. She was her high school's valedictorian and studying chemical engineering at Northwestern University before she dropped out to pursue modeling. In 1982, she won Elite Model Management's "Look of the Year" contest and within months the U.S. had fallen in love with her all-American look. She become one of the original Big Six supermodels, and had the most commercial success of all the girls.
6/20
Brooke Shields
After spending her pre-teen years starring in films such as Pretty Baby (1978) and Blue Lagoon (1980), Brooke Shields made waves in the fashion industry, covering the most popular fashion magazines and appearing in Calvin Klein's controversial jean ads. Her bold brows, impeccable bone structure, and long hair were iconic.
7/20
Christie Brinkley
Christie Brinkley didn't dream of becoming a supermodel. In fact, she was hesitant to abandon her career as an illustrator. But that all changed after she caught the attention of American photographer on the streets of Paris. She decided to embrace the industry, and the rest was history. She covered the Sports Illustrated Swimsuit Edition three consecutive times (1979 to 1981) and starred in national campaigns for Chanel Beauty and Cover Girl. She also had a high-profile relationship with Billy Joel, during which time she inspired his famous song, "Uptown Girl."
8/20
Iman
Iman was discovered in 1975 by Peter Beard who saw her on the street in Nairobi and was taken with her statuesque beauty. At the time she was at university majoring in political science and fluent in five different languages. She exploded onto the fashion scene, booked many major fashion spreads and covers, and served as a muse to the likes of Thierry Mugler, Calvin Klein, and Donna Karen. She went on to win the affections of another '70s icon, David Bowie, who she married in 1992. The supermodel became a CEO in 1994, launching makeup brand IMAN Cosmetics to serve women of color at a time when the beauty industry largely ignored their needs.
9/20
Elle Macpherson
At the beginning of her career, Elle Macpherson pursued modeling to earn money to pay for her law books at Sydney University. The Australian beauty moved to New York City, only planning to stay a year, but found instant success. By 1986, she had appeared in all the major fashion magazines and covered the Sports Illustrated Swimsuit Issue in 1986, 1987, 1988, 1994, and 2006. Her unparalleled physique earned her the nickname "The Body."
10/20
Carol Alt
Carol Alt was enrolled in college on an army scholarship and participating in military drills around the time she was discovered. A photographer walked into a restaurant where she was waitressing and told her she should model. She was introduced to Elite Model Management founder John Casablancas and was offered a contract on the spot. She went on to become one of the most famous cover stars of the '80s and to walk the runway for the likes of Calvin Klein and Ralph Lauren.
11/20
Paulina Porizkova
Paulina Porizkova's modeling career began after a chance encounter with an Elite Model Management scout on the streets of Sweden. She went on to appear in numerous magazines, star in campaigns for Estée Lauder, Maybelline, Escada, and more, as well as cover the Sports Illustrated Swimsuit Edition in 1984.
12/20
Kim Alexis
Kim Alexis began modeling at 18 after being discovered by Elite Model Management. Although she did high-profile fashion work, she became best know for beauty after replacing Lauren Hutton as the face of Revlon's Ultimate II line. She appeared on the Sports Illustrated Swimsuit Issue cover for 6 consecutive years.
13/20
Renée Simonsen
Denmark-born Renée Simonsen's modeling career, which began as a means of paying for university, began when she won the "Face of the Eighties" model search in 1982. She found instant success, starring in major campaigns and covering numerous magazines. Despite being offered to auction for the role of Bond Girl in the next James Bond film, she left modeling at 24 to continues her studies. Today, she's educated in psychology and is a full-time writer.
14/20
Tatjana Patitz
In 1987, a teenaged Tatjana Patitz entered Elite Models' "Look of the Year" competition and placed third. Though she didn't win the contest, Patitz's unique look and energy caught the attention of fashion publications across the world, subsequently launching her into stardom. Patitz worked consistently as a model for the rest of the 80s, but it was the 1990 now-iconic black and white image of her with Naomi Campbell, Linda Evangelista, Christy Turlington and Cindy Crawford that officially stamped her as a supermodel. She went on to model in various versions of Vogue, Elle, and Cosmopolitan while still making time to walk runways all over the world and appear in lucrative advertising campaigns.
15/20
Linda Evangelista
Linda Evangelista can also credit her start in the modeling world to Elite Model Management; She was discovered by a scout from the world-famous modeling agency in 1981, and officially began modeling in 1984 after a brief run as Miss Teen Niagara. Evangelista relocated to New York City to begin what would be a dream career as a model. She began a close working relationship with Chanel's Karl Lagerfield as well as Gianni Versace, additionally modeling for major brands such as Giorgio Armani, Calvin Klein, Comme des Garçons, and Max Mara.
Dubbed the "color chameleon of fashion" for her ever-changing hairstyles, Evangelista's decision to chop off all of her hair in 1988 inspired women all over the world to visit their local salons for "The Linda."
16/20
Jill Goodacre
Not long after Victoria's Secret launched in 1977, it tapped Jill Goodacre to be one of the faces of its brand alongside models Stephanie Seymour and Frederique. The Texas native's time as a model for VS definitely contributed to the early success of the brand, making it a leader in the industry even as it developed to include loungewear, activewear, and perfume.
Goodacre married singer and actor Harry Connick Jr. in 1994, and the couple are the proud parents of three girls.
17/20
Stephanie Seymour
A Victoria's Secret Angel long before the Angels existed, Stephanie Seymour is known most notably for being one of the famous faces to model for the lingerie brand. She appeared in multiple editions of the Sports Illustrated Swimsuit Issue, Vogue, and even Playboy during her lasting career.
18/20
Karen Alexander
When Karen Alexander first began visiting modeling agencies, she was rejected by some of the industry's most influential scouts, including Eileen Ford and John Casablancas. She was eventually picked up by Legends Agency, and had a successful career that's lasted over two decades, with Alexander starring in a Tiffany & Co. campaign in Fall 2008.
19/20
Janice Dickinson
Love her or hate her, there's no denying that Janice Dickinson was a force to be reckoned with in the fashion industry. She started modeling in the late '70s but was considered a supermodel by the time that the '80s finally rolled around, and was one of the first models to be represented by Elite Model Management. Dickinson worked with Oscar de la Renta, Gianni Versace, and Calvin Klein.
Years later, the model joined Tyra Banks on her reality competition America's Next Top Model. Dickinson was notorious for being the sternest judge on ANTM, often dishing out harsh criticism to the aspiring models.
20/20
Kathy Ireland
Scouted as a teenager by Elite Model Management at age 17, Ireland became one of the most recognizable faces in fashion when her 1989 Sports Illustrated cover was released to the public. To this day, Ireland's cover is still hailed as one of the most iconic in the publication's history.
The supermodel didn't just stick to modeling; Ireland also pursued an acting career and even started her own business in 1993. Today, Kathy Ireland Worldwide sells an impressively wide variety of lifestyle products, including fashion, fine jewelry, intimate apparel, and skincare.
Katie Attardo is the Accessories Editor at Marie Claire, covering all things fashion and jewelry-related.