32 Icons of the 1980s
From the biggest shoulder pads to the most gorgeous androgyny.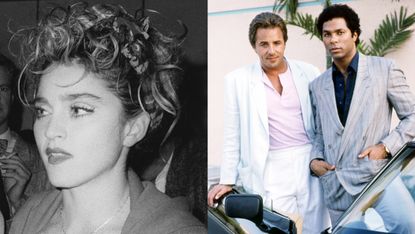 (Image credit: Getty Images)
As a reaction to the '70s, the '80s debuted a ton of styles that shocked and delighted, from short hair on both men and women, to grunge as mainstream (think: ripped jeans, chunky boots, and lots of leather), to playing with the definitions of "masculine" and "feminine" fashion norms (you're going to see the word "androgyny" a few times in this gallery). As part of "anything but disco" '80s dressing, we also got some very fun—sometime veering on silly—trends including fishnets, wild hair colors, bright colors and glitter, leggings, and shoulder pads. So many shoulder pads.
While we might think of the '80s fashion days as outdated, there are actually a ton of icons that prove how avant garde, smart, and ultimately daring they could be. These '80s icons made such a statement through their clothes that it could literally become serious, hard-hitting news. Keep scrolling for 32 of the most important '80s icons ever.
Cheryl Tiegs
Coming into prominence in the '70s and continuing into the '80s, Tiegs was "the first supermodel," meaning she was one of the first models to be known as an entity unto herself beyond her initial career. In part thanks to her tenure as a Sports Illustrated model, featuring some semi-sheer suits and an infamous pink bikini, she was a style icon for casual '80s style. She also launched her own line of clothing for Sears, and went on to be a known TV presence.
Bianca Jagger
The former wife of Mick Jagger was also a profound fashion presence in her own right. She was a mainstay at Studio 54, most notably getting up on a white horse (a gift for her birthday). She was the '70s style muse (and was friends with Andy Warhol and Halston) with flowy, billowy dresses that morphed into tailored, big shoulder-padded jackets and suits alongside more streamlined dresses in the '80s. Her impact lasted decades, and her outfits remain as iconic as they did then.
Demi Moore (and Bruce Willis)
Demi Moore (alongside her best accessory—Bruce Willis) was one half of a major '80s power couple. Her red carpet style helped usher in our obsession with what stars were wearing to big events, alongside our collective fascination with the love lives of the rich and famous. Prior to Willis, Moore had also had a relationship with Emilio Estevez; bringing her partner to the red carpet and showing them off was decidedly as fun as her black, sleek, and very sexy red carpet style. She also helped debut shorter hairstyles for women!
MC Hammer
Ah yes. The hammer pant! The rapper was a huge cultural force in the '80s (even if you only remember the wide, comfy, low-crotch, tapered-at-the-ankle pants he became known for), and his fun and edgy style was unique both for men and for rappers at the time. He was one of the first rappers to do endorsements, and he unabashedly, enthusiastically helped shape larger cultural trends, including with the up-tempo, energetic dance moves that complemented the pants-wearing.
Melanie Griffiths
On screen, Griffiths might be most well-known for her iconic big-haired, big glasses, big blazered style in Working Girl from this decade (also known as the "power suit" for women, if you're not familiar with the ubiquitous trend). But in the '80s, she also helped to popularize a shorter everyday hairstyle for woman, and had a fun and casual off-duty style when she wasn't working. She also had good mom style before that was a thing!
Lisa Bonet
Bonet, who embodied cool, bohemian style (and continued to do so through multiple decades) really evolved her look in the '80s. Going from Lisa on The Cosby Show, then marrying the similarly stylish Lenny Kravitz—the two began to coordinate on the red carpet and it was the best thing ever—and beginning to act in more adult roles, Bonet became a stylish woman with some very emulatable outfits. Her outfits felt casual and eclectic, but always put-together and fun.
Faye Dunaway
Starting out as the beret-wearing fashion icon of the '70s, thanks to a fashionable turn in Bonnie and Clyde, (debuting menswear long before it was cool). Dunaway continued to turn heads in the '80s. Aside from wearing bold new designers, like Christian Lacroix here, she gave us dramatic, but classic and elevated, red carpet style for many years. She was equally at home in black velvet and diamonds as she was in a head-to-toe leather skirt suit, and we applaud her.
Farrah Fawcett
The queen of '70s hair and fashion (seriously, everyone wanted "the Farrah" haircut), Fawcett continued to act, and be a reliable red carpet presence, well into the '80s. She sometimes branched out from her signature hairstyle into bigger, curlier versions, and she continued to have one of the most enviable heads of hair in this decade. She also had more serious acting roles in the '80s, meaning she got a chance to show off her relaxed, flowy, denim-heavy style.
Cher
Cher was a tradition-bucking icon for many years—and not just because she defied convention and went to the generally buttoned-up Oscars in a naval-baring black dress. Her "risque" outfits at the time were so controversial that sometimes TV stations refused to air them, but (as was by then pretty typical of her) she continued to sing, act, and generally do whatever the heck she wanted regardless of people told her to do. And her style evolved to magnificent effect in this decade.
'Miami Vice'
If you look at pictures of men from this decade, you might believe that everyone looked like the two main characters on Miami Vice (which ran for five seasons and gave men everywhere tons of inspiration). T-shirts and suit jackets were ubiquitous in the '80s as a casual everyday style, thanks to Don Johnson and Philip Michael Thomas. Don't forget to add the pastel colors and general vibe of coming straight out of Florida, and you had the ideal '80s outfit.
Anjelica Huston
In the '90s she was Morticia Addams, but in the '80s, Anjelica Huston was an absolute style icon. Often on the arm of partner at the time, Jack Nicholson, she had a unique, startlingly beautiful look. Tall, with dark hair and angular features, she was a model in the '70s (and was a favorite of Halston). She pivoted to acting in the '80s and became known for playing unique, sometimes quirky characters but made just as much an impact with glittery gowns on the red carpet.
Kim Basinger
An early acting career led to a pivot to acting for Basinger, which led to her '80s "bombshell" status. While Basinger's style from the 1980s is probably most associated with her role as a Bond girl in Never Say Never Again, which featured a lot of sheer and revealing outfits, her evolving style (particularly her oversized, masculine, modern outfits for the controversial erotic film 9 1/2 Weeks) also meant that she was a much-emulated style icon from the decade.
Olivia Newton John
Technically, Grease was released in 1978, but the impact of Sandy's black leather outfit and red lipstick (don't forget the big hair!) had ripples throughout '80s fashion. In addition to helping to usher in the big hair and fitted style that became prominent in the decade, her personal style evolved from the purple bodysuits of the '70s into the exercise-inspired outfits of the '80s. She debuted a much shorter haircut and an edgier style (see also the music video for "Physical") that caught on quickly.
Cindi Lauper
Cindi Lauper had an eclectic style from the time she was young, but it took becoming a singing legend for people to appreciate it. She could take fishnets, a tulle skirt, big hair, some chunky belts, fingerless gloves, and a bunch of bangles, and make a complete, holistic (albeit sometimes very busy) look out of it. Add in her fun, funky hair colors, and you have the inspiration for a whole generation of women in middle and high school to replicate her looks.
Bananarama
The "alternate" girl style of the '80s came squarely from the influence of this band—way before TLC and Destiny's Child were debuting matching outfits, Bananarama was dressing in fun complementary getups. The trio popularized ripped jeans, cropped leather jacket, black chunky shoes, and short teased hair style for young women; Style was an important bonding experience for the three, who became close over nights out where they got to experiment with punk fashion.
Brooke Shields
Very much the it-girl for the '80s, with a style that W Magazine called "Americana glamour," Brooke Shields was both a mainstay of big red carpet gown fashion and everyday street style. From her blazers to her loafers to her ultra-tight Calvin Klein jeans, to her ab-baring outfits that scandalized people at the time, Shields grew from teenager to confident, stylish young adult in this decade. Plus, her hair (and eyebrows) were absolutely to die for.
Blondie
If you're wondering what "grunge-glamour" is, look no further than Blondie. Originally becoming popular in the '70s, the band continued to innovate in the '80s, particularly lead singer Debbie Harry. The joy in Harry's outfits was her unabashed femininity (in amongst her male bandmates) and the powerful, take-no-prisoners lyrics of the songs. She got to sing about subjects other female artists weren't coming, and being unabashedly female while doing so.
Michelle Pfeiffer
The star of Grease 2, much like her predecessor Olivia Newton John, became a instant style icon. In the sequel, she's got the feminine-with-some-edge style (remember her pink jacket?) that also became recognizable and emulated. But she was also an on-screen chameleon, with short hair in Ladyhawk, glorious long curls in The Witches of Eastwick, and a sharp blonde bob (with magnificent gowns) in Scarface. Her big, teased hair in Married to the Mob is one for the ages.
George Michael
George Michael pretty much embodied and defined '80s pop "bad boy" style: He helped popularize such staples as the big blazer with no shirt underneath it, earrings for men, deeply ripped jeans, teeny tiny shorts, studded denim—yes please, and leather statement jackets (sometimes with a ton of fringe), to name a few. Michael's crop tops gave everyone else permission to wear crop tops, no matter who you were (and what your sexuality was).
Mick Jagger
Lots of people—men and women—call Mick Jagger their style icon, and for good reason. Velvet and flare bottoms, fabulous jackets, cropped tops, the tightest pants you've ever seen: Jagger brought us from the '70s into the '80s with a ton of colorful style. Like many on this list, Jagger leaned in on androgyny in this decade, blurring the lines between "masculine" and "feminine" dressing, with a special glam rock and roll touch that was all his. You could wear those outfits today!
Joan Collins
Alexis Carrington Colby had the most '80s hair and outfits ever on the show Dynasty, and Joan Collins, who played her, said the clothes were "a huge part" of what made the show enjoyable. The fact that Collins' style was basically exactly the same, and she held onto it over the decades (no changing trends for her!) meant that she was inextricably linked to big hair, shoulder pads, sparkles, and the general over-the-topness of it all. Don't forget the enormous hat.
Boy George
No matter what over-the-top look a musician was doing, Boy George was outdoing. His makeup, long hair, colorful style, and oversized clothing helped introduce androgyny to the public, and he was open about trying to have this positive impact on society. "Now, because I'm a very famous person people accept that I can look male and female. There are a lot of people out in the jungle who still dress the way I do and my job is to make it safe for them to be able to be normal people without being successful," he told Face the Nation in 1984.
Diana Ross
With her influence starting in the '60s and continuing for decades, Ross redefined on-stage fashion with her glittery outfits and luxurious curly hair (and also made iconic fashion appearances on the red carpet, including the Met Gala). But she also had a stripped-down, simple look in the '80s that included her 1980 album Diana, in a white tee and jeans. Her looks have continued to influence style; Additionally, her daughter Tracee Ellis Ross has become a certified fashion icon as well.
Jerry Hall
One of the most popular models at the time, Jerry Hall might be most known to people as "Mick Jagger's former partner and Rubert Murdoch's ex-wife." But she was much much more: She was a muse of the disco era in the '70s and '80s (and continued to model into the '90s), with her signature long blonde hair and tall stature impacting the fashion world's "it look" and redefining what it meant to look glamorous—especially her iconic, often-sparkly party dresses.
Grace Jones
Called "the enduring queen of disco fashion" by American Vogue in 2022, Grace Jones' unapologetically androgynous style was pure camp, with oversized silhouettes, daring color, and over-the-top stylings. That plus flat-top hair and, as Michael Shulman for the New York Times dubbed it in 2015, "Egyptian-cyborg outfits," took her from an already impressive modeling, singing, and acting career to surreal, enduring (and joyfully divisive) style icon.
Iman
The winner of the Fashion Icon Award by the CFDA in 2010, Iman was one of the first women of color to walk the catwalk of high fashion houses. She was also a muse for several couture designers, including Calvin Klein and Halston. Yves Saint-Laurent even dubbed her "his dream woman." During this decade, she also acted, including on Miami Vice and The Cosby Show. Along with fellow innovator and husband David Bowie, she broke boundaries all over the place.
Prince
Forever blurring the boundaries between what's considered "masculine" and "feminine" fashion, Prince unapologetically wore frills, ruffles, high heels, sparkles, and color in a gorgeous kind of androgyny. It was the kind of sartorial freedom that inspired a lot of people (and shocked even more). As Wesley Morris wrote in the New York Times in 2016, "If Elvis was sex, Prince was a sexual orientation. His own. And it was oriented toward you. And you. And you."
Jane Fonda
Jane Fonda's workout video was so very popular not just because it helped women exercise from the comfort of their own homes, often for the first time: Her exercise-outfits-but-make-them-chic style was fun, approachable, and—most important—emulatable. She also showed up to movie premieres in jeans (which was avant garde at the time and imitated by lots of stars in the '90s) and with shirts with statements on them, such as her "Raises Not Roses" shirt she donned in 1980.
Molly Ringwald
The it-girl of the '80s was Molly Ringwald, from her signature red hair to the iconic costumes she wore in rom-coms. Looking back on Pretty in Pink (in particular her pink prom dress that has become a source of cultural fascination), she noted to Vogue in 2021, "I definitely think the film had an impact in that teens started dressing in more vintage outfits and in more layers. I really loved everything [costume designer Marilyn Vance] did except the prom dress, which I've been pretty open about not liking at the time."
David Bowie
In terms of musical artists pushing the boundaries of style, few did it better than David Bowie. From literally sharp suits to dressing in deliberately androgynous looks that broke boundaries around traditional men's fashion, and particularly in his collaborations with Japanese designer Kansai Yamamoto, Bowie looked cool, avante-garde, and utterly unique (and changed his look throughout his long career). He's influenced men's fashion, women's fashion, and "Fashion" in general.
Madonna
At the time Madonna came to prominence, her daring outfits were absolutely groundbreaking, from her fishnets to cone bras to her strategic use of wedding gowns in performing her songs. A bit punk, a bit eclectic, a bit sexy and fun, and a bit androgynous (before that was a thing for women), Madonna didn't look like anyone else at the time—and she kept innovating through the decades, in part because of her uncanny ability to reinvent her style and persona.
Princess Diana
Very few people impacted style and culture as much as the late Princess Diana. Her outfits were IDed quickly and obsessed over (particularly her "revenge dress," designed by Christina Stambolian, which made her the talk of the tabloids after Prince Charles publicly confessed to adultery). After her divorce, she leaned into a more joyful, liberated style (and really nailed athleisure before it was a thing). Her influence is found everywhere from current royals to street style.
Marie Claire email subscribers get intel on fashion and beauty trends, hot-off-the-press celebrity news, and more. Sign up here.