Our Editors' Favorite Moments From New York Fashion Week Spring 2019
Catch up on everything you might have missed.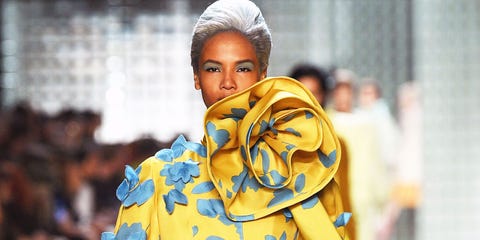 New York Fashion Week is upon us, but if you're not constantly on Instagram scrolling through your newsfeed, you might miss something important. (Did you see Jeremy Scott's political T-shirt or Gigi Hadid close out Ralph Lauren's show?) With that in mind, we're providing short, digestible recaps of our favorite spring '19 runway moments throughout the week. You don't have to sit front row at NYFW to know what's happening!
Slaven Vlasic
Getty Images
Thank God for Marc Jacobs. Last night's presentation was the definition of 'worth the wait' as it was not only the very last show of NYFW but also kicked off 1.5 hours after it was scheduled. I very happily waited and was rewarded with an inspiring, sublime, ridiculous, frothy and fantastic show!! Marc doubled-down on his house's codes by paying homage to past collections and amping up his tries and true ideas to the umpteenth power. All the greatest MJ boxes were ticked: slip dresses, 1950's silver screen sirens, band leader jackets, lurex, Buffalo, flirtations with CHANEL, recent takes on Viramontes, even his ever covetable cashmere thermal made appearances on the catwalk. This show went to prove, once again, that Marc Jacobs is the king of NYFW. — Joseph Errico, Fashion Director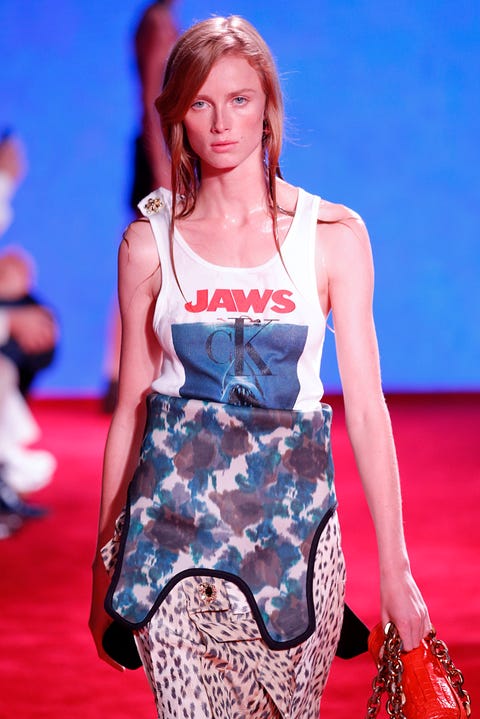 Victor VIRGILE
Getty Images
Shark tank terror at Calvin Klein. — Kate Lanphear, Creative Director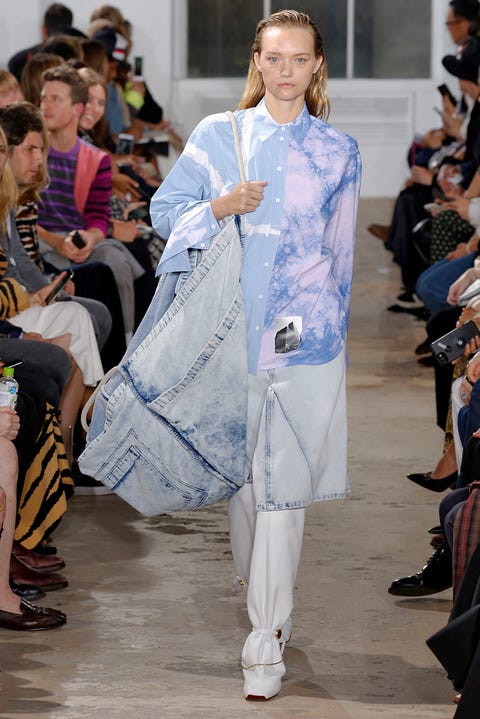 Victor VIRGILE
Getty Images
I am a big fan of Proenza Schouler, so I was thrilled to have them showing back on schedule in NYC. Jack McCollough and Lazaro Hernandez are so talented and so smart. I loved their haute take on humble fabrics—denim, canvas, cotton—these are great looking clothes that can actually exist in the real world. Extra points for a killer casting and a new bag silhouette which is sure to be spotted on all the PYT's arms v.soon. — Joseph Errico, Fashion Director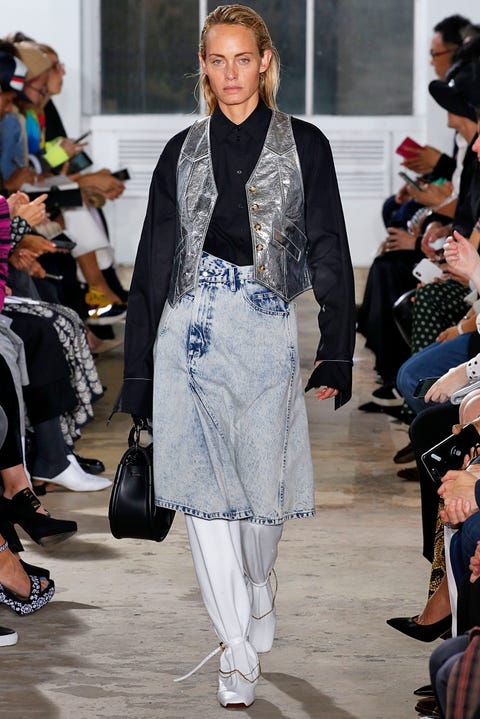 Victor VIRGILE
Getty Images
The highlight of the day for me was the casting at Proenza Schouler. I loved seeing Amber Valletta, Gemma Ward, and Tasha Tilberg walk the runway in Proenza's acid wash denim. — Kate Lanphear, Creative Director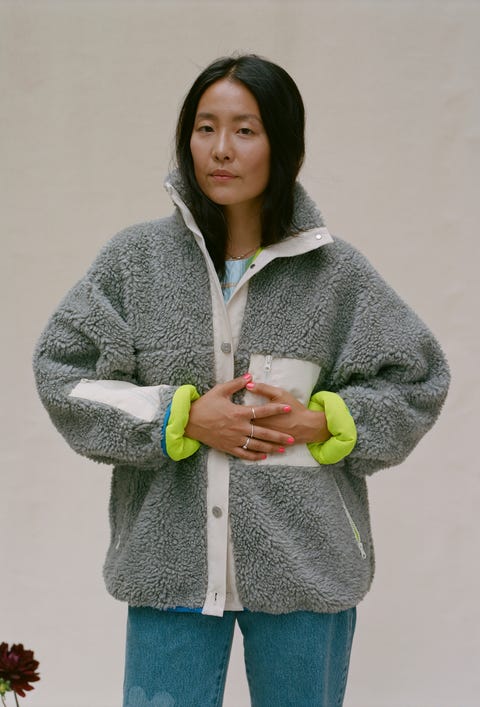 Sandy Liang had her presentation at Congee Village (a place I frequent on the weekends when I'm desperately craving Chinese food) in NYC. When I wandered up to the second floor for the event, models were perched on top of chairs and lingering around the tables while modeling the spring 2019 collection. Noodles and fruit platters were strategically placed on the tables, as if the models were having a meal before being interrupted by us. My favorite piece was this fuzzy shearling jacket as I love Liang's outerwear creations. — Marina Liao, Fashion News Editor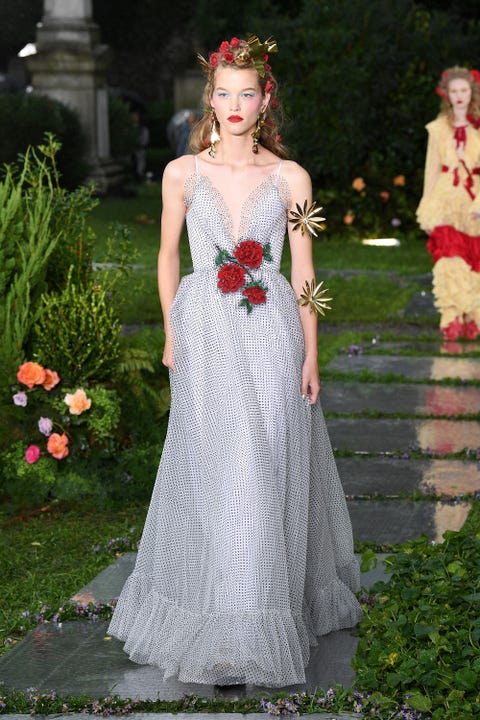 Slaven Vlasic
Getty Images
In all my years of attending fashion shows, at Rodarte, sitting outside in a full-on rain storm, was a first for me. You never know what to expect when arriving to a venue for a fashion show and, like a wedding, sometimes all the planning in the world can't account for the weather. So onward and upward as it were. We were handed clear umbrellas and sent to our seats. As miserable as it sounds, it kinda worked. The models floated through the cemetery, (did I mention we were in a graveyard?) totally indifferent to the weather. The rain casted a spectral, hauntingly poetic feeling to the already dreamy clothes. And, special shout out to Odile Gilbert's hair, which was long and loose with fresh flowers woven in. It was beyond!! — Joseph Errico, Fashion Director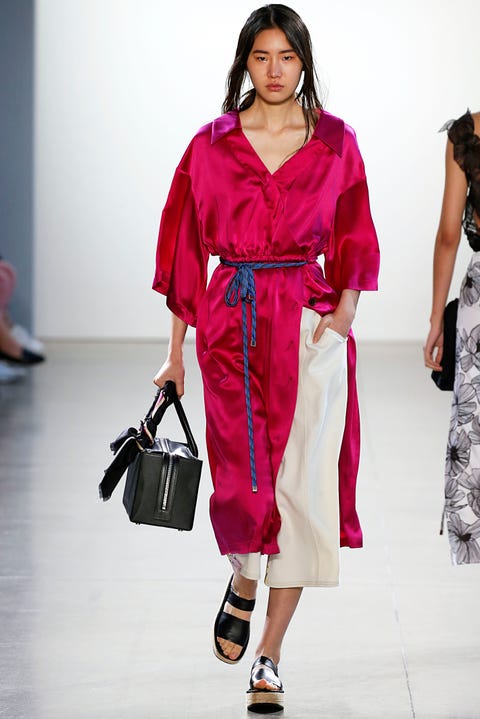 Victor VIRGILE
Getty Images
Claudia Li's first runway show was a standout to me. From the all-Asian model casting to the easy New Zealand-inspired sensibility, it was lift in mood from the cold and rainy weather happening outside. — Julia Gall, Accessories Director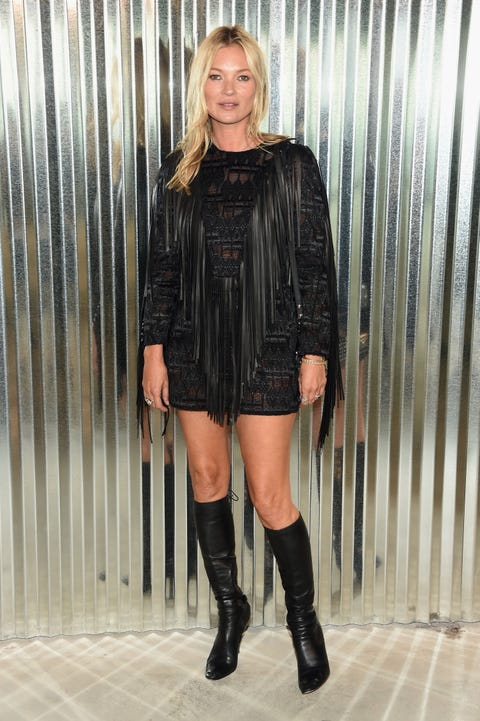 Dimitrios Kambouris
Getty Images
With all due respect to the fantastic fringed leather and Mongolian lamb clog-slides (love!!) that wafted before my eyes at Longchamp, I found my attention being pulled again and again to, longtime Longchamp collaborator, Kate Moss. A palpable and electric silence took over the room when Kate arrived as she immediately captured the collective imagination of a jaded fashion audience. Her supernovaesque, golden-unicorn like allure seemed evermore heightened in today's insta-famous landscape. — Joseph Errico, Fashion Director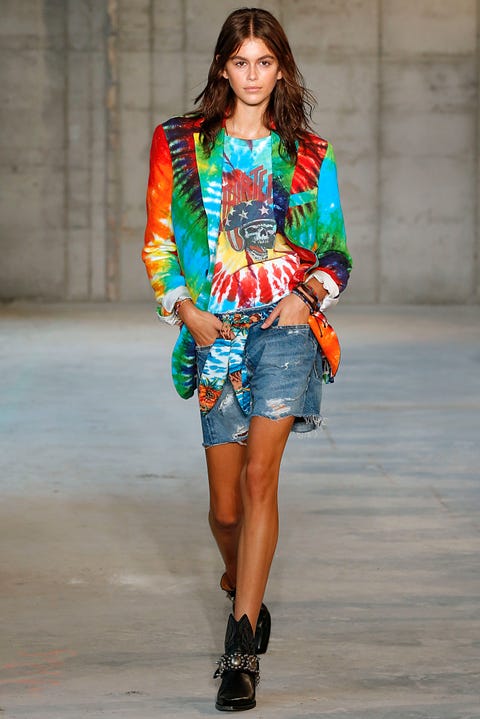 Victor VIRGILE
Getty Images
I LOVED the surfer meets western meets punk mood at R13. The backless Hawaiian print cowboy boots with spikes were a standout shoe in the season so far. I'm really none of those things so maybe I could just be all of them? — Julia Gall, Accessories Director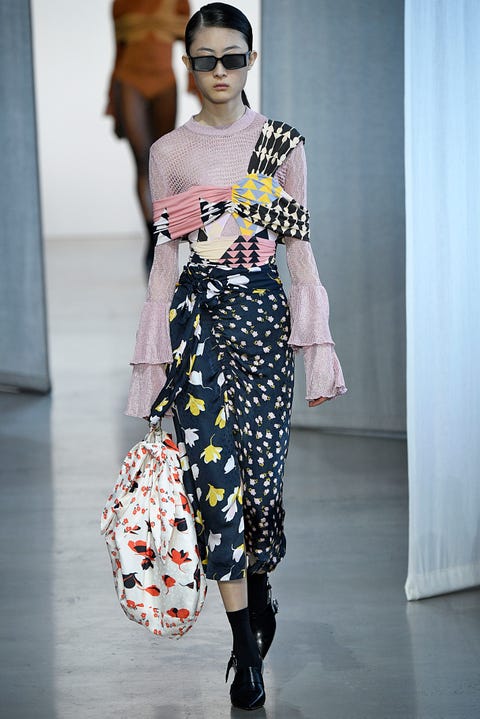 Victor VIRGILE
Getty Images
I'm not the best at mixing and matching different prints or colors. Luckily, Han Chong of Self-Portrait has me covered with his spring '19 collection. His dresses featured a medley of florals that gave off happy vibes and all the designs effortlessly paired together. — Marina, Fashion News Editor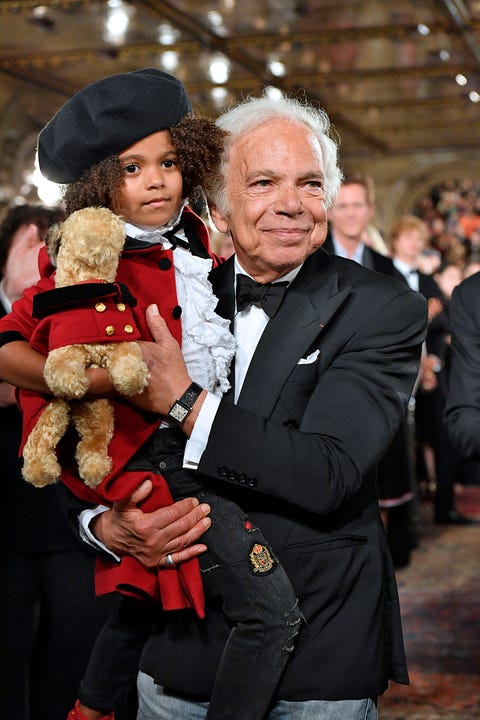 Victor VIRGILE
Getty Images
There were so many remarkable parts of Ralph Lauren's 50th anniversary show—the Central Park setting! The celeb-filled audience! The quintessentially Ralph Lauren collection!—but the highlight for me was when Polo models walked the runway with Polo-clad kids, holding their hands, walking beside them, and even carrying them. In one particularly cute instance, a male model walked with a sleeping baby decked out in plaid, which produced an audible "aww" from the audience. Even Ralph Lauren greeted his front row admirers accompanied by a little kid toting a RL teddy bear. — Sally Holmes, Digital Director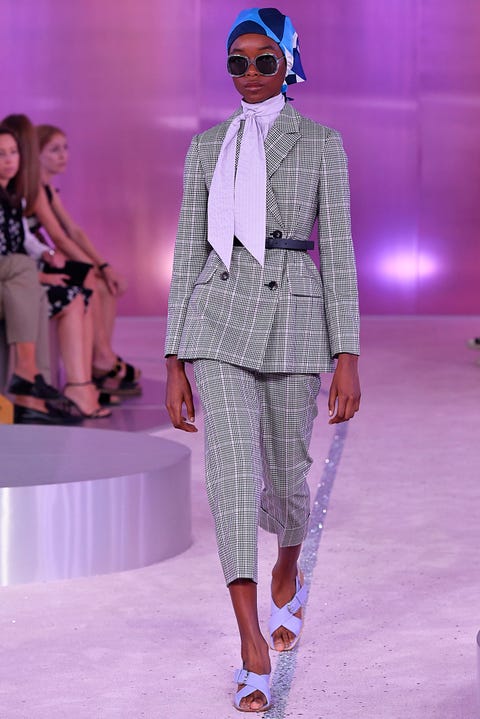 Victor VIRGILE
Getty Images
Nicola Glass' debut show as creative director for Kate Spade felt like a real fashion moment. I didn't feel as though I was watching a typical NYFW show, it felt as though it was something we are more accustomed to seeing in Paris. Her attention to detail and clever twist on the iconic spade, (into hearts and flowers) was exciting. Glass is definitely one to watch as she moves this label into its newest iteration. — Joseph Errico, Fashion Director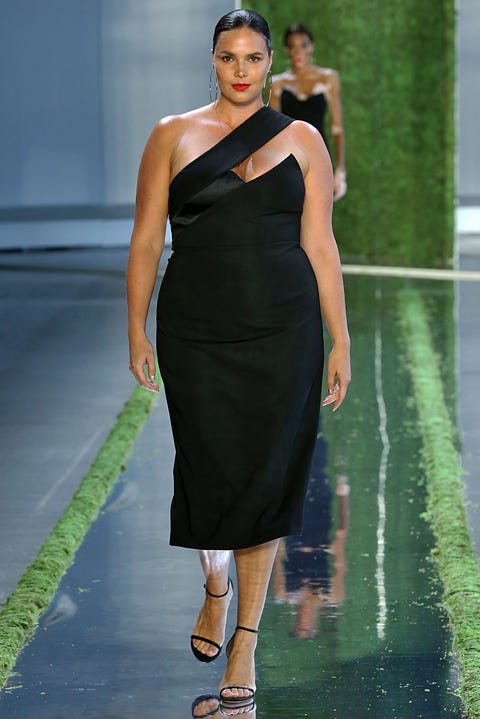 Victor VIRGILE
Getty Images
At Carly Cushnie's first solo collection show, I loved the mix of neon and tropical colors in sexy silhouettes topped with Sade-inspired glam. — Julia Gall, Accessories Director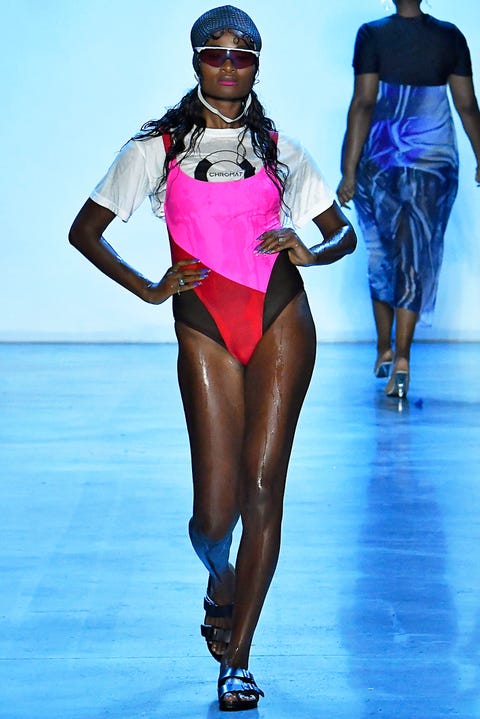 Victor VIRGILE
Getty Images
It's always so fun to see the inclusion of models at Chromat. It brings such a positive vibe and spirit to fashion week. — Adrienne Faurote, Fashion Editor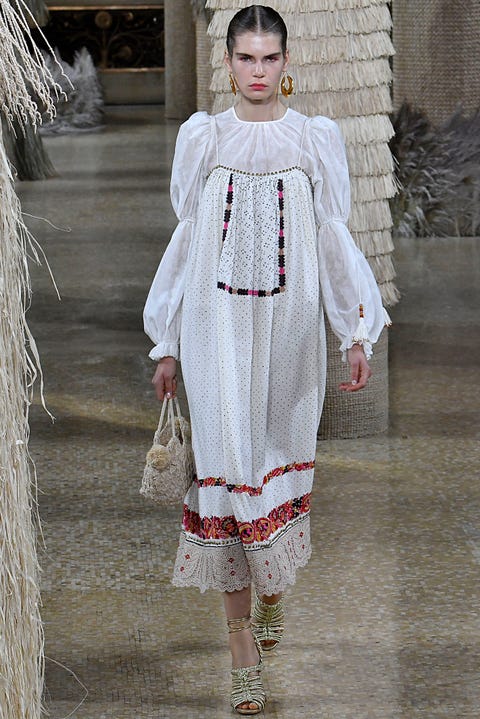 Victor VIRGILE
Getty Images
The singer Serpentwithfeet began the Ulla Johnson show with these hauntingly beautiful vocals that transported me away from Brooklyn and the day's daunting schedule and further into the summer holiday world of Ulla, where straw bags and crochet become a uniform and no responsibilities exist. I didn't want to leave! — Julia Gall, Accessories Director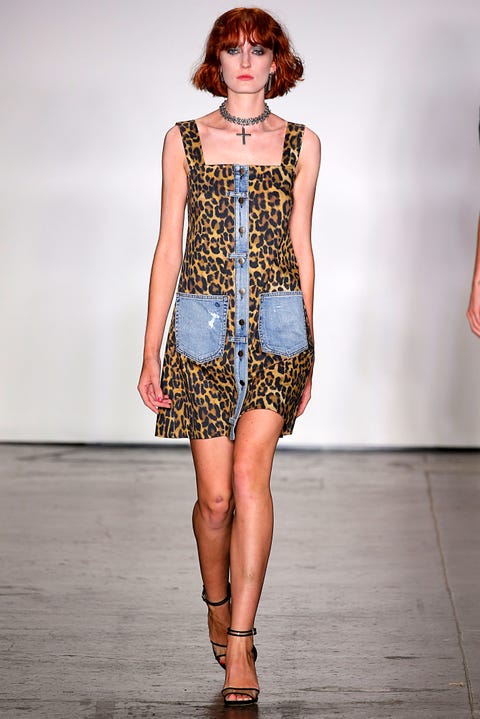 Victor VIRGILE
Getty Images
I was psyched to see Nicole Miller dip into her archive to reimagine some of her greatest hits for today. The beaded, shredded blazers and leopard/denim combos recalled a 'Slaves of New York' feeling that is an immediate sweet spot for me. Equally as cool for today as they would have been during the halcyon days of the 1980s Odeon and Mudd Club. — Joseph Errico, Fashion Director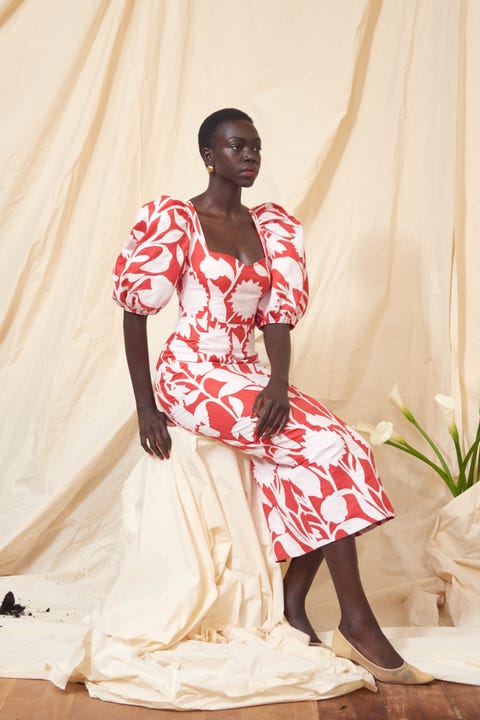 The clothes were beautiful at Mara Hoffman (I am in love with this model's pure elegance!), but I want to thank and highlight the designer for bringing diversity and size inclusivity into her spring 2019 presentation. It was subtle and everyone looked so beautiful. — Marina Liao, Fashion News Editor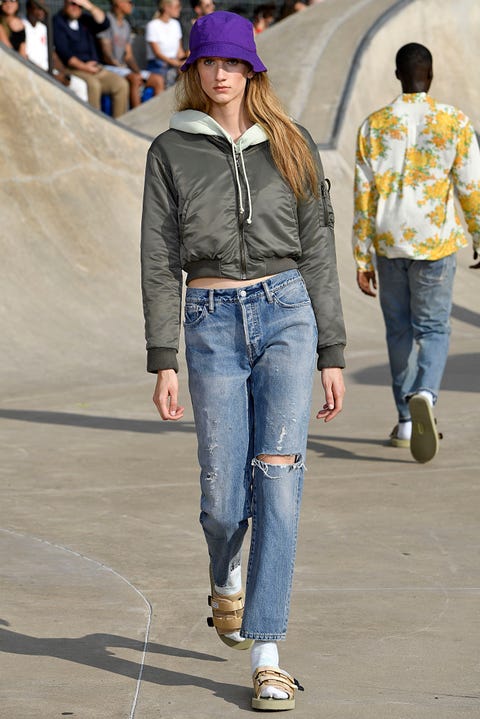 Victor VIRGILE
Getty Images
John Elliot's second womenswear collection was the highlight of the day and the coolness of his collection justified us sitting out in the heat. From the pastel tie dye pieces to the windbreaker and bucket hat combo, these looks definitely made me want to be a John Elliot girl. Another highlight? All the stars I saw: Hailey Baldwin and Justin Bieber, Lebron James, Pete Davidson... —Adrienne Faurote, Fashion Editor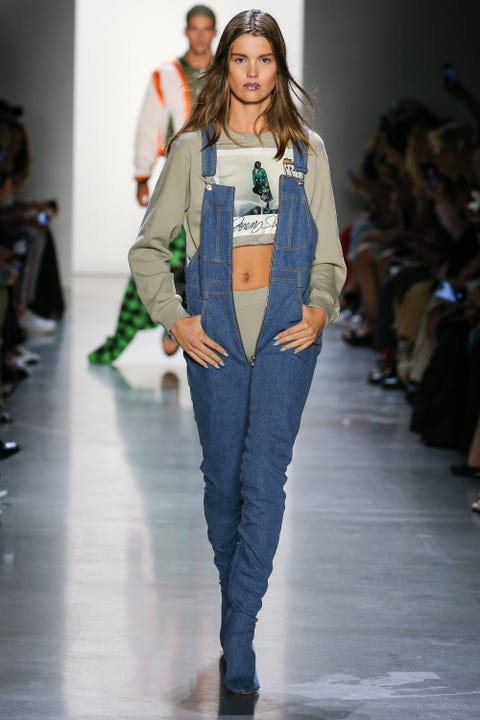 Thomas Concordia
Getty Images
I can't stop thinking about Jeremy Scott's overall boots from yesterday's show. They're sexy, but cool. And the polaroid prints of himself? I'm obsessed. I need that polaroid maxi dress! I also loved watching Offset's runway debut. — Bella Khoshaba, Fashion Assistant
This content is created and maintained by a third party, and imported onto this page to help users provide their email addresses. You may be able to find more information about this and similar content at piano.io