The Worst Oscar Dresses of All Time
Lady Gaga and her red gloves...unforgettable.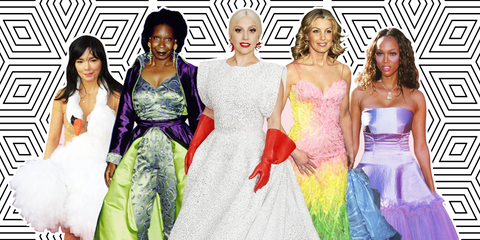 For the Oscars every year, actors and actresses travel to Hollywood from all around the world for a little recognition from The Academy. Last year, we got a steamy performance from Lady Gaga and Bradley Cooper, an insane amount of sexy dresses, and, of course, the drama that led to the awards having no host for the first time since 1989. There was plenty to love, but there were also a few unforgettable looks on the red carpet, and I don't mean that in a good way. I get it, picking a gown for Hollywood's biggest night can be hit or miss, but these gowns from past years' Oscars were definite misses. (They also made me really love my three-year-old-sweatpants I watched the Oscars in.)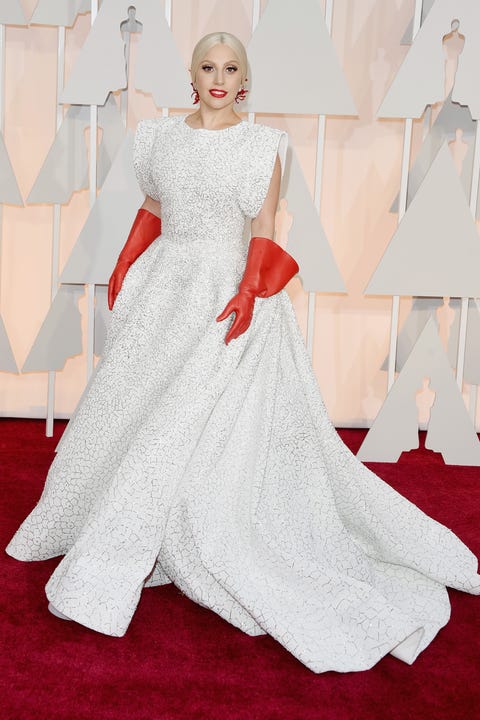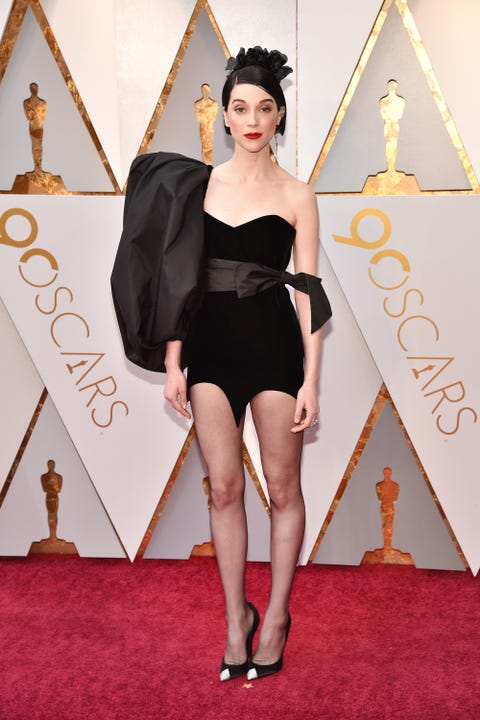 St. Vincent
St. Vincent took a risk at the 2018 Academy Awards in this Saint Laurent look. It's hard to hate anything from the iconic fashion house, but this runway ensemble didn't work IRL.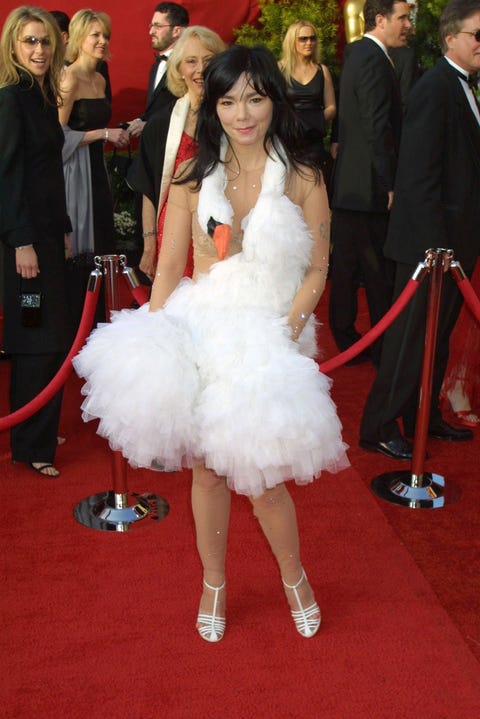 Bjork
Icelandic artist Bjork's swan dress is probably the most iconic on the list of worst dressed. The look was designed by Macedonian designer Marjan Pejoski, who actually made two copies of it as it could not be dry cleaned. One was auctioned off for $9,500 in 2005 (!!) and Valentino even paid tribute to this swan ensemble in its spring 2014 couture fashion show.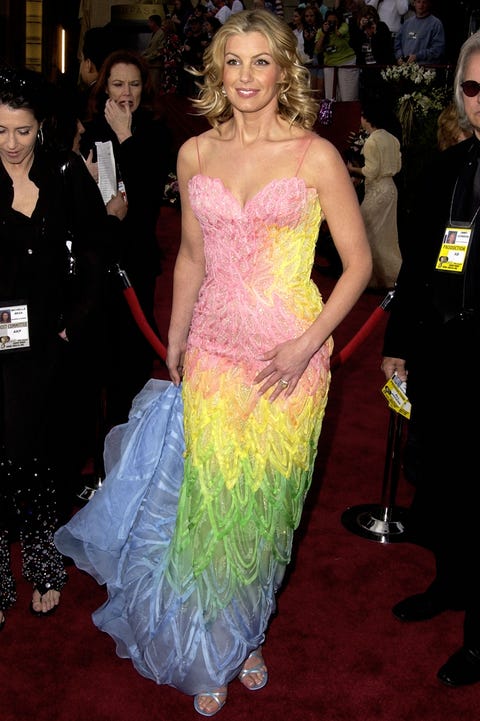 Faith Hill
The singer's dress for the 74th Academy Awards resembled a rainbow cake explosion. We're not sure what made Hill decide on this look, but it's a hard pass from us.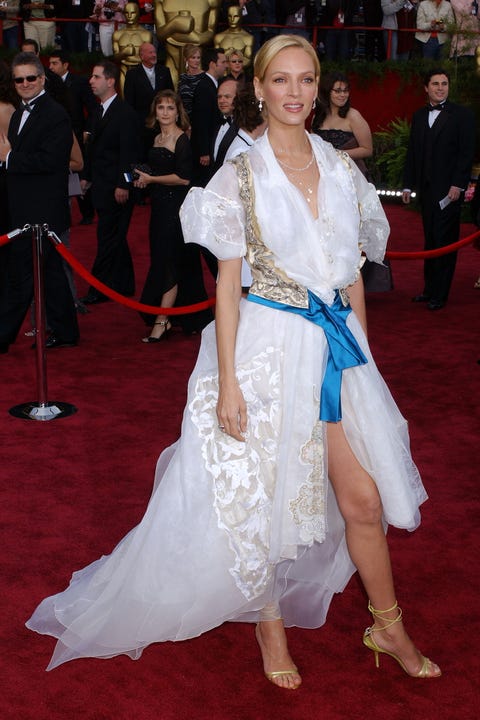 Uma Thurman
The actress looked like she was drowning in her dress at the 76th Annual Academy Awards. And, question: Are the gold and blue embroidered pieces remnants of a vest? We're confused.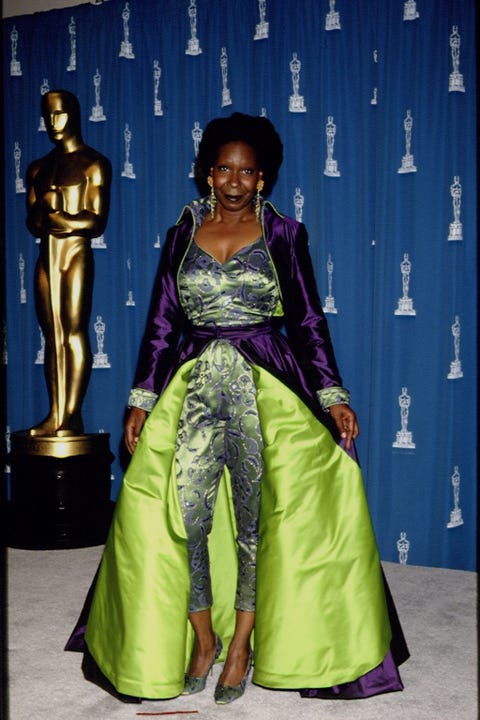 Whoopi Goldberg
I saw this dress and immediately thought "Count Dracula." Sorry, Whoopi.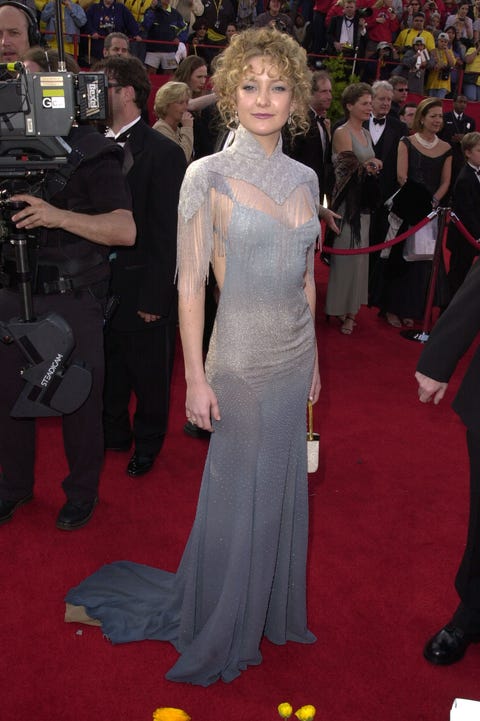 Kate Hudson
The actress looked unrecognizable (and not in a good way) at the 2001 event, when she stepped out in this gray dress with a fringe neck shawl. I prefer to remember her in this 2014 Atelier Versace look instead.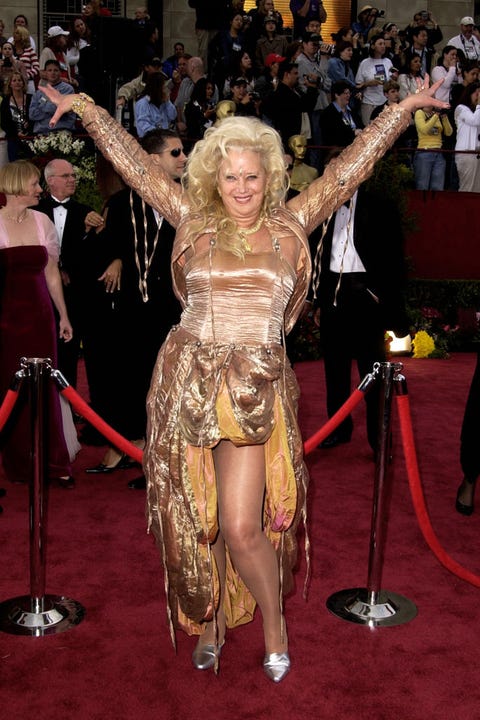 Steve Granitz
Getty Images
Sally Kirkland
There's a laundry list of things of things that aren't great about this dress. But the rhinestone bindi was an extra layer of WOW.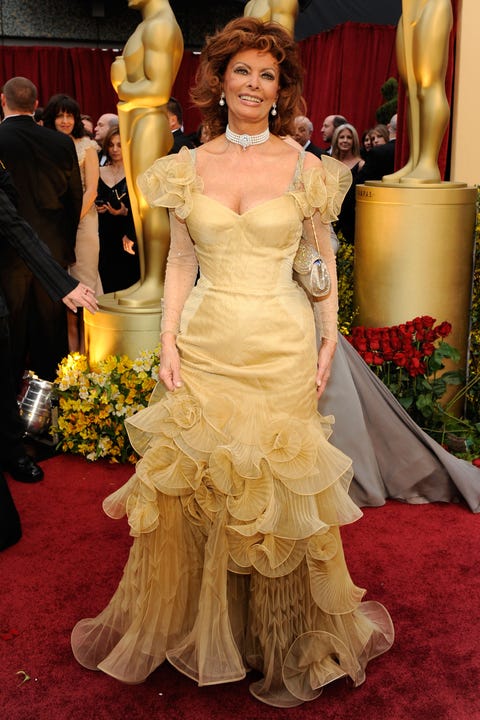 Sophia Loren
The iconic star was the "Belle" of the ball in this yellow ruffled number at the 2009 Academy Awards.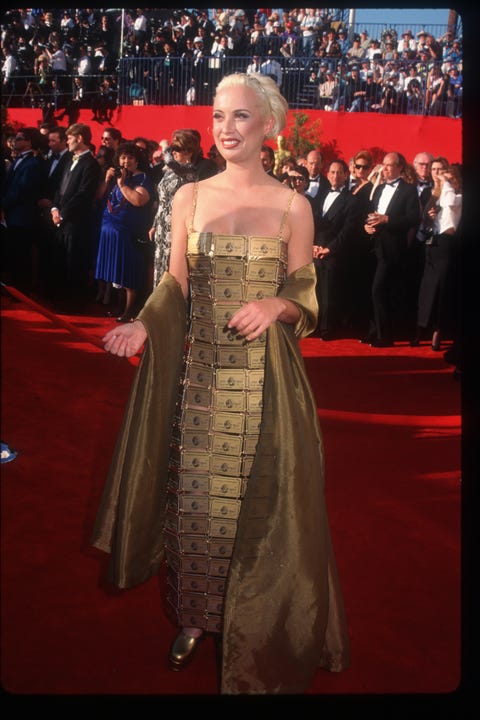 Lizzy Gardiner
Costume designer Lizzy Gardiner wore a dress made out of gold American Express cards to the 1995 Academy Awards. The cards were real, but had expired. That year, she won an Oscar for Best Costume Design for The Adventures of Priscilla, Queen of the Desert, but in an ironic twist of fate, this dress landed her on worst dressed lists.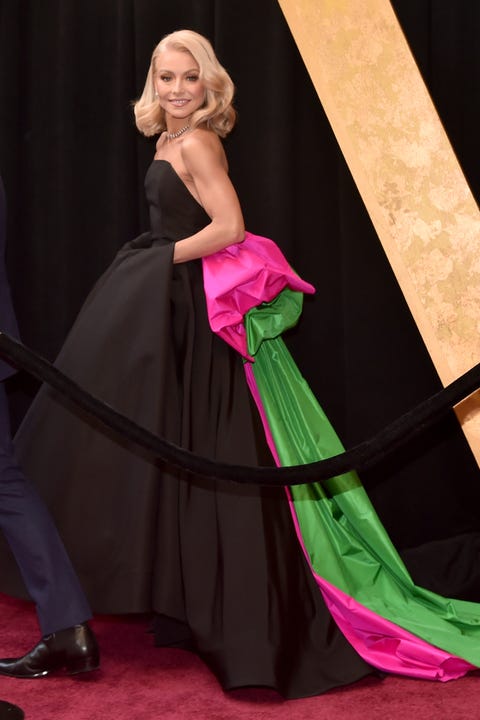 Kelly Ripa
The star wore a strapless Christian Siriano creation to the 2018 Academy Awards. From the front, the gown looked great. From the back? That's another story.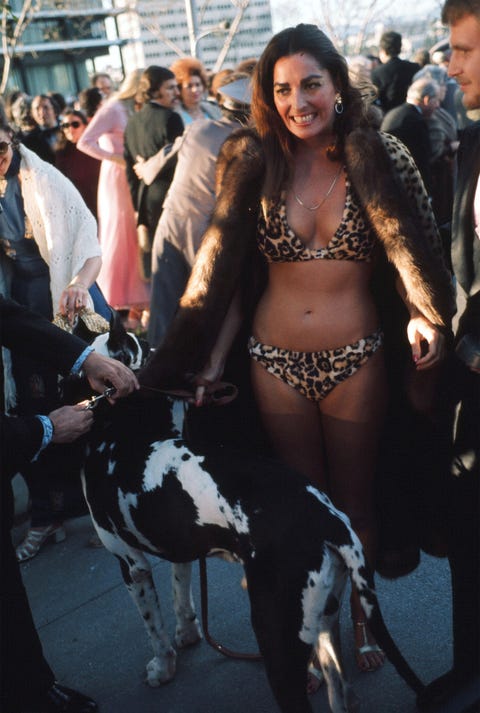 Edy Williams
The year is 1974. The outfit is a leopard printed bikini underneath a spotted furry coat. Perhaps she had a backup gown...in the car?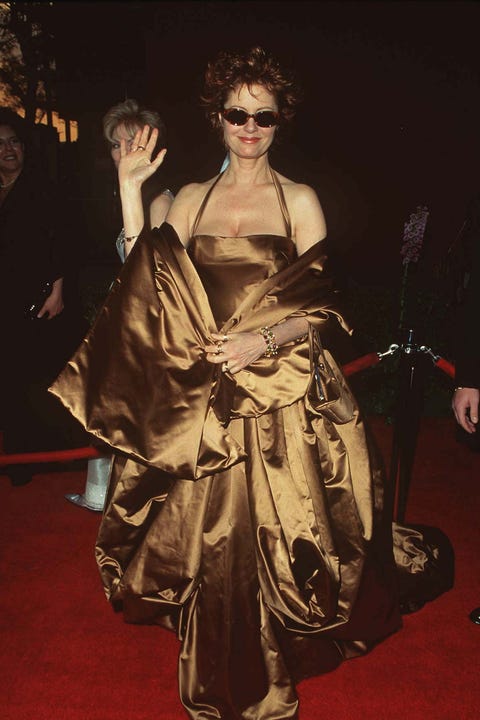 Susan Sarandon
The actress arrived to the 1996 Oscars in a Dolce & Gabbana gold gown. She matched the Academy Award statue.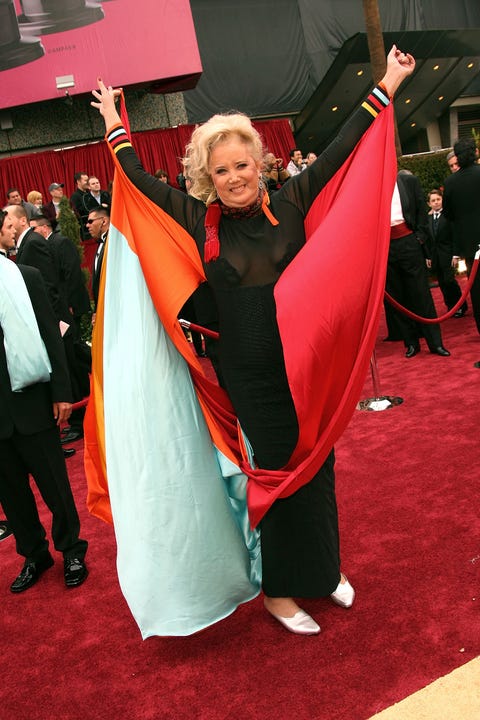 Sally Kirkland
The actress looked like she was ready to fly away in this semi-sheer multi-colored dress at the 2007 Academy Awards.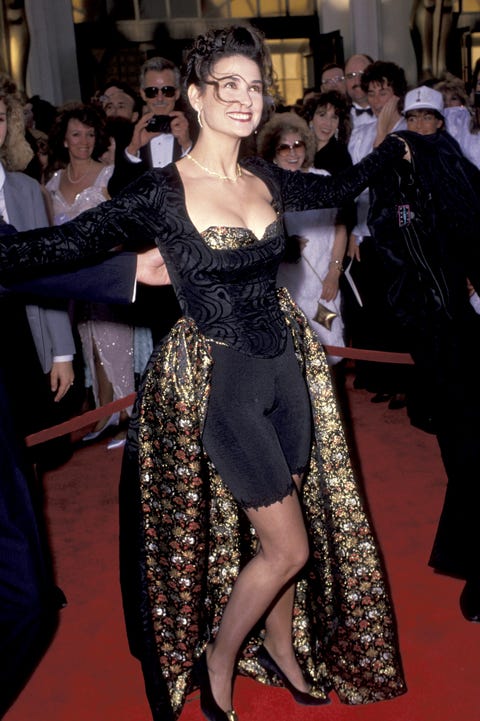 Demi Moore
At least Moore can say she was an early adopter of biker shorts.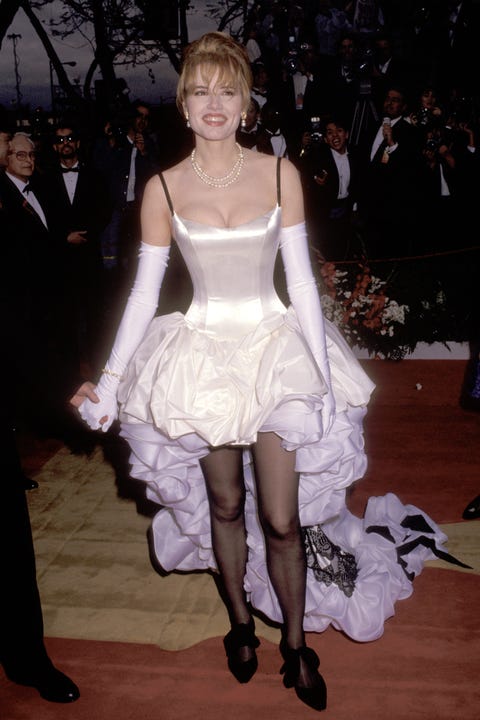 Geena Davis
The actress looked like a runway Las Vegas bride at the 1992 Academy Awards.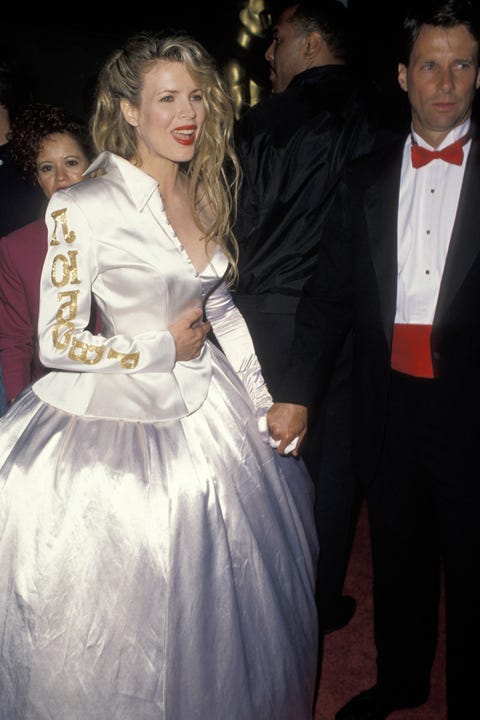 Kim Basinger
The star arrived to the 1990 Academy Awards in a white gown with one shoulder ripped off and a corseted bodice. The look did not seem comfortable at all.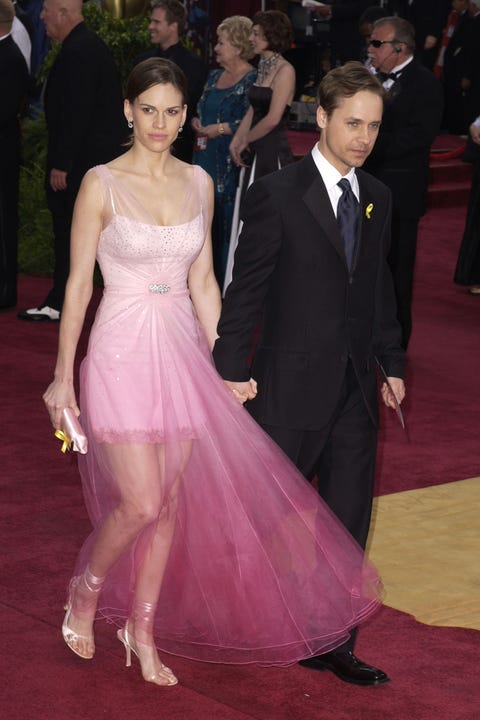 Hilary Swank
The actress and Tyra Banks (see next slide) should have gone to the Oscars together, as Swank's Dior dress was more suited for prom than the Academy Awards.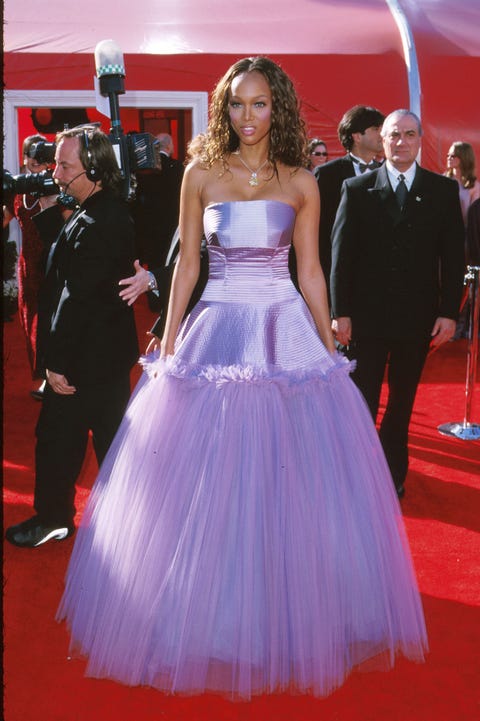 Tyra Banks
The model's giving me sugar plum fairy vibes with this poufy purple gown dress from the 2000 Academy Awards.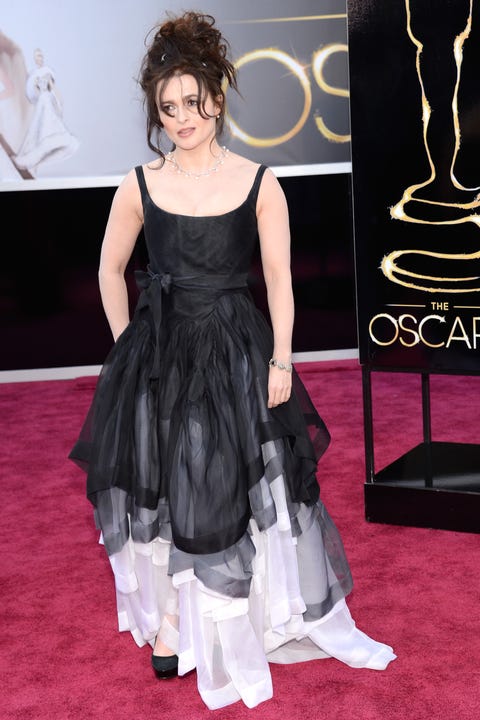 Helena Bonham Carter
Bellatrix Lestrange is that you? Carter appeared to channel her Harry Potter character's preference for moody colors with this black-and-white multi-layered dress at the 2013 Academy Awards.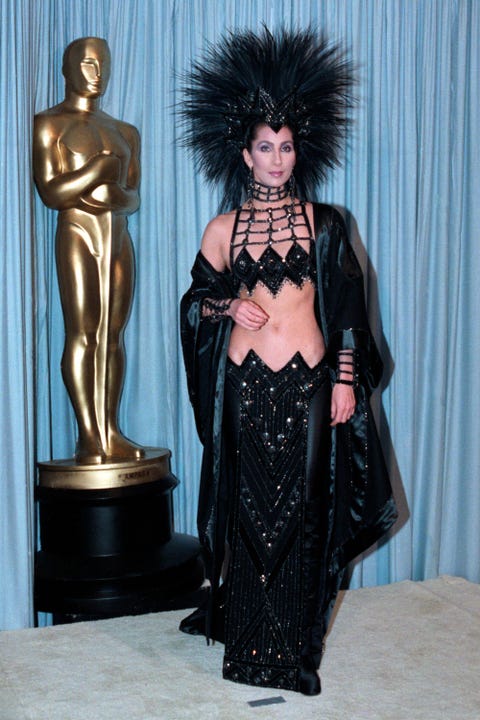 Cher
Two questions: how is that skirt staying on and is that headpiece heavy? Cher wore this dominatrix-meets-fortune teller outfit to the 1986 Academy Awards and it was just as memorable as you'd expect.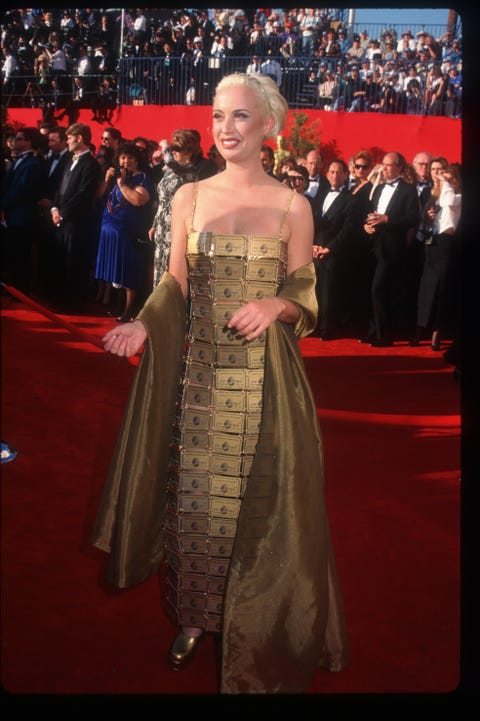 Lizzy Gardiner
It was 1995 and apparently plastic was really in for this costume designer. I guess this is one way to keep yourself from swiping your American Express card...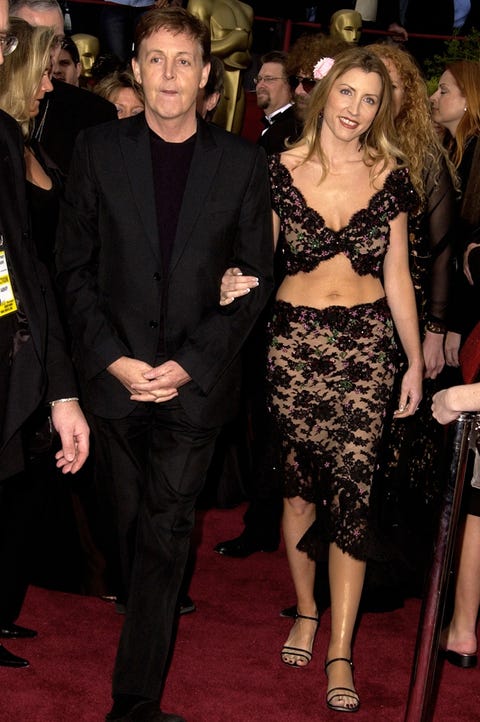 Steve Granitz
Getty Images
Heather Mills
Heather Mills arrived in lacy separates for the 74th Annual Academy Awards in 2002. In hindsight. this outfit wasn't the best choice for a fancy red carpet event—especially the Oscars, where glamorous gowns or sleek pantsuits are de rigueur.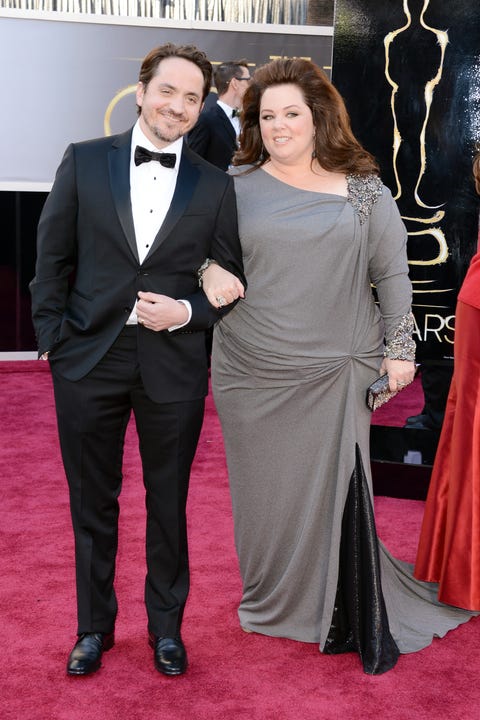 Melissa McCarthy
The comedian wore a gray David Meister dress to the 2013 Academy Awards. Though the dress had some embellishments on the shoulder and sleeves, plus ruching in the middle, it looked washed-out. We'd love to see her in a brighter look.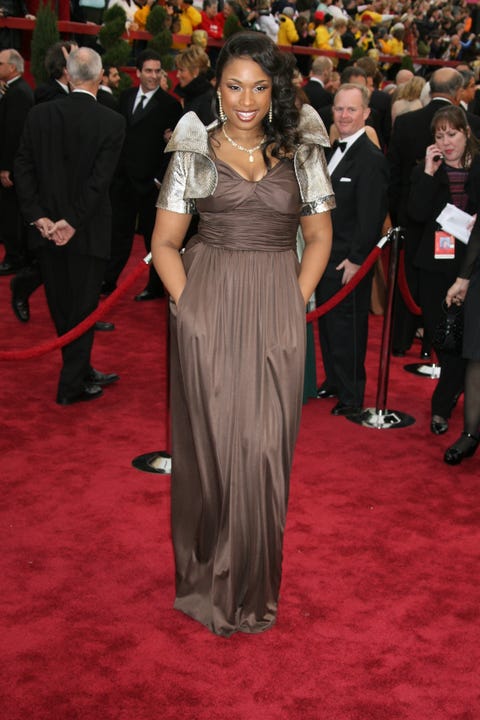 Jennifer Hudson
The actress and singer arrived at the 2007 Academy Awards in a brown Oscar de la Renta look. Though the dress itself was fine, her cropped outerwear reminded us of something The Tin Man would wear.
This content is created and maintained by a third party, and imported onto this page to help users provide their email addresses. You may be able to find more information about this and similar content at piano.io