The Best Online Thrift Stores for Effortless Vintage Shopping
Also known as: How to score the bag of your dreams.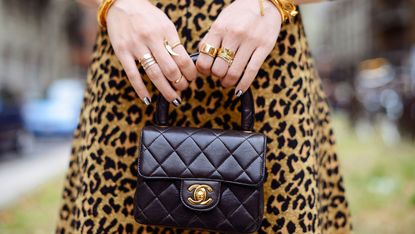 (Image credit: Getty Images, Vanni Bassetti)
Vintage shopping is the key to scoring one-of-a-kind items, often designer, at an affordable price point. But for those who don't live in vintage meccas like New York City, Los Angeles, or Paris, it can be slim pickings. In this day and age, fortunately, it's easy to be a vintage lover wherever you are—there are several well-curated online shops and apps that help you find the best of the best. Yes, you have sites like eBay and TheRealReal, but there are so many more online e-commerce retailers that offer gorgeous second-hand bags, shoes, jewelry, and so on. With platforms such as Poshmark and Depop users can trade, sell, and buy vintage goods totally on their own. You can even mingle and interact with one another through the platforms, which takes shopping to a whole new level. Also, Instagram has been an amazing tool in the vintage shopping world by giving smaller shops a platform to showcase their drool-worthy items. Check out our hand-picked options among the range of online vintage stores—scoring that covetable Chanel bag has never been easier.
Depop
Founded by PIG magazine creator Simon Beckerman, Depop is Poshmark's edgier little sister. What started out as a social network for PIG readers quickly turned into a global marketplace. Depop is essentially a buying and selling app for Gen Z-ers to discover unique items, and its homepage allows you to "meet" sellers and explore all different kinds of vintage categories such as "retro" and "modern thrift." Another cool feature? You can "follow" a seller's Depop profile like you would do on Instagram. With a global community of over 15 million plus users, you'll be sure to score some vintage finds on Depop.
Treasures of NYC
The New York City-based online retailer specializes in curating and collecting vintage luxury, with a heavy focus on high-end accessories. Treasures of NYC is a fashion girl's heaven, where lately we've seen a resurgence of '90s-inspired pieces. From bucket hats to itty-bitty sunglasses to nylon bags, what was once old is sought-after again. To stay informed on when and what new pieces are dropping on its site, follow Treasures of NYC's Instagram. It posts new offerings weekly and you can even directly shop through Instagram.

EL CYCÈR
With a customer base of famous faces such as Kylie Jenner, EL CYCÈR is no joke. (Kylie recently wore a pair of Gianni Versace's spring 1995 butterfly print jeans from them to her "Stormi Collection" launch party.) EL CYCÈR offers a wide range of designers, from Chanel and Dior to Vivienne Westwood and John Galliano. And for the crème de la crème, one can rent pieces from its archival collection because, well, these items are too precious to be sold. (PSA: You can even rent the 1996 Chanel micro-bikini that Kim Kardashian wore.) By inquiry only, you can rent one of these iconic pieces of fashion history for 72 hours, which I'd wear 72 hours straight.
Sami Miro Vintage
Founded by Sami Miro in 2016, this vintage line repurposes and reconstructs one of a kind vintage pieces from around the world. Of her collection known as ECOTERROR, Sami says "Our one-of-one reconstructed vintage pieces were only an introduction to the Sami Miro Vintage vision, and now, with our first collection, you can see the spark of our brand identity. Pushing eco-conscious boundaries is the foundation of Sami Miro Vintage and ECOTERROR encompasses that initiative. Enrooted by the radical environmentalist movement from the 1960's, ECOTERROR alludes to our prominent support for the betterment of our planet."
Small Needs
Small Needs is an online Etsy shop that sells vintage wearable pieces. From clothing to bags to jewelry, Small Needs carries a mix of feminine and sexy frocks that will work for any occasion.
ThredUP
How ThredUp works: It lists specific items it's looking for, and users send in items that match the site's description. Once the sent-in items are accepted for re-sale, ThredUp pays the sender in the form of cash or store credit. The company has also teamed up with one of my favorite sustainable brands, Reformation, to give shoppers a discount for donating old items. To promote sustainable shopping, ThredUP also launched its own brand, ReMade, in 2018 to incentivize shoppers to resell their items on the site. (If you purchase one of the items in the line and then choose to resell your item on ThredUp, you're guaranteed to earn 40 percent of the original value.)
ASOS Marketplace
Everyone loves ASOS for its speedy shipping and affordable price points for both women and men. But did you know the website also has a killer vintage and second-hand section? Think hand-painted denim jackets, cozy varsity hoodies, and cool graphic tees. The site has a team of experts to recommend seasonal trend edits for vintage buys or you can go rouge and discover ASOS' niche boutiques from around the world. Let the marketplace be your first stop shop for everything, from a pair of vintage Levi's to the coziest dad sweaters

The Break
This New York City-based shop was a pioneer for online vintage shopping when it launched in 2014. If you're in the area, check out its brick-and-mortar location in Brooklyn. If not, no worries. Shop "The Catalogs," its Instagram-only shop where you can have your items shipped for a flat rate or picked up in-store. The Break's online shop specializes in higher-end and contemporary vintage pieces, so keep your eyes peeled for unique Anne Klein separates or a classic pair of Manolo Blahniks. Pro tip: Check the company's website and Instagram pages regularly for its amazing flash sales.
Persephone Vintage
I can't talk about online vintage shopping without mentioning Etsy. The California-based site is famous for its massive selection of mom-and-pop shops and indie brands. You'll find everything here from handmade engagement rings to a cute food bowl for your dog. Back to fashion though, one of my favorite Etsy-based shops is Persephone Vintage for classic designer relics. I especially love its selection of statement earrings and costume jewelry. Don't believe me? Read one of the 3,000 positive reviews. It should go without saying that the pieces here sell like hotcakes, so if you see something you like, buy it.
What Goes Around Comes Around
What Goes Around Comes Around has made a name for itself as the destination for rare vintage finds. It first opened in 1993 in NYC (with other locations in Los Angeles, Miami, and East Hampton) and has become the go-to spot for celebrities like Kendall Jenner and Kim Kardashian. Come here first if you're looking to invest in a classic bag or piece of jewelry for less than its retail price. The selections for accessories are top-notch, so don't blame me if you finally end up treating yourself to that dream bag. Can't make it to one of WGACA locations? Check out its website for goodies.
Beyond Retro
If you've ever been to London, you've probably heard of this iconic shop. For us non-Londoners, shop its online offerings of over 200 pairs of vintage jeans or outerwear. It's no secret that vintage shopping is one of the most eco-friendly ways to buy new clothes, and Beyond Retro has made a name for itself as one of the most sustainable vintage options over the past decade. My shopping tip: browse by era to find the best picks from every decade, from '80s-inspired brights to mod '60s-style minidresses. Place your order and you'll be dressing like Alexa Chung in no time. If you're ever in town, be sure to stop by the original East London location.
Elia Vintage
You can think of Elia Vintage as your friend with the amazing closet you can always borrow from. The shop's founder and LA-based resident, Amber Glaspie, wanted to create a vintage shop that exemplified her personal style: a mix of Los Angeles style staples like silk slip dresses and brighter statement pieces. Her shop is an eclectic mix of easy silhouettes from the '70s and '90s, as well as some antique jewelry from the '30s. Her Instagram aesthetic is also very dreamy, so follow her for outfit inspo after you've bought something from her website.
The Real Real
If you're ever interested in consigning some of your less-loved luxury purchases, The RealReal is the site for you. (The more you make from selling, the higher the commission you make.) Born out of founder Julie Wainwright's kitchen, The RealReal has become one of the largest consignment businesses in the world, with brick-and-mortar locations in Los Angeles and New York City in addition to its online shop. Every second-hand item on the site is authenticated by a team of experts to ensure that you're getting what you're paying for and the quality of the pieces are almost in new to pristine conditions. What I love about the consignment site is that The RealReal sends a portion of the sale to the person who listed the item, so you're buying something for yourself and helping someone else.
I AM THAT
The Portland, Oregon-based retailer has one of the biggest selections of vintage shoes I've found so far, from Stuart Weitzman mules to Jil Sander booties. Its range of designer handbags is to die for too. (Prada bags for under $300? Yes, please!) As for I AM THAT's clothing selection, think feminine basics that come in a range of hues from neutrals to bright orange and pinks. To top it all off, the website even sells organic beauty products from Wildcare, an indie beauty brand created and housed in Oregon. I AM THAT is your destination for cool-girl essentials to keep you on trend and on-budget.
The Vintage Twin
Founded in 2009 by twins Morgan and Samantha Elias, The Vintage Twin has become one of New York's most popular second-hand destinations. The sisters founded the brand after their friends repeatedly asked about their one-of-a-kind, reworked, clothes. The Vintage Twin is best known for its collection of perfectly worn-in band tees, varsity sweatshirts, and sports jackets. Each item is completely unique thanks to an in-house design team that takes already-made items and redesigns it for the Vintage Twin customer. Even though there's only one of every item made, customers can request similar looks to those that have already been sold. Even better, 10 percent of every purchase is donated to charities like Autism Speaks and The Make A Wish Foundation. Shopping with a cause? Sign me up.
Poshmark
If you've ever thought of getting rid of that Madewell dress in your closet, you've probably used Poshmark. While most people use the app as an easy way to get rid of their every day clothes, the vintage section of the site is surprisingly incredible. Sellers have listed everything from vintage jewelry to hand-knit crochet sweaters. You can shop vintage on Poshmark in one of two ways: Thr0ugh its vintage tag or follow specific sellers whose collections you admire. With over 2 billion users worldwide, and almost 25 billion items uploaded per day, you can get lost in the seemingly endless pages of items for sale. The app also hosts Posh Parties where sellers with similar items or themes come together to make selling items easier. Most Posh Parties feature discounts on previously listed items, and this happens almost every day.
Vestiaire Collective
Sure there's a certain pang of guilt you feel when an expensive purchase goes unworn, but what's even worse is when you pass on a purchase, only to never find it again when you're ready to buy. Luckily, Vestiaire Collective is here to help. Founded in 2009, Vestiaire Collective allows community members to ask questions about where to find rare pieces and negotiate pricing on each item sold. What once began as a site that guarantees the authenticity of luxury bags in Paris has now bloomed into a global business with sellers in 48 countries and over 3,000 items uploaded daily to the site. Finding your dream designer bag is literally a click away.
Marie Claire email subscribers get intel on fashion and beauty trends, hot-off-the-press celebrity news, and more. Sign up here.
Shelby Comroe is the Credits Editor and Fashion Assistant at Marie Claire covering all things fashion and giving credit where credit is due. Check her out @shelbycomroe on Instagram if buying designer handbags is your idea of a retirement plan!