The Item I Wear to Death: My Vintage Chanel Necklace
I will pass this down to my granddaughter one day.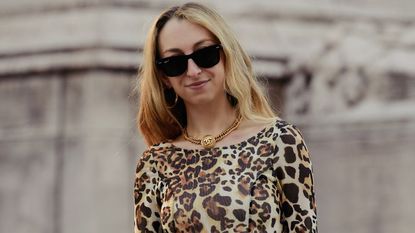 (Image credit: Tyler Joe)
In our biweekly series, editors share "the item they wear to death," whether it be a basic white tee or a super-trendy jumpsuit. Prepare yourself (and your credit card) for some guilt-free shopping.
Fashion has always had a special and important place in my life. My mom says that when I was in kindergarten I refused to wear pants for an entire year because I wanted to look "dressy." In third grade, I did a project on Coco Chanel (the first of many Coco Chanel projects, papers, and presentations to come). In high school, I showed up to my weekly babysitting gig with a backpack filled with fashion magazines; the backpack should have been filled with SAT books.
With each paycheck I received, I put away some money for a future fashion splurge. Ultimately, all those hours I spent babysitting paid off when my parents told me we were taking a trip to Paris. I made it my goal to own a piece of fashion history: I would buy a vintage Chanel necklace.
Prior to our trip, my fellow fashion lover in crime (my mom) and I did extensive research on the top designer vintage stores in Paris. We decided that Les 3 Marches de Catherine B had the best selection. They specialize in vintage Chanel and Hermès and, according to its website, "boasts a selection of the most coveted luxury vintage pieces in the world." I was sold. An appointment to the shop was recommended, so we made one.
When the day finally came, I was in a dream. My mom and I were ushered into a small and luxurious shop stocked with all the designer items you could ever want. A wall full of Birkin bags briefly took my breath away, but I had to focus. I was there for one thing—a vintage Chanel necklace. And then I spotted it. A gold CC medallion choker on a thick gold chain. All the nights I spent flipping through fashion magazines in-between changing dirty diapers had led up to this very moment. I walked out of the store onto the Rue Saint Germain with my new purchase in hand, feeling very Parisian. I belonged.
Six years later, my vintage Chanel necklace is still one of my most prized possessions. Every time I put it on, I automatically feel chic. (Strangers even stop me on the street to compliment me on this fabulous piece.) The magical quality lies in the necklace's ability to instantly make any outfit feel fashun. Unlike clothing, a great accessory can also be worn daily, if you so please. I've worn the Chanel necklace to dress up a casual t-shirt and jeans combo. I've also worn it with a gown to a black-tie event. The necklace is bold yet versatile and has become a staple in my wardrobe. It is one of my signature pieces.
The necklace also symbolizes more than just my love for fashion or a piece of fine jewelry, it's the first real designer piece I've ever purchase for myself. This makes the necklace a treasured constant in my wardrobe. I've decided that the necklace will be a family heirloom. My future great-granddaughter will be one lucky kid to have this baby. Investing in the classics, to me, is worth the hefty price tag, especially timeless accessories.
Since my necklace is vintage, it'll be hard to find the same exact one. But, I discovered a few similar pieces if you're looking to invest in a Chanel necklace of your own. I promise it will stay in your wardrobe forever!
For more stories like this, including celebrity news, beauty and fashion advice, savvy political commentary, and fascinating features, sign up for the Marie Claire newsletter.
RELATED STORIES
Celebrity news, beauty, fashion advice, and fascinating features, delivered straight to your inbox!
Shelby Comroe is the Credits Editor and Fashion Assistant at Marie Claire covering all things fashion and giving credit where credit is due. Check her out @shelbycomroe on Instagram if buying designer handbags is your idea of a retirement plan!