Sweatpants Styling Ideas: Outfits You Can Wear From the Couch to Brunch
Or just on the couch. You do you.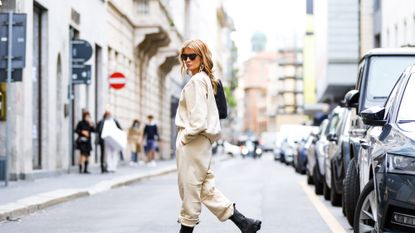 (Image credit: Streetstyleshooters / Getty Images)
Marie Claire Newsletter
Celebrity news, beauty, fashion advice, and fascinating features, delivered straight to your inbox!
Thank you for signing up to Marie Claire. You will receive a verification email shortly.
There was a problem. Please refresh the page and try again.
Sweatpants were made for cozying up on the couch (and occasionally going to the gym), but they're so much more than that. This closet staple doesn't have to look frumpy: Not only are there form-fitting options that make them look stylish, but there are numerous ways to style your joggers, even your slouchiest pair, that will make you look and feel like a fashion icon. So, as your residential sweatpants expert (and yes, I am wearing sweatpants right now), trust me when I tell you this: Whether you're looking for a chic, business-appropriate fit, want a sportier feel, or are looking for something that can take you from the couch to a mimosa-laden brunch, sweatpants are an option. These outfit ideas will forever change your sweatpants game.
1. Modern Day Ballerina
My 10-year-old self would have loved this look as much as my 28-year-old self does. I can't tell if it's the punk-esque Miu Miu ballet flats or the bubble-gum pink joggers that I'm drooling over more but, either way it's all being added to my virtual shopping cart ASAP. Lean into the ballet vibe and top off these sweats with a knit bralette and a coordinating wrap knit top for a sweet (and a lil' bit sour) look.
Shop the pieces: 1. LESET Wrap Top, $160; 2. LESET Bralette , $88; 3. SHASHI Ball Earrings, $36; 4. White Fox Sweatpants, $50; 5.BY FAR Bag, $413 6. Miu Miu Buckle Ballet Flats, $750
2. Quarantine In Paris
An easy, one-step-way to dress-up a sweat set is to throw on a wool coat—a crisp, neutral coat makes any outfit feel put together. Go a step further by belting your coat with a trendy belt bag, and grab a pair of sock booties with a pointed toe to elongate your leg. For a final touch, add a touch of Parisian chic with a leather beret.
Shop the pieces: 1. Zara Coat, $50; 2. Samtree Beret, $13; 3. RAEY Sweatshirt, $195; 4. Jacquemus Belt Bag, $379; 5. RAEY Sweatpants, $195; 6. Steve Madden Bootie, $130
3. Weekend Attire
When your sweats are so soft they feel like butter you'll never want to take them off and you don't have to. Keep the cozy-comforts coming by pairing your lush sweats with all your favorite knitwear essentials, from equally as soft henley sweaters, beanies and cashmere scarfs. Get yourself out the door with rich leather combat boots and a simple, chic crossbody bag to go with it.
Shop the pieces: 1. Oyun Henley Tunic, $275; 2. Gap Scarf, $78; 3. Home Prefer Beanie, $12; 4. Tribe Kelley Butter Sweatpants, $85; 5. Lauren Ralph Lauren Bag, $198; 6. Jules Smith Ring, $45; 7. Frye Combat Boots, $279
4. Gloomy Day Get Up
It's a gloomy gray day but you still want to be cute and comfortable. No problem: Grab a ribbed bodysuit and layer it under these fitted-cotton joggers by The Range. These sweats are perfect for lounging around the apartment and grabbing a glass of wine with your girls. Add a heeled sandal for extra height and throw on your favorite trench and trendy bucket hat to finish off the look.
Shop the pieces: 1. Rag & Bone Bucket Hat $150; 2. Suede Trench Coat, $70; 3. Dodo Bar Or Bodysuit, $390; 4. The Range Sweatpants, $250; 5. Jennifer Zeuner Earrings, $90 6. By Far Sandals, $408
5. Business on Top, Party on Bottom
Now that we're coming up on month one million of working from home, getting dressed for work looks a little different. But don't forget about the button-downs hanging in the back of your closet. Grab an oversized button-down and throw it on over a pair of joggers—it can be just as comfortable and roomy as any sweatshirt. Add a few accessories and pull your hair back, and you're good to go!
Shop the pieces: 1. H&M Oversized Shirt, $19; 2. Callie Claw Clip, $29; 3. Sophie Monet Earrings, $150; 4. KeepCup Reusable Cup, $26; 5. Entireworld Sweatpants, $88; 6. Everlane Ribbed Socks, $45; 7. New Balance Sneaker, $80
6. New York Minute
On days when you're feeling like comfort is key, trade in your dark skinny jeans for a pair of black joggers. It gives off the same look but with more of a streetwear vibe. I love this cropped vest with the vegan leather blazer for an edgy city feel. Who says you can't look cool and comfortable at once?
It can also be a more affordable outfit with one of our COS promo codes.
Shop the pieces: 1. Rellery Huggies, $59; 2. COS Knit Vest, $125; 3. Nanushka Leather Blazer, $678; 4. Kozakh Necklace, $175; 5. Gildan Sweatpants, $12 6. Stella McCartney Mini Bag, $730; 7. Villa Rouge Boots, $195
7. Shoulder Pads
Add some structure to a pair of baggy joggers with a shoulder paneled sweater. It'll remain a cozy and comfortable look, like you were wearing a full sweat set, but now it's brunch-appropriate. Accessorize with slim sunnies, penny loafers and a quilted clutch to keep the look fashion-forward.
Shop the pieces: 1. Isabel Marant Sweater, $1,360; 2. Aj Morgan Sunglasses, $29; 3. Loeffler Randall Hoops, $67; 4. Wilfred Joggers, $88; 5. ASOS DESIGN Clutch, $24 6. Marc Joseph Loafers, $109
8. Cinched Waist
Sweats...but make it fashion. This Loewe corset-belt has been seen everywhere, from the runway to the waists of the most fashionable street style stars. Amp up your basics by layering this corset over a pair of crisp joggers, a figure-hugging bodysuit, and a tailored blazer. It will cinch your waist and give you an exaggerated hourglass figure, all while breathing new life into your look.
Shop the pieces: 1. Contour Bodysuit, $26; 2. Frankie Shop Blazer, $340; 3. Cloverpost Earrings, $36; 4. BaubleBar Ring Set, $58; 5. Sir Sweatpants, $130 6. Loewe Leather Belt, $990; 7. Wandler Slides, $500
9. All Day, Every Day
Eventually, we'll need to leave our homes, but doing so does not mean you have to give up your sweats. This color-block P.E. Nation turtleneck sweatshirt paired with a form-fitting pair of sweatpants brings style and comfort together in a look that can be worn anywhere, from the mall to the movies. Grab your sleekest shades, a simple black fanny pack, and a trendy pair of slides, and you'll be ready for whatever the world throws at you.
Shop similar pieces: 1. P.E. Nation Knit, $210; 2. Calistoga Cat-Eye Sun Glasses, $16; 3. AnthrNike Joggers, $90; 4. Dagne Dover Fanny Pack, $85; 5. Tod's Leather Sandals, $451
10. Matchy-Matchy
The sweatsuit is the new tracksuit, and a matching sweat set like this Nike one is a game-changer in a world where style and comfort have become one. The multicolor top adds just the right amount of color to the look, and the patches throughout add a dose of style. Make the outfit extra matchy with a pink bucket hat and a chic pair of sneaks and your sweatsuit style will be off the charts.
Shop similar pieces: 1. Nike Hoodie, $65; 2. UO Bucket Hat, $10; 3. Everlane Cotton Tee, $13; 4. Nike Sweatpants, $90; 5. Gucci Sneaker, $890
11. Business As Usual
Even those of us who prefer to dress on the fancier side need an excuse to rock sweatpants every once in a while, and a monochromatic look is the perfect way to do so. Wearing a neutral blazer with a basic top and simple accessories will dress your outfit up on the top. When you put on your neutral bottoms to match, people won't even notice they are sweatpants. Complete the look with a killer pair of combat boots and you'll be swimming in compliments.
Shop similar pieces: 1. Everlane Blazer, $180; 2. H&M Crop Top, $5; 3. Tory Sport Sweatpants, $138; 4. Mejuri Hoop Earrings, $150; 5. Prada Combat Boots, $790
12. Sporty
If sporty style is your go-to, this is the outfit for you. While the sweatsuit may be the new tracksuit, that doesn't mean the track jacket is out of style. Keep the top sporty with an athletic crop top, and mix it up on the bottom with a bit of tie dye. Your look will be screaming '80s nostalgia, and a scrunchie will be the cherry on top.
Shop similar pieces: 1. Adidas Track Jacket, $48; 2. Athleta Crop Top, $59; 3. Unemployed Denim Sweatpants, $88; 4. Pieces Satin Scrunchie, $6; 5. Nike Sneaker, $59
13. Casual But Cute
When wearing sweatpants, there is a fine line between being casual-but-trendy and looking a little too "comfortable" to leave your house. To avoid crossing this line, be sure to pair your sweats with more fashion-forward pieces, like a bold puffer jacket, a pair of bulky sneaks, or colorful shoulder bag. You can also throw on a trendy classic, like a graphic tee, to add a little extra style to this casual look.
Shop similar pieces: 1. Free People graphic tee, $78; 2. TNA Super Puff Jacket, $225; 3. Peanuts x Marc Jacobs Gym Pant, $195; 4. JW Pei Shoulder Bag, $39; 5. Fila Sneaker, $65
Celebrity news, beauty, fashion advice, and fascinating features, delivered straight to your inbox!
Taylor Ayers is a fashion editor at Marie Claire, covering the new editorial fashion trends, looks, and contemporary styles.