Editors handpick every product that we feature. We may earn commission from the links on this page.
Sweatpants Styling Ideas: Outfits You Can Wear From the Couch to Brunch
Or just on the couch. You do you.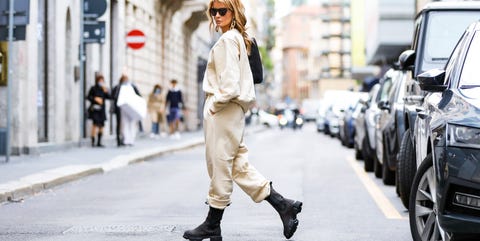 Streetstyleshooters
Getty Images
Sweatpants were made for cozying up on the couch (and occasionally going to the gym), but they're so much more than that. This closet staple doesn't have to look frumpy: Not only are there form-fitting options that make them look stylish, but there are numerous ways to style your joggers, even your slouchiest pair, that will make you look and feel like a fashion icon. So, as your residential sweatpants expert (and yes, I am wearing sweatpants right now), trust me when I tell you this: Whether you're looking for a chic, business-appropriate fit, want a sportier feel, or are looking for something that can take you from the couch to a mimosa-laden brunch, sweatpants are an option. These outfit ideas will forever change your sweatpants game.
This content is created and maintained by a third party, and imported onto this page to help users provide their email addresses. You may be able to find more information about this and similar content at piano.io