The Most Memorable Fashion Moments From 'Killing Eve'
In another life, Villanelle would've made a killing as a fashion influencer.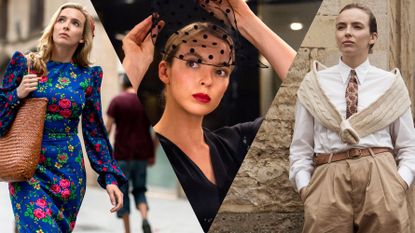 (Image credit: BBC)
Killing Eve, currently in its third season, is one of the best shows on television—and one of most stylish shows of all time. Particularly because creator Phoebe Waller Bridge with her iconic dark wit doesn't force viewers to choose between two irresistible topics: espionage and high-fashion.
It's a series about a brazen, female assassin with a closet we'd kill for. It's a show about a murderess with a penchant for expertly-tailored pantsuits that will leave you breathless. It's a heart-stopping cat-and-mouse game between two beautifully dressed star-crossed "lovers." You can't go wrong.
Thanks to the show's three costume designers, Charlotte Mitchell, Phoebe De Gaye, and, most recently, Sam Perry, the show has featured a dizzying number of chic looks, from bold, patterned frocks to elegant outwear. And while Jodie Comer's Villanelle often takes the cake for her statement looks and chameleon tendencies, Sandra Oh's Eve Polastri and Fiona Shaw's Carolyn Martens both have a certain je ne sais quoi to their ensembles that act as the perfect foil to their stylish nemesis.

To pay homage to the show's A+ fashion game, we've rounded up the most memorable looks from Killing Eve.
1/26
The Dinner-for-Two Look
Taking gifts from killers is not encouraged—unless it looks as good (even wet) as this Roland Mouret dress that Eve wears in season 1, episode 5.
2/26
The Summer Friday Look
Being a killer is just as much about comfort as it is style, as Villanelle proves in Tuscany in season 1, episode 1, wearing a flowy Chloé top, denim cutoffs, and Doc Martens.
3/26
The Night Out Look
This Dries Van Noten suit that Villanelle wears in Berlin in season 1, episode 3, was so chic that Jodie Comer almost snagged it for her own closet, according to The Cut.
4/26
The Patterned Look
Season 2, episode 7, finds Villanelle in a plaid-on-plaid outfit that screams trendy yet approachable—minus the knife, of course.
5/26
The Moscow Look
Carolyn, you never cease to surprise us; starting with this fur hat from season 1 that she wears to go to—where else?—Russia.
6/26
The Borrowed Look
What's an assassin to do when she finds herself crashing a spectacular Italian fête with nothing to wear? Steal that Burberry hanging in the host's closest, like Villanelle did with this pale blue lacy frock in season 1, episode 1.
7/26
The Getaway Look
Villanelle closes out season 1 in a statement fuzzy jacket that makes being on the run look, dare we say, cozy.
8/26
The Funeral Look
Killing Eve costume designer Charlotte Mitchell revealed in a Q&A that she found this 2012 couture gown for season 2, episode 5, on a vintage auction site. Use it as inspiration for your next casual dinner party.
9/26
The Wedding Look
And the bride wore...tails! Season 3 kicks off with a disastrous wedding during which Villanelle was, unsurprisingly, dressed to perfection in a Comme des Garçons jacket with tails, a Simone Rocha bustier, and a Loewe brooch.
10/26
The Brunch-in-Bed Look
Only Chrissy Teigen could dare to rival Villanelle's enviable collection of silk robes. We'd kill to WFH in any of them, especially this luxe floral printed kimono from season 1, episode 5.
11/26
The Matchy-Matchy Look
While this red peplum pantsuit from season 2's finale isn't nearly cheeky enough to strike pitch-perfect Villanelle, it's still stylish enough to get some recognition on our list.
12/26
The Business Casual Look
We'd gladly look forward to more one-on-ones with our boss/the woman in charge of the unit trying to take us down if the meetings included expertly-tailored pinstripe blazers and chunky knit jumpers.
13/26
The Morning After Look
If this is what hungover looks like, then order us another round. Villanelle throws on this emerald duster for a night out in Amsterdam in season 2, episode 4. But it looks just as chic while lounging about the next day, regretting that bathroom brawl.
14/26
The "I Studied Abroad This Summer" Look
Make like Villanelle and take your fashion cues from your current city of choice. In season 3, Barcelona proves the perfect backdrop for this bold, ruffled dress from The Vampire's Wife.
15/26
The Statement Look
We only get a glimpse of this chic black blouse featuring statement sleeves and collar in season 2, episode 3, but we wouldn't be surprised to find several copycats on Zara racks in no time.
16/26
The Sexy PTA Look
Kudos to the Killing Eve costume designer for picking this geometric Karen Millen dress for Eve to wear in season 2, episode 3. Math has never been so sexy.
17/26
The Luxe Look
In Season 2, episode 3, Villanelle sports an unforgettable combo: a mauve Isabel Marant blouse, a horse-print Chloé blazer, and shiny silver pants. Because when you're telling your handler to F-off, a touch of whimsy always helps.
18/26
The Undercover Look
Villanelle's stakeout get-up in season 1, episode 3, consists of a leather, high-collar JW Anderson top and tortoise cat-eye sunnies. Styled with a top-knot, for that added spy-on-the-go touch.
19/26
The Retro Look
Villanelle has never been one to shy away from color or print, which doesn't seem to be stopping in season 3. Her mod La Double J retro dress and Golden Goose cowboy boots from episode 2 is meant to "evoke the blistering heat" of Barcelona, season 3 costume designer Sam Perry tells InStyle. Plus, it's always nice to coordinate your outfits with the wallpaper in the apartment your assassin-employing organization is paying for.
20/26
The Superhero Look
We said the most memorable looks, not just the most high fashion... These too-small pop-art PJs (taken from a young boy) in season 2, episode 1, encompass this show perfectly: absurdly funny and unbelievably disturbing.
21/26
The Understated Look
What more can we say about this custom polka dot veil? Smell ya later to the rest of my accessories.
22/26
The Stylish CEO Look
Carolyn is the queen of subtle, whether in her cloak-and-dagger moves at MI6 or in her luxe outwear, like this jewel-toned coat from season 2, episode 4.
23/26
The "I Love Fashion" Look
When a still from a series about a cold-blooded killer could double as a shot from Sex and the City, you know you're bingeing the right show. Villanelle dons this pink Burberry trench, striped slacks, Lanvin blouse, and Balenciaga boots for a post-murder shopping spree. Productive and stylish? Carrie Bradshaw could never.
24/26
The Studious Look
Villanelle should never be responsible for imparting wisdom on children, but we're here for her interpretation of professorial chic in season 2, episode 5. Costume designer Charlotte Mitchell explained that she was inspired by women like k.d. lang, who turned simple looks into powerful statements. Teach us your ways, please.
25/26
The "I Just Threw This On" Look
Villanelle has a way of making anything look like capital-F Fashion, and that includes this military coat she nicked from a homeless man in Paris while nursing a wound. While we can't cosign how she got the coat, oversized outerwear is a wardrobe staple, and this coat is great inspo.
26/26
The. Look.
Ah, the dress that launched 1,000 Pinterest boards. This frilly Molly Goddard chiffon frock from season 1, episode 2, has become synonymous with the show's spot-on dark humor and Villanelle's flair for drama.
---
For more stories like this, including celebrity news, beauty and fashion advice, savvy political commentary, and fascinating features, sign up for the Marie Claire newsletter.
Marie Claire email subscribers get intel on fashion and beauty trends, hot-off-the-press celebrity news, and more. Sign up here.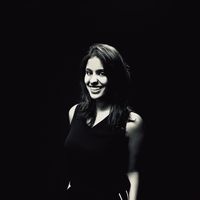 As Marie Claire's Entertainment Director, Neha oversees and executes strategy for all editorial talent bookings and culture coverage across the brand's print and digital entities, including covers, celebrity profiles and features, social takeovers, and video franchises as well as handles talent relations for MC's flagship summit, Power Trip. She's passionate about elevating diverse voices and stories, loves a hot-take, and generally hates reboots. She's worked in media for more than 10 years and her bylines about pop culture, film & tv, and fashion have appeared on Glamour, Vanity Fair, GQ, Allure, Teen Vogue, Brides, and Architectural Digest. She is a graduate of the Columbia School of Journalism.