The Most Iconic Rihanna Outfits of All Time
Bow down.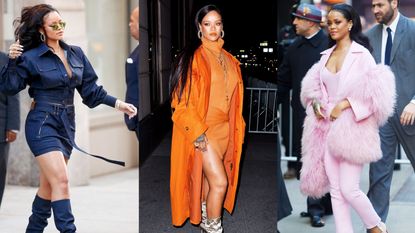 (Image credit: Getty Images)
Put simply, Rihanna is an icon. Her influence spans across every major genre in pop culture, from music to beauty to fashion. When Rihanna founded her label Fenty in 2019, she partnered with French luxury conglomerate LVMH to do so, becoming the first house established by the group since 1987. She also became the first woman of color to have a label under the LVMH umbrella. Rihanna's red carpet outfits have also gone down in fashion history: Who could forget the Guo Pei gown she wore to the Met Gala in 2015, or the sheer "naked dress" she wore to the CFDA awards in 2014? But what makes Rihanna a style icon is the fact that she doesn't wait for galas or award shows to take fashion risks—her street style is just as enviable and impressive. A fashion chameleon, Rihanna isn't afraid to experiment, and loves to take pieces straight off the runway and mix them up to make the look her own. Flip through the archives, and you can see that Rihanna's look has evolved over time—but one thing has remained constant is that she's always been true to herself, embracing fashion in tandem her own sense of personal style.
1/88
February 7, 2020
Rihanna is photographed outside Bergdorf Goodman for her Fenty x Bergdorf Goodman NYFW party.
2/88
December 9, 2019
Rihanna looks sleek in an all-black leather ensemble.
3/88
December 2, 2019
Matrix vibes in London.
4/88
October 13, 2019
We saw latex grace the Fall/Winter 2020 runway, but RiRi was ahead of the curve in this little latex number.
5/88
October 11, 2019
Seen outside of the Guggenheim Museum in New York, Rihanna attends the launch of her first visual autobiography, "Rihanna."
6/88
October 11, 2019
Comfortable and cute, Rihanna turned to neutral tones for her airport look. She topped off her casual ensemble with a large Dior tote that's great for travel.
7/88
October 10, 2019
In an all-white outfit carrying everyone's fave Bottega Veneta Pouch bag.
8/88
September 19, 2019
Spotted in Seoul, Rihanna pairs her Jacquemus look with Fenty sandals.
9/88
September 18, 2019
In green Fenty (via Instagram).
10/88
September 17, 2019
Rihanna wows in a white power suit at a Fenty Beauty event.
11/88
June 25, 2019
In Fenty before the BET awards.
12/88
June 18, 2019
Rihanna turns heads in head-to-toe Fenty as she heads into the Webster for the Fenty x Webster pop-up cocktail.
13/88
June 9, 2019
In a playful purple look.
14/88
May 23, 2019
Rihanna poses in front of her "Fenty" logo in Paris.
15/88
May 22, 2019
Rihanna hosts Fenty Launch on May 22, 2019 in Paris, France.
16/88
January 30, 2019
She kept things classic with this oversized blazer and slip skirt combo. This look is super simple and easy to recreate.
17/88
February 28, 2018
A Gucci moment at home.
18/88
April 15, 2018
Rocking Y-Project for Coachella 2018.
19/88
April 14, 2018
Stunting in custom Chrome Hearts for Coachella 2018.
20/88
April 14, 2018
Rihanna poses at her Fenty x Puma event at Coachella.
21/88
April 5, 2018
Rihanna attends Sephora's Fenty Beauty By Rihanna party in Milan.
22/88
May 7, 2018
The guest of honor heads into her Met Gala afterparty at Up and Down wearing Nina Ricci.
23/88
May 5, 2018
When your skirt is too short...wear it as a top.
24/88
May 5, 2018
Rihanna shuts it down in Dapper Dan X Gucci.
25/88
May 4, 2018
RiRi shows off her neutral-toned look on Instagram.
26/88
June 21, 2018
Attending the Louis Vuitton Menswear Spring/Summer 2019 show.
27/88
June 13, 2018
Rihanna is bold in gold while out in London.
28/88
September 10, 2018
Rihanna poses backstage at the Fent x Puma By Rihanna Spring/Summer Show.
29/88
October 3, 2018
In Sydney for a Fenty Beauty event.
30/88
January 21, 2017
Feminine AF for the Women's March.
31/88
March 23, 2017
Rihanna makes the case for a silk scarf worn over a baseball cap.
32/88
April 16, 2017
All that glitters is Gucci.
33/88
May 22, 2017
Looking like a boss in an oversized Matthew Adams Dolan suit.
34/88
September 9, 2017
The singer loves an oversized blazer. She opted to pair the menswear-inspired jacket with a pair of relaxed jeans.
35/88
September 8, 2017
In full denim out in New York.
36/88
October 13, 2017
Rihanna rocks a sporty look while out and about in NYC.
37/88
October 12, 2017
In Soho wearing a Tom Ford denim look.
38/88
October 11, 2017
The money shot in Off-White.
39/88
October 10, 2017
In a full Burberry fit at the SZA concert.
40/88
October 2, 2017
These Saint Laurent boots were made for walking.
41/88
December 6, 2017
Rocking an LBD topped off with a sporty jacket.
42/88
January 22, 2016
Rihanna made sure not to forget her matching red gloves before heading out in New York.
43/88
March 30, 2016
The singer looks chic as she steps out in Soho.
44/88
March 28, 2016
In a floral green Gucci set.
45/88
March 6, 2016
Rihanna turns heads as she heads to her seat in all-white during the Golden State Warriors Game.
46/88
April 4, 2016
Rihanna is seen leaving the dentist's office in a statement coat and leather pants. I wear that to the dentist too!
47/88
April 2, 2016
The pop princess pays homage to late Princess Diana in this vintage T-shirt from Chapel NYC paired with Manolo Blahnik denim boots, a Vetements jacket, and Miu Miu sunnies.
48/88
May 31, 2016
Rihanna took a break from her typical edgy look with this sweet floral dress. She finished things off with Stella McCartney shoes and a Dior bag.
49/88
May 25, 2016
Sporting a very sheer Gucci dress in New York.
50/88
June 24, 2016
Rihanna hits the club in London in this pinstripe denim look.
51/88
June 23, 2016
In an oversized black T-shirt and bold black boots.
52/88
August 19, 2016
Borrowed from the boys, Ri-Ri heads to Harrods in this Raf Simmons menswear oversized puffer.
53/88
September 5, 2016
Rihanna is seen in full denim while out in New York City.
54/88
September 5, 2016
This iconic Saint Laurent moment will go down in street style history.
55/88
September 6, 2016
Seen outside of Bergdorf Goodman for the launch of Fenty x Puma.
56/88
September 28, 2016
Pretty in pink backstage during the Fenty x Puma show.
57/88
September 28, 2016
Rihanna tops her sporty ensemble with a feminine pearl choker.
58/88
September 30, 2016
Outside the Spring/Summer 2017 Christian Dior show in Paris.
59/88
October 6, 2016
In a pair of boyfriend jeans and an off-the-shoulder sweatshirt.
60/88
October 7, 2016
Rihanna makes wearing heels on cobblestone look easy.
61/88
October 18, 2016
Mixing prints with ease.
62/88
January 9, 2015
Rihanna watches a boxing match in double denim and layered jewels.
63/88
February 12, 2015
Rihanna stops for a photo as she heads into the Yeezy Season 1 show.
64/88
February 13, 2015
Heading into Fendi's flagship store in New York for an event.
65/88
March 7, 2015
Rihanna wears a large puffer as she makes her way through JFK airport.
66/88
March 13, 2015
Rihanna kept things bold and bright for her appearance on Good Morning America.
67/88
April 1, 2015
Headed into Jimmy Kimmel Live wearing a blue Moschino suit.
68/88
May 7, 2015
Pictured in Brooklyn ahead of the Dior Cruise show in 2015.
69/88
May 15, 2015
Leaving the Bowery Hotel in a cool camo look.
70/88
July 13, 2015
Not your grandma's florals. The singer paired her girly floral dress with a loud Versace choker and a bold lip.
71/88
July 28, 2015
Rocking underwear as outerwear as she heads to the recording studio.
72/88
August 11, 2015
Pants, who needs 'em? Rihanna paired her casual hoodie with a sexy slip.
73/88
August 31, 2015
The singer channels the 80s in this pink Vivenne Westwood dress that she wore to her perfume launch.
74/88
October 2, 2015
Rihanna mixed her sweet pink dress with a pair of edgy latex boots for the Christian Dior show in 2015.
75/88
November 19, 2015
She amps up her simple black slip with an oversized shearling coat and fishnet tights.
76/88
January 25, 2014
Walking into the pre-GRAMMY gala at the Beverly Hilton wearing this sexy Alexandre Vauthier dress.
77/88
January 29, 2014
This orange Chanel suit pops on Good Morning America.
78/88
March 2, 2014
Seen outside of the Givenchy Fall/Winter show in Paris.
79/88
March 4, 2014
Rihanna is spotted at the Chanel Fall Winter show in 2014.
80/88
March 5, 2014
Rihanna rocks a shag coat ahead of the Miu Miu show in 2014.
81/88
May 9, 2014
Sitting courtside and looking sporty in a backwards hat and a DKNY jersey.
82/88
September 7, 2014
Heading into the Versus Versace show.
83/88
December 23, 2014
Rihanna braved New York's frigid winter weather in this bold blue coat.
84/88
June 16, 2013
Rihanna has made her love for boyfriend jeans clear. She paired this glitzy Stella McCartney top with a distressed pair.
85/88
September 4, 2013
Back when the Givenchy Rottweiler was all the rage. Rihanna keeps things simple with skinny jeans and a bold choker.
86/88
November 8, 2013
Rihanna goes full leather for dinner at Nobu in this Balmain jumpsuit.
87/88
November 22, 2013
Looking like a million bucks sporting a camo bucket hat as she sits courtside at the Golden State Warriors game.
88/88
October 1, 2012
These Tom Ford snake skin boots were a moment.
For more stories like this, including celebrity news, beauty and fashion advice, savvy political commentary, and fascinating features, sign up for the Marie Claire newsletter (subscribe here).
Celebrity news, beauty, fashion advice, and fascinating features, delivered straight to your inbox!
Shelby Comroe is the Credits Editor and Fashion Assistant at Marie Claire covering all things fashion and giving credit where credit is due. Check her out @shelbycomroe on Instagram if buying designer handbags is your idea of a retirement plan!