22 Comfy Jumpsuits You'll Never Want to Change Out Of
Brb, staying in this one-piece for a week straight.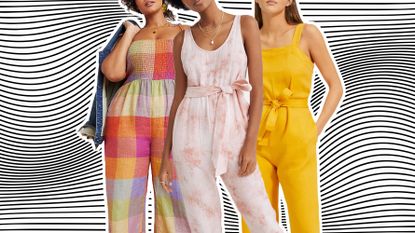 (Image credit: Design by Susanna Hayward)
Jumpsuits are one of my favorite articles of clothing, second only to slip dresses, because they don't require you to figure out the whole top-and-bottom combo. You just slip the loungewear-esque one-piece on, throw on some shoes, and go. The only downside to jumpsuits, as everyone knows, is the tricky bathroom situation. Thus, when you're shopping for a jumpsuit, which will basically render you naked in bathrooms, you might as well invest in one that's actually comfortable. (I've had my share of too-tight belted one-pieces, and it's not fun.) Look for jumpsuits that offer either a wide-leg fit or come in soft, breathable fabrics like cotton or linen. Better yet, look for jumpsuits that feel light as air and gently flow away from your body when you move. I've found 22 said comfy jumpsuits, so shop them ahead.
•••
For more stories like this, including celebrity news, beauty and fashion advice, savvy political commentary, and fascinating features, sign up for the Marie Claire newsletter (subscribe here)
1/22
Caslon Stripe Jumpsuit
A Stripe Jumpsuit
The easy jumpsuit you don't have to mull over how to style. Just throw it on with your favorite pair of sandals and head out the door. Stripes keep the jumpsuit from feeling too plain while the wide-leg cut and lightweight linen blend suits the summer weather.
2/22
Whimsy and Row Remy Jumpsuit in Tan Plaid
A Plaid Jumpsuit
This plaid jumpsuit is made from dead stock fabric (100 percent recycled cotton), which means you just saved it from being completely trashed. It has a relaxed fit with a drawstring waist to ensure the comfortable one-piece is not too tight and not too loose on your body.
3/22
Ulla Johnson Delphine Floral Print Cotton Voile Jumpsuit
A Floral Print Jumpsuit
The floral print on this Ulla Johnson jumpsuit was inspired by Panama's mola textiles. The one-piece has the brand's signature feminine ruffles along the sleeves and comes with tassel ties at the neck and waist so you can adjust the fit to your liking. I'll be loosening up the ties after a big meal.
4/22
Line & Dot Pavia Jumpsuit
A Backless Jumpsuit
This effortless jumpsuit has an exposed back to keep you cool in the summer months. Delicate ties hold the piece together and the minimalist vibes (no belts, heavy embellishments, etc.) makes the jumpsuit super easy to wear. Style it with flat sandals or sneakers for the ultimate laidback comfy outfit.
5/22
Splendid Dune Knit Jumpsuit
A Simple Knit Jumpsuit
Sweatpants for your whole body. This knitted jumpsuit is great when you're just laying around at home or running errands around the neighborhood. Since it's not flashy or overly trendy, this one-piece will stay in your closet for years to come.
6/22
PatBO Belted Floral Print Crepe Jumpsuit
A Peace Lily Print Jumpsuit
This jumpsuit will envelop you in summertime vacation vibes, whether you're actually traveling anywhere or not. The floral print is actually peace lilies, and the design was created in-house by the PatBO team, so you won't find it anywhere else. Style with a cool sunhat and wrap sandals.
7/22
Fendi Short Sleeve Utility Jumpsuit
A Short Sleeve Jumpsuit
For a jumpsuit that emanates understated style, check out this Fendi piece. It has short sleeves and flare ankles that leave you feeling free and unrestrained. Leather patches on the legs give it that luxe designer touch.
8/22
Madewell Tie-Dye Cover-Up Jumpsuit
A Tie-Dye Jumpsuit
Just in case you've been MIA on Instagram, everyone is tie-dying their own clothes. If dye-stained fingers aren't for you, though, might I suggest scooping up this blush colored cotton jumpsuit? The breezy gauze fabric is perfect for wearing in the summer sans bra or over your bikini top.
9/22
Nanushka Zuni Organic Cotton Jumpsuit
A Poplin Jumpsuit
This jumpsuit from Nanushka doesn't try hard to look cool—it just is. The material includes organic cotton poplin and features artfully designed, mismatched ceramic buttons. Muted tones like this cream color can serve as a base for your more colorful accessories.
10/22
Everlane The Linen Square-Neck Jumpsuit
A Linen Jumpsuit
A quick way to combat any heatwave is to slip into a linen jumpsuit. The material is soft to the touch and breathable, allowing you to walk, run, or jump in this one-piece with ease. Not a fan of yellow? It comes in several more colors.
11/22
Faithfull the Brand Frederikke Belted Linen Jumpsuit
A Puff-Sleeve Jumpsuit
This lavender wide-leg jumpsuit has puffy cap sleeves and a belted waist for a retro feel. (Fun fact: the one-piece is named after Danish model Frederikke Sofie.) Pair with cat-eye sunglasses.
12/22
Max Mara Leisure Comune Wrap-Effect Jumpsuit
A Wrap-Effect Jumpsuit
This minimalist jumpsuit will keep those easy weekend vibes going, even on a Monday. Max Mara's one-piece takes little effort to style and the wrap-effect front keeps the look simple but interesting. Wear with sneakers and a crossbody bag for your daily strolls.
13/22
Babaton Strapless Ruffled Jumpsuit
A Strapless Jumpsuit
Shoulder strap tan lines, begone! This ruffle jumpsuit comes in a variety of pretty colors, so you might end up buying more than one. The style works for any fancy occasion you may have in the future.
14/22
dRA Sierra Smocked Linen Jumpsuit
A Smocked Linen Jumpsuit
Picture yourself in this printed jumpsuit while laying out in the sun and enjoying a picnic with friends. The breezy wide-leg one-piece is made from 100 percent linen and the smocked bodice ensures a snug, but not super tight, fit.
15/22
9seed Igo Cropped Overalls
A Lightweight Jumpsuit
This jumpsuit is great for scorching hot days. Rather than wearing clothes that stick to your body, try this loose-fitted one-piece that will flow away from your skin—it's the closest thing to feeling naked.
16/22
Free People Hazel Mixed Print Jumpsuit
A Mix Print Jumpsuit
Your favorite boho dress in jumpsuit form. This flow-y one-piece essentially guarantees all-day comfort , just like your favorite piece of loungewear, but looks cute enough to step outside in at a moment's notice.
17/22
Guess Glad Wide-Leg Denim Jumpsuit
A Denim Jumpsuit
Denim jumpsuits can seem heavy, but not this one. It's made from chambray fabric and comes with feminine details like ruffles to soften up the look. Style with a bunch of gold necklaces and a bucket hat and you're good to go.
18/22
Weekend Max Mara Wrap-Effect Jumpsuit
A Wide-Leg Jumpsuit
You love your wrap dress to death, so why not give the wrap jumpsuit a try? This printed one-piece transitions easily from day to night too depending on how you accessorize it. Go with a sneaker or flat for the day and slip on your heels at night.
19/22
Sancia Lilah Floral Jumpsuit
A Breezy Floral Jumpsuit
If you love Australia-based fashion labels, you need this breezy floral dress from Sancia. It has a boho-minimalist aesthetic and the colors of this one-piece are warm and neutral, giving it an effortless ease that pairs well with pieces in your closet.
20/22
H&M Ankle Length Jumpsuit
A Beige Jumpsuit
For a basic, fuss-free beige jumpsuit, slip into this ankle length one-piece from H&M. It's wallet-friendly and does the job on days when you don't feel like getting dressed but still want to look presentable.
21/22
ASOS Design Wrap-Tie Leopard Jumpsuit
An Animal Print Jumpsuit
This leopard print jumpsuit will hang boldly in closet next to your stripes and florals. It won't take much accessorizing; the print makes a statement all on its own.
22/22
Tibi Cropped Belted Jumpsuit
A Pink Jumpsuit