10 Vintage Outfits Inspired by Classic Style Icons
These looks withstand the test of time.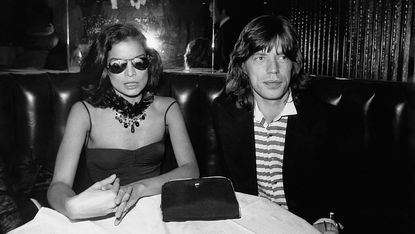 (Image credit: Getty Images)
When it comes to vintage dressing, the allure of a Studio 54 sparkly number will never fade. But beyond the glitz and glamour live some ensembles that will never go out of style—classic looks that have remained a constant among the ever-evolving trends. The beauty of a timeless outfit, no matter how "vintage" it may be, is that that you can easily recreate it with current pieces from your wardrobe. Here, you'll find 10 iconic outfits from style icons dating all the way back to 1965 and learn how to recreate them.
1. Bianca Jagger
The "It girl" of the '70s, the reigning queen of Studio 54, the Nicaraguan-born beauty, the wife of a Rolling Stone…Bianca Jagger. Often associated with the glitz and glamour of Studio 54 (think Halston and sequins), Jagger also loved a good suit. So much so that she got married to Mick in a Yves Saint Laurent Column skirt and the iconic "le smoking jacket." Fast forward eight years, and Bianca Jagger was papped in London wearing what would become one of the most iconic pantsuits of our time. She wore a doubled breasted pant suit from YSL's Rive Gauche line complete with a tuxedo-style shirt and a thin bowtie. Saint Laurent's Rive Gauche label is known to have influenced the rise of the women's trouser-suit in the '70s. This suit transcends the test of time and proves that tailoring will never go out of style.
1. Balmain blazer, $1,816; 2. Amavii Philip sunglasses, $195; 3. Amazon necktie , $4; 4. Thom Browne tuxedo shirt, $800;
5. Blumarine trousers, $303; 6. Saint Laurent Bianca sandals, $895.
2. Princess Diana
The off-duty look we all know and love would be nothing without Princess Diana's influence. That blazer and biker short combo Insta girls can't get enough of? Yeah, that started with Princess Di. The princess was a pioneer in athleisure and off-duty dressing, and this look in particular is just as relevant over 20 years later.
1. Madhappy sweatshirt, $165; 2. Isabel Marant Étoile blazer, $501; 3. AGOLDE jeans, $178; 4. Yankee hat, $17; 5. Isabel Marant boots, $790.
3. Carolyn Bessette-Kennedy
The allure of Carolyn Bessette-Kennedy's style: It was attainable and enviable at the same time. The Calvin Klein PR director was the ultimate '90s style icon. Even 20 years after her tragic death, Carolyn Bessette-Kennedy remains the pinnacle of understated dressing. Her wardrobe was flawlessly curated with a mix of avant-Garde pieces and casual basics. Bessette put her own personal spin on a black-tie dress code when she attended a benefit for the Whitney in 1999, wearing a Yohji Yamamoto mens' shirt that she twisted and tucked into a Yohji Yamamoto black skirt. A look that was simple yet groundbreaking.
1. Theory shirt, $150; 2. Styland skirt, $418; 3. Paco Rabanne bag, $316; 4. Manolo Blahnik sandals, $725.
4. Diana Ross
Diana Ross is the blueprint, the original diva who paved the way for our current favorite looks. From the '60s through the '90s up until now, Ross has been not only a style chameleon, but truly The Boss. Her performance looks were shimmery and show-stopping, her red carpet looks bold and fabulous. The one thing which remains constant is the fact the Ms. Ross loves a fashion risk—but her off-duty style is just as enviable. For example, take this belted leather number that she pared down with a classic trench and some slouchy boots.
1. Aritzia trench coat, $248; 2. RTA dress, $597; 3. Haney belt, $295; 4. Wolford sheer tights, $49; 5. Isabel Marant boots, $655.
5. Jane Birkin
Jane Birkin, as in the Birkin Bag, is the epitome of French-girl fashion. One cannot discuss Jane Birkin's style legacy without mentioning her most iconic accessory: the basket bag. Designers like Jacquemus and Loewe have paid homage to the iconic piece. All you need are a pair of flare jeans, espadrilles, a basket bag, and a white t-shirt to recreate her iconic look.
1. Pretties Baby Tee, $55; 2. AGOLDE jeans, $188; 3. Etsy basket bag, $50; 4. Castaner espadrilles, $135.
6. Aaliyah
Almost 20 years since her tragic death, the impact of Aaliyah's style still remains strong as ever. She would sport baggy pants with criss-cross bra tops, oversized windbreakers, bucket hats, tube tops, and tiny sunnies. This sporty yet sexy look has become a favorite among It girls today. Pictured here: One of her more laidback looks that proves a classic leather jacket and black jeans will never go out of style.
1. Topshop leather jacket, $320; 2. Commando bodysuit, $108; 3. Adina's jewels necklace, $88; 4. Frame jeans, $209; 5. Le Specs sunglasses, $79; 6. Sergio Rossi boots, $697.
7. Jackie O
Here's Jackie O in an iconic casual look while in Rome in 1968. The former first lady proves that even the simplest outfits can be effortlessly chic. Look like a style icon in a fitted t-shirt, tie a cardigan around your neck, add some cropped white trousers, and finish things off with her signature oversized sunglasses. Jackie O is seen barefoot in this photo, but you can complete your look with a pair of her beloved Jack Roger sandals.
1. Theory Tiny Tee, $120; 2. H&M cardigan, $13; 3. Max Mara trousers, $312; 4. Ray-Ban sunglasses, $154; 5. Jack Rogers flip flops, $128.
8. Kate Moss
A 19-year-old Kate Moss sported a sheer slip dress to an Elite modeling agency party and became the talk of the town thanks to the bold fashion statement. She paired her sheer number with black knickers and some flip-flops. A little over 20 years later, Fleur Du Mal has created its own version of the classic number. The brand added a detachable slip if you want to recreate the look but don't want to bare all.
1. Fleur du Mal slip dress, $695; 2. Commando briefs, $28; 3. Toteme flip flops, $350.
9. Sophia Loren
Take a note from Italian bombshell Sophia Loren: A one-piece swimsuit is extremely sexy. While today's bikinis are getting skimpier and skimpier, why not go for the vintage approach with a classic black one-piece that hugs and accentuates your curves? Add a simple sandal and the Amalfi Coast is calling.
1. Hunza G swimsuit, $170; 2. Tod's sandals, $595.
10. Brigitte Bardot
Brigitte Bardot redefined traveling in style as she headed to the airport in this all-black look. She paired her short skirt with an edgy patent leather coat and a leather newsboy cap. The style icon and sex symbol is famous for her floppy hats, mini skirts, sundresses, and barely-there bikinis; she also inspired the "Bardot neckline," which is an off-the-shoulder cut. So, if you've ever worn an off-the-shoulder top or dress, you've been inspired by Brigitte Bardot.
1. The Frankie shop coat, $149; 2. Everlane turtleneck, $35; 3. Brixton cap, $91; 4. Stuart Weitzman boots, $695; 5. Maje skirt, $121; 6. Wolford sheer tights, $49.
For more stories like this, including celebrity news, beauty and fashion advice, savvy political commentary, and fascinating features, sign up for the Marie Claire newsletter (subscribe here).
Celebrity news, beauty, fashion advice, and fascinating features, delivered straight to your inbox!
Shelby Comroe is the Credits Editor and Fashion Assistant at Marie Claire covering all things fashion and giving credit where credit is due. Check her out @shelbycomroe on Instagram if buying designer handbags is your idea of a retirement plan!