Editors handpick every product that we feature. We may earn commission from the links on this page.
Spring 2021 Handbag Trends You'll Wanna Grab Now
These will carry you (and all your stuff) well into next year.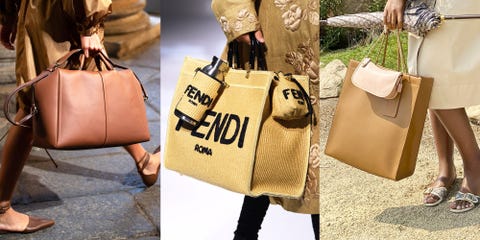 Though most of us embark on fewer outings these days, the need to schlep around our belongings remains. Whether we're carrying groceries, a bevvy of PPE, or essentials for a quick weekend getaway, women are still very much relying on our handbags. Designers debuting their Spring 2021 collections took note and left us no shortage of options, albeit ones with a more practical edge. While spring collections have historically been a place for summer vacation staples like straw totes and macramé shoulder bags, designers reminded us that the ways women spend their time outdoors shifted in summer 2020. Outdoor bar hopping was replaced by boozy brunch picnics with a select crew; farmer's market runs took precedent over laptop-schlepping daily commutes; and dressing up the mundane essentials, like water bottles, felt more novel than the micro bag trend of seasons past.
This doesn't mean a major shift in trends, but rather revisiting some tried-and-true trends and giving these styles a more practical purpose (as opposed to handbags sitting in a dust bag waiting to be paired with something other than sweatpants). At Marie Claire, we love practicality in fashion and making the trends make sense for us, so this is totally up our alley. We've taken apart the designers' offerings and shopped out styles that can work even now, while spring still feels so far ahead.
This content is created and maintained by a third party, and imported onto this page to help users provide their email addresses. You may be able to find more information about this and similar content at piano.io