Spring 2021 Handbag Trends You'll Wanna Grab Now
These will carry you (and all your stuff) well into next year.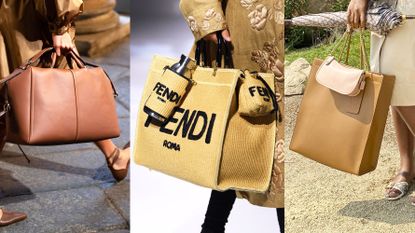 (Image credit: BRIDGET BURNS)
Though most of us embark on fewer outings these days, the need to schlep around our belongings remains. Whether we're carrying groceries, a bevvy of PPE, or essentials for a quick weekend getaway, women are still very much relying on our handbags. Designers debuting their Spring 2021 collections took note and left us no shortage of options, albeit ones with a more practical edge. While spring collections have historically been a place for summer vacation staples like straw totes and macramé shoulder bags, designers reminded us that the ways women spend their time outdoors shifted in summer 2020. Outdoor bar hopping was replaced by boozy brunch picnics with a select crew; farmer's market runs took precedent over laptop-schlepping daily commutes; and dressing up the mundane essentials, like water bottles, felt more novel than the micro bag trend of seasons past.
This doesn't mean a major shift in trends, but rather revisiting some tried-and-true trends and giving these styles a more practical purpose (as opposed to handbags sitting in a dust bag waiting to be paired with something other than sweatpants). At Marie Claire, we love practicality in fashion and making the trends make sense for us, so this is totally up our alley. We've taken apart the designers' offerings and shopped out styles that can work even now, while spring still feels so far ahead.
1/20
Water Bottle Bags
Not sure who needs to hear this, but single-use plastic water bottles are just not it. Instead, invest in a chic, refillable version with a fashionable carrier like these at Fendi (left) and Alyx (right) to make a real statement.
2/20
Runyon Bottle Bag
This woven leather water bottle purse honestly could not be more chic.
3/20
Kurt Geiger London Rainbow Shop The Quench
Staying hydrated can also be... glamorous? This rainbow metallic number is super fun and will no doubt be a conversation starter.
4/20
Louis Vuitton Bottle Holder
We all know hydration is a "good look," but this gives a whole new meaning to the phrase.
5/20
Jacquemus Le Porte Gourde Crossbody Leather Bottle Holder
Jacquemus made the micro-bag an internet sensation, so it's only natural for the brand's founder, Simon Porte Jacquemus, to give us a new novelty shape to covet.
6/20
Extra Large and In Charge Totes
Extra large leather totes are not a totally new trend, but boy, are they as timely as ever. Seen at Khaite (left) and Coach (right), these will be the go-to shape for grocery runs and quick weekend getaways and will carry you well into the following season.
7/20
FP Collection Leslie Leather Tote
This tote in mint green is a refreshing break from the usual neutral go-tos.
8/20
Dragon Diffusion Max Large Woven Leather Tote
A woven leather tote is the perfect transitional bag between seasons. The box-like structure takes it from vacay vibes to office-appropriate.
9/20
Unoeth Sheba Leather Tote
You're going to want to make this worn-in wonder your everyday bag. It even looks good when you don't have much in it—the slouchy-ness makes for a nonchalant, cool-girl attitude.
10/20
Cos Folded Leather Shopping Bag
This slouchy number looks great over the shoulder or folded and tucked under the arm if it's a little a less full.
11/20
Al Fresco on the Go
If this past summer's Instagram feeds showed us anything, it's that berry picking and picnics are the new brunch. Fendi (left) and Jacquemus (right) took notice with straw and rattan bags that can help take your dining experience outdoors in the chicest way possible.
12/20
L.L. Bean Allagash Pack Basket
This bag is bit more functional than trendy, but carrying lunch, a blanket, and just a few bottles of wine has never been easier.
13/20
Bembien Marfa Bag
This hands-free basket bag is chic for when you're berry picking (like everyone on Instagram this summer), and also when you're not.
14/20
sea & grass Handwoven Picnic Tote
Intended for a picnic, but which actually looks like a chic wicker bowler bag, this lined tote has great depth that can hold basically anything you'd need for a lunch or a day out.
15/20
Natasha Zinko Picnic Straw Tote Bag
Designer Natasha Zinko, known her for playful wardrobe staples, does it again with this practical and chic multi-compartment straw tote.
16/20
Duffel Or Nothing
In the spirit of toting lots of stuff around, try out a fab leather duffel for short trips or as a roomy handbag shape to carry run errands in. Max Mara (left) and Marni (right) showed this shape in sumptuous leathers that are pretty much impossible to resist, for both function and style.
17/20
Silver & Riley Carryall Duffle Bag
This classic leather duffle will be the go-to you'll grab for years, and the color and texture will only get better over time.
18/20
Away The Mini Everywhere Bag
Away shrunk down their go-to duffle style into an irresistible mini version that is surprisingly spacious.
19/20
Michael Kors Ginger Small Duffle Leather Satchel
This mini duffel in leather also has a crossbody strap to keep you feeling hands-free and fabulous.
20/20
Madewell The Prague Satchel
This top-handled duffle is the perfect size to double as an "out all day" bag or a simple overnighter.
Julia Gall is the former Style Director at Marie Claire, covering all things fashion, as well as styling tips, wardrobe upkeep and sustainability. Check her out at @juliasgall.