The Winter 2020-2021 Shoe Trends to Expect as the Weather Cools
Our favorite trends to invest in now.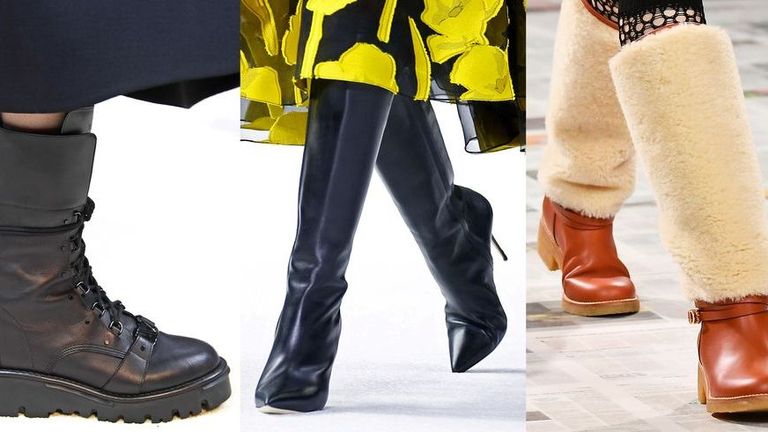 (Image credit: Marie Claire)
A heavy coat, a cozy sweater, and a new pair of boots are all you need when it comes to winterwear. As the seasons change, it's time to slip into something warmer—and this winter, boots come in all forms. We saw many style rule this season, from snow boots to shearling pairs and a new variation on the classic black boot. Which one will be your 2020 winter favorite? Brush up on this season's clothing trends, then take a peek at some of our faves below.
1/16
Shearling Boots
Brands like Dior (left), Prada, and Ferragamo showcased shearling styles this season, and with good reason—they're both warm and chic.
2/16
Tory Burch Ankle Boots
Pair this beige shearling boot with a tapered pant for a chic look.
3/16
Joie Women's Lorring Shearling Ankle Boot
Opt for this gray pair if you're looking for a new shearling style.
4/16
Brother Vellies Alps Boot
This color-blocked pair from Brother Vellies will keep you warm in the colder months.
5/16
Luxe Slippers
When Dolce and Gabbana sent thick, luxe socks with matching heels down the runway, it was one of the chicest shoe moments of fall. Opt for their luxe slipper (left) for a more comfortable (and quarantine-friendly) shoe choice.
6/16
Sorel Mail Run Slipper
The softest slipper on the market.
7/16
The Sleeper Cream Shearling Slippers
This shearling pair is equal parts cozy and chic.
8/16
Stella Luna Stella Slipper
This XL buckle gives this slip-on a chic upgrade.
9/16
Louis Vuitton Snow Boots
Perfect for your next ski trip, snow boots will keep you warm while staying stylish.
10/16
Moon Boot Lace-Up Snow Boots
The contrasting laces give this pair a sporty feel.
11/16
Moncler Insolux Suede and Shearling Snow Boots
This lace-up pair from Moncler has a bohemian vibe.
12/16
Cougar Verity Shearling Winter Boot
This waterproof pair is a must-have for the colder months.
13/16
Carolina Herrera Pointed-Toe Black Boots
The most versatile shoe choice, a black pointed-toe leather boot will pair perfectly with the majority of your wardrobe.
14/16
Steve Madden Women's Showbiz Stovepipe Boots
This pointed toe pair from Steve Madden will fit seamlessly into your wardrobe.
15/16
Vince Camuto Vila Ruched Boot
Pair with a mid-length dress to show off the ruching on this boot.
16/16
Balmain Gold-Tone Detail Pointed Toe Boots
This black and gold pair will be your new date-night pick.
Katie Attardo is the Accessories Editor at Marie Claire, covering all things fashion and jewelry-related.