The 10 Types of Boots for Women to Invest In
You'll have these pairs for life.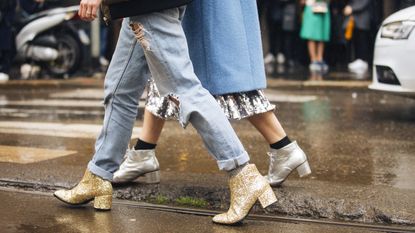 (Image credit: Melodie Jeng)
Just like you can never own too many white tees, you can never own enough boots. While you lean towards Chelsea boots, waterproof boots, or a shiny new designer ankle boot, there's probably at least one must-own type of boot you don't already have in your rotation.
We spoke with LA-based wardrobe stylist and fashion consultant Sarah Nearis about the types of boots every woman should consider keeping on rotation. Keep scrolling for a concise, digestible list of the boot types to try out (no peer pressure here)—or you can take the plunge and buy our favorites from the boots brands we love.
Ankle Boots
Stylist Sarah Nearis defines an ankle boot as "a boot that covers the whole foot and cuts off at the ankle or a little above." This style is a great option for the fall and spring when the weather is just beginning to cool down but may not be cool enough to warrant knee or thigh-high boots. I especially like wearing these with a pair of flared jeans―particularly when the boots have a bit of a heel.
Knee-High Boots
Nearis defines knee-highs as "boots that go to the knee or right below." This style might be my personal favorite, particularly when the weather gets cold and they add a much-needed extra layer of warmth. Aside from their functionality, knee-high boots can also make an outfit effortlessly chic.
Not sure what to pair with them? Nearis suggests wearing knee-high boots with dresses and skirts.
Platform Boots
Are you looking to add some inches to your everyday outfit? Platform boots should be your go-to. The trendy silhouette adored in the '80s and '90s is everywhere, so you should have no issue finding a pair you love. Choose from super-chunky options and subtler platform styles to customize your look. Plus, a reliable pair of platform boots can effectively replace the pair of uncomfortable heels you usually wear on a night out. You're most likely going to find that platform ankle boots are the most popular iteration available right now, and they come in every color you could imagine.
Chelsea Boots
This classic boot comes in all heel heights and toe shapes, but the most distinguishable feature of a Chelsea boot is its side panels. "A Chelsea boot is a great ankle boot that tends to have a more casual design," says Nearis." These are great everyday boots and usually have elastic panels, which make them easy to take on and off."
Fun fact: The first of this style was made by J. Sparkes-Hall for Queen Victoria in 1851 because she wanted a pair of non-lace-up boots, though the Chelsea boots as we know them today didn't become popular until the '50s and '60s. Now, they're a timeless wardrobe staple for both men and women, and there are many fun ways to style Chelsea boots.