Your Guide to a Minimalist Wardrobe
Start with these key pieces.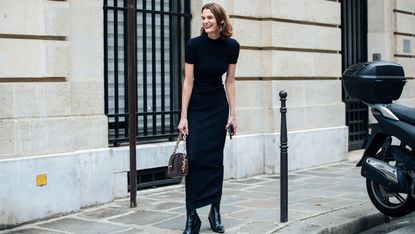 (Image credit: Getty/Melodie Jeng)
Raise your hand if you had a Marie Kondo closet-purge moment at any point in the last six months. Yup, me too. If there's one thing to take from this dumpster fire of a year we just had, it's the idea of a stripped-back wardrobe. (opens in new tab) It's finally 2021, and as we ease back into getting dressed I suggest going back to the basics (opens in new tab) and leaving over-the-top fashion behind. Minimalism doesn't have to be boring or break the bank—it's all about purchasing classic items and elevated basics (opens in new tab) that will never go out of style. From splurge-worthy coats to affordable luxe sweaters, here are the pieces to get you started.
1. A Classic Coat
A classic trench coat is a wardrobe must-have. This iconic item is never going out of style.
2. A Crisp White Button-Down
A white button-down can be worn in a million different ways. This simple yet chic item is a minimalist must-have.
3. A Black Blazer
Nothing screams minimal chic like an all-black look.
4. A Black Turtleneck
A black turtleneck bodysuit is a great layering piece come winter. Wear on its own with some black trousers or layer a classic blazer or trench on top.
5. Tailored Trousers
A pair of great trousers aren't just for the boardroom. Dress them down with casual knits and t-shirts.
6. A Simple Slip
A black slip dress is one of those pieces that will always come in handy. Dress it up with a pair of strappy sandals for a night out or layer a cozy knit on top and add a pair of boots for a daytime look.
7. The Perfect Pair of White Sneakers
A classic pair of white sneakers are comfortable, chic, and go with everything.
8. A Classic Loafer
Add some prep to your step with a classic loafer.
9. An Easy-to-Wear Jumpsuit
Jumpsuits are the perfect lazy-day hack—effortlessly chic.
10. An Easy Knit
You truly can't go wrong with a classic knit sweater in a neutral color.
21. Good Ol' Blue Jeans
This one is a given. Every girl needs a pair of classic blue jeans.
22. A Knit Dress
A knit dress is another super versatile piece. Wear it with a blazer and boots for a casual look, or some strappy sandals to dress things up.
23. An Everyday Bag
A sleek black everyday bag is a must. Minimalists tend to shy away from flashy logos and crazy hardware.
24. A Touch of Gold
Try some simple gold pieces to give your neutral wardrobe a little bit of shine.
25. Boots Made For Walking
If you're ever looking for minimal style inspo, Christine Centenera has it down pat. Take this classic pair of black boots, for example.
Shelby Comroe is the Credits Editor and Fashion Assistant at Marie Claire covering all things fashion and giving credit where credit is due. Check her out @shelbycomroe on Instagram if buying designer handbags is your idea of a retirement plan!