Your Guide to a Minimalist Wardrobe
Start with these key pieces.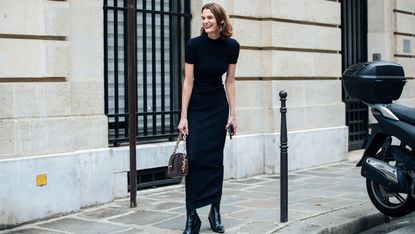 (Image credit: Getty/Melodie Jeng)
Raise your hand if you had a Marie Kondo closet-purge moment at any point in the last six months. Yup, me too. If there's one thing to take from this dumpster fire of a year we just had, it's the idea of a stripped-back wardrobe. It's finally 2021, and as we ease back into getting dressed I suggest going back to the basics and leaving over-the-top fashion behind. Minimalism doesn't have to be boring or break the bank—it's all about purchasing classic items and elevated basics that will never go out of style. From splurge-worthy coats to affordable luxe sweaters, here are the pieces to get you started.
1. A Classic Coat
When it comes to the products Marie Claire recommends, we take your faith in us seriously. Every product that we feature comes recommended by a MC writer or editor, or by an expert we've spoken to. Learn more about how we review products.
A classic trench coat is a wardrobe must-have. This iconic item is never going out of style.
Burberry The Kensington Heritage Trench Coat
A classic Burberry trench is worth the splurge. Buy it once and you'll wear it forever.
2. A Crisp White Button-Down
A white button-down can be worn in a million different ways. This simple yet chic item is a minimalist must-have.
Gap Perfect Shirt in Poplin
This blouse is the epitome of versatile. Wear it with jeans, layer it under sweaters, pair with a blazer—the options are truly endless.
3. A Black Blazer
Nothing screams minimal chic like an all-black look.
ZARA Buttoned Oversized Blazer
A black blazer can serve as a base for all kinds of minimal chic outfits. Try this one in a oversized fit for a casual, cool look.
4. A Black Turtleneck
A black turtleneck bodysuit is a great layering piece come winter. Wear on its own with some black trousers or layer a classic blazer or trench on top.
Wolford Colorado Thong Bodysuit
Wolford is known for their high-quality basics, like this turtleneck body suit.
5. Tailored Trousers
A pair of great trousers aren't just for the boardroom. Dress them down with casual knits and t-shirts.
Babaton High-Rise Cocoon Trouser
Give these trousers a more casual feel by styling them with sneakers and a white t-shirt.
6. A Simple Slip
A black slip dress is one of those pieces that will always come in handy. Dress it up with a pair of strappy sandals for a night out or layer a cozy knit on top and add a pair of boots for a daytime look.
7. The Perfect Pair of White Sneakers
A classic pair of white sneakers are comfortable, chic, and go with everything.
Veja Esplar Suede-Trimmed Leather Sneakers
These simple sneakers will be the chic finishing touch on any look.
8. A Classic Loafer
Add some prep to your step with a classic loafer.
Another splurge-worthy item to add to your wishlist: A pair of Tods loafers. These classic shoes will never go out of style, making them worth every penny.
9. An Easy-to-Wear Jumpsuit
Jumpsuits are the perfect lazy-day hack—effortlessly chic.
The Frankie Shop Linda Cargo Jumpsuit in Khaki Tan
This utilitarian-inspired Frankie Shop jumpsuit can be worn all year long. Layer a turtleneck underneath, throw a warm coat on top, and finish off with some boots for a winter time look. Pair with some strappy sandals and gold jewelry for an easy summertime outfit.
10. An Easy Knit
You truly can't go wrong with a classic knit sweater in a neutral color.
Uniqlo Women Extra Fine Merino Crew Neck Sweater
Uniqlo is a great option for elevated basics that look expensive but won't break the bank.
21. Good Ol' Blue Jeans
This one is a given. Every girl needs a pair of classic blue jeans.
RE/DONE Stove Pipe High-Rise Straight-Leg Jeans
Investing in one pair of jeans that fit to perfection is a better option than having ten pairs that don't. That's the definition of minimalist dressing.
22. A Knit Dress
A knit dress is another super versatile piece. Wear it with a blazer and boots for a casual look, or some strappy sandals to dress things up.
REMAIN Birger Christensen Joy Ribbed-Knit Midi Dress
This dress is a flattering choice with its plunging v-neck and tightly ribbed fabric.
23. An Everyday Bag