Lockets to Accessorize Your Summer Outfits With
The centuries-old locket gets a modern update.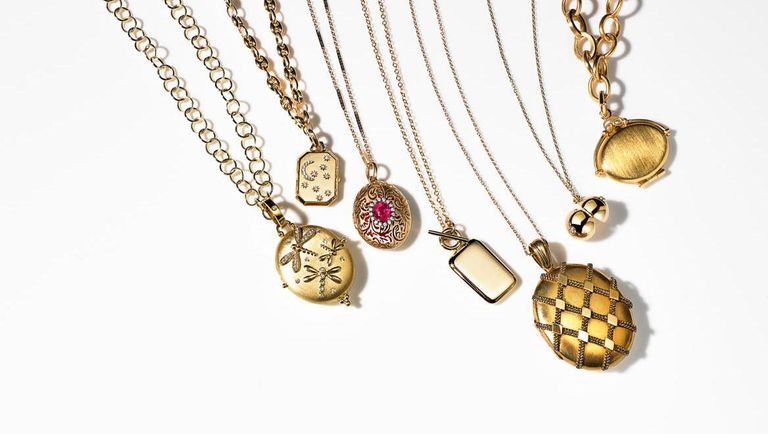 (Image credit: Jeffery Westbrook)
Lockets have been distinctly personal since becoming popular in the 16th century, but their history is perhaps more colorful than you realized. Though their most common contents were snippets of hair from a loved one, in the 1500s the necklaces could also hold bezoars (small stones from animal stomachs, believed to provide protection to the wearer). Legend has it that one even held the owner's own amniotic sac!
While filling lockets with body parts has fallen out of favor, streamlined silhouettes and shapes are in vogue. "Antique lockets were typically ornate, often with elaborate hand-engraved patterns. Contemporary lockets are usually simpler in design," explains Elizabeth Doyle, co-owner of antique and vintage jewelry boutique Doyle & Doyle and a jewelry historian. Today's quieter designs showcase the beauty of the materials and craftsmanship. Shop some of our favorites below.
1/12
Adina's Jewels Heart Locket Pendant
This heart locket with cubic zirconia star center will add a feminine touch to your look.
2/12
Soko Rectangle Medallion Necklace
Pair this locket-inspired necklace with shorter gold chains for a cool layered look.
3/12
Jennifer Zeuner Eliana Locket Necklace
This round locket has a delicate gold vermeil chain that will add a slight shimmer to your look.
4/12
Colette Astro Book
Make a print of your horoscope and slip it into this astrologically-inspired gold and diamond locket. Susan Miller would be proud.
5/12
Rokus London Le Coeur Necklace
Inspired by filigree sculptures from the Akan heritage, there's nothing else like this gorgeous geometrical locket on the market.
6/12
Ben Amun Heart Locket Necklace
Try this heart-shaped locket from Ben Amun for a style that comes in under $100.
7/12
Larkspur & Hawk Illustrated Arbor Eyelet Aromatic Locket
The perforated pattern on this necklace is designed so that you can add a fragrance to the locket that will last all day.
8/12
9/12
Doyle and Doyle Victorian Locket Pendant Necklace
The lattice pattern and braided motif on this vintage style make this locket super unique.
10/12
Temple St Clair 18K Dragonfly Locket
Adorned with pavé diamond dragonflies, there is plenty of room for an inscription in this gorgeous piece.
11/12
JESSIE V E Every Cloud Locket Necklace
With hanging pear-shaped diamonds, this cloud locket will be one of your most standout pieces.
12/12
Rondel The Victorienne
This antique-inspired, Victorian oval locket is perfect for engraving your or a loved one's initials. Take it a step further and add a special hand-engraved message inside.