Up-and-Coming Actress Sofia Boutella on the Powers of Making Your Own Jewelry
Apparently it can even ward off bad guys.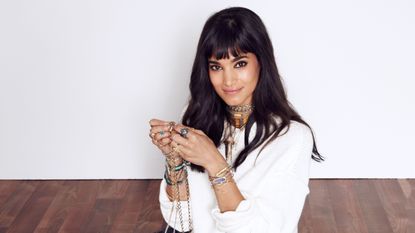 (Image credit: Emman Montalvan)
Marie Claire Newsletter
Celebrity news, beauty, fashion advice, and fascinating features, delivered straight to your inbox!
Thank you for signing up to Marie Claire. You will receive a verification email shortly.
There was a problem. Please refresh the page and try again.
Off set, Algerian actress Sofia Boutella makes jewelry meant to ward off bad guys—like her villainous character in this month's spy caper Kingsman: The Secret Service. Here, we chat with the 32-year-old actress about her therapeutic pastime.
On making jewelry: I started 10 years ago, at age 22. I wanted a choker and couldn't find one I liked, so I thought, I'll just make it.
On its cathartic effects: In Kingsman, I play a killing machine. I worked with an amazing stunt team who taught me boxing and Tae Kwon Do. I was way too busy to make jewelry. I work on it at home when I have the day off. The repetition gets you into a trance. It's therapeutic.
On where she shops supplies: In L.A., I go to generic bead stores like Bead Source, on Beverly. I've never bought real gold or real silver. I've never worked with diamonds. I would love to.
On her signature pieces: I make body chains that come from the neck, cross in the middle of your chest, then go around your waist. I mix them with feathers for a gypsy, bohemian style.
On gifting jewelry: When I give my jewelry as a present, I feel like I'm giving protection to someone I care about … I've given pieces to my mom, my aunts, my friends. I've even made bracelets for my dad and my uncle. They were like, "What?"
On why she'll never sell out: People started telling me, "Oh, my God, you should sell these." I said, "I'm not making a business out of this." It's very sentimental.
On the secret behind secondhand jewelry: When I was little, I went to the Sahara desert and met an older woman with beautiful earrings that came all the way down to her stomach. She told me, "For us Tuareg, jewelry is not meant for decoration. It absorbs negative energy that comes your way." So think twice when you buy a vintage ring!
This article appears in the February 2015 issue of Marie Claire, on newsstands now.
You should also check out:
Girl Spies Are Having a Moment, and It's Freaking Awesome
The Conversation Around Better Roles for Women in Hollywood Is Heating Up Big-Time
Celebrity news, beauty, fashion advice, and fascinating features, delivered straight to your inbox!