Kenneth Cole's Newest Campaign Features Real-Life Heroes
How's that for model behavior?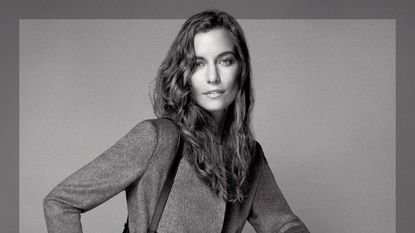 (Image credit: courtesy designer)
It's no secret that Kenneth Cole uses his platform as a fashion designer to raise awareness for causes that are dear to his heart—the longtime amfAR chairman has also built his own health center in Haiti. But his work doesn't stop there: this month, he's taken his quintessential New York brand's Look Good, For Good motto to a whole new level by debuting The Courageous Class ad campaign. And it's a good one.
The campaign showcases a group of real-life heroes (Andreja Pejic, Rhymefest, Topaz Page-Green, Jamie Clarke, and Jon Rose) who have overcome obstacles to follow their dreams.
"The Courageous Class needs a versatile wardrobe that provides security in the face of the unknown," he tells us. Which is why he created the "Urban Uniform" for fall— a collection of not-so-basic basics like belted sheaths, sleek trenches and chic booties that will stay in your closet forever. In the words of Cole: "If you look good, you will invariably feel good, and be more inclined to do good." Can we get an amen?
Check out the ads below:
Cole's newly re-launched site features videos that give us a glimpse into the lives of The Courageous Class: Pejic (who Cole knew through amfAR) is a transwoman and model who underwent gender-confirmation surgery last year. "Her success neatly coincides with, and embodies, a cultural and political mainstreaming of transgender identity," Cole says.
The designer also became acquainted with Rhymefest after seeing his film "In My Father's House" at the TriBeCa film festival in April, and the duo have since partnered on the film (alongside Kanye West, the hip hop artist founded non-profit Donda's House, Inc. to teach youth in Chicago's South Side creative writing and civic engagement).
Although the three remaining members of The Courageous Class were virtually unknown to Cole months ago, he was inspired by their stories and wanted to bring them to the forefront as well: Jon Rose, a former pro surfer, founded Waves For Water, which provides clean water to millions of people across the world; professional soccer player Jamie Clarke has represented England in countless tournaments even though he was born deaf; and former model-turned-activist Topaz Page-Green's organization The Lunchbox Fund provides 11,000 underprivileged students in South Africa with school lunch each day.
Page-Green insists that anyone can join her in being a member of The Courageous Class: "I hope that others realize that they, too, can be courageous," she says. "It's not just for a select few people…it's something that's in everybody's hands at all times. Things that are challenging are ultimately things that are rewarding, and just because something isn't easy doesn't mean you should give up on it."
To find out more about The Courageous Class, go to kennethcole.com.
Celebrity news, beauty, fashion advice, and fascinating features, delivered straight to your inbox!