Meet the Winner of This Year's DVF People's Voice Award
Here's who you voted victorious.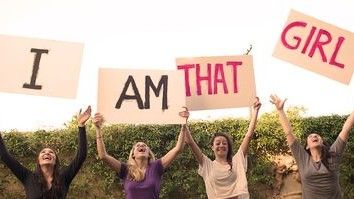 (Image credit: Future)
Marie Claire Newsletter
Celebrity news, beauty, fashion advice, and fascinating features, delivered straight to your inbox!
Thank you for signing up to Marie Claire. You will receive a verification email shortly.
There was a problem. Please refresh the page and try again.
This year's nominees for the prestigious DVF awards were an impressive group. But now that you've cast your vote, who claimed the title of People's Voice Award?
Meet Emily Greener, co-founder and executive director of I AM THAT GIRL. The once aspiring actress found her calling by creating a place for girls to come together in support of each other, where they can be vulnerable, speak honestly, and empower themselves by tackling issues that really matter. Since co-founding I AM THAT GIRL just 6 years ago, Greener has touched the lives of almost 1 million women around the world. Here, she talks to us about igniting a global movement, how social media affects the way we look at ourselves, and one thing every girl can do to empower herself every day.
Marie Claire: First off, tell us you got nominated for the award.
Emily Greener: That's one of the coolest things about this! I actually don't have any idea. Apparently there's a committee of people who spend the year looking for the nominees. We had no idea they were looking into us and checking us out. It was such an exciting surprise!
MC: Diane herself called personally to tell you that you'd won. What did you say when you found out?
EG: I just screamed. I was shaking.
MC: How did you and co-founder Alexis Jones get the idea to start I AM THAT GIRL?
EG: Alexis first had the idea in college. It was about 6 weeks away from launching when I met her at a party in downtown LA and we instantly connected. I actually originally moved to L.A. to pursue acting, but was really disheartened by the industry and the fact that talent and hard work didn't necessarily equate to success. I was in a bit of a lost place. But when I met Alexis, we clicked immediately—like best friends at first sight. That night we met, she openly told me her life story, and not a version that was wrapped in a pretty bow. She was super honest, talking about things she was embarrassed by and ashamed of and proud of, and I remembered thinking, "I can't believe this girl is telling me this, I'm a stranger." But after that I found started telling her all about me, in the same unguarded way. Eventually we thought to ourselves, why are we all going through the same thing—same fears, same struggles—and no one is saying it out loud? What would be possible if we did say it out loud? It was one of the first times I'd ever seen someone lead a conversation with vulnerability. Pretty much overnight I joined her.
MC: Wow! So how did it go from an idea to an actual business?
EG: We wrote a Craiglist ad to get writers and interns for a blog that was going to be about all things women—everything it means to be a girl: fashion, beauty, relationships, careers, school, depression, eating disorders, local, global, family, friends, and everything. Nothing was off limits. Within a few hours of posting our ad, we had over 300 applications. We knew then "Wow, ok, this isn't just us." So we hired 23 interns and sat in Alexis's living room and had our first "company meeting." We didn't know what we were doing, but we knew what we wanted to say, and the culture we wanted to create. We wanted it to be a space where you can be who you are instead of who you think you're supposed to be.
We told the girls we were going to ask them to be honest and vulnerable, that we didn't need everyone in the room to agree—that in fact, we hoped they didn't—but that we all had to respect each other. We had this amazing conversation about our vulnerabilities and the things that really matter to us and in our lives. It was like we're all waving this white flag, saying we're unarmed, showing our cards, which then gave everyone else permission to do the same. Three hours later girls were spreading wings and flying out the door. No one ever knew they needed a space like this, a conversation like this. That's when Alexis and I looked at each other and said, "We need to do this everywhere."
Over the next three years, we went on the road and spoke to over 100,000 girls in person. It unfolded organically. We kept directing people to the website to continue things, but finally we had a girl say to us after a meeting, "It's not fair, you changed our lives, we're having these conversations now that we've never had before. What are we supposed to do? You can't just send us online." So we asked her if she wanted to host conversations like that once a week in her community, and that's how we launched the idea of local chapters.
MC: What is the importance of having local, in-person chapters as opposed to just a digital presence?
EG: The peer-to-peer conversation is extremely important. After I talk to a group of girls they might be inspired, but then I leave and they keep living with their peers day to day. Making that conversation happen with the people they see every day in their community, not some adult who comes in for a hot second, is the key to changing their behavior and making a serious impact. We as people will do anything to fit in, to belong, not feel isolated.
That is how this became an organization and a movement. Girls, not people we hire, are running these meetings at a local level. They have taken it into their own hands. They find different girls their age in different areas, and they hold these meetings in dorm rooms and community areas—they find the spaces. We are just here to support them. We give them monthly leadership calls, ongoing leadership training, and mentorship. We're constantly pouring into our leaders who are then pouring into their peers in any given community. We don't charge anyone for it.
MC: How do you train the local chapter leaders?
EG: At a national level, we accept their applications, interview them, and then provide them with leadership training that teaches them how to facilitate conversation, how to create a safe space, how to have conflict in a respectful way, how to look for signs that something might be a little more serious than the room can handle, and how to take that to an adult or someone that can responsibly deal with that. We had one girl come in and say she was thinking about committing suicide, and the girls rallied around her, spoke to her mother, and her mother sent her to a rehabilitation center for help. Now, the girls write back and forth with her, remaining a constant source of love and support.
MC: Is there a specific age range that you focus on?
EG: We focus on high school and college age girls, 14 to 22, for several reasons. First, we want to be able to have all the conversations—we want to be able to talk to them about sex and about drugs, and about things that are going on globally that are hard to hear. We don't want to mask the conversations. Second, at that age range, it's easier for girls to find the time to create a community and meet weekly, whereas we found that when girls graduate it's harder for them to get together, logistically.
Most importantly, 14 is roughly the age when girls stop believing they can do the things they wanted to do before they got to 14. It's this crucial age where girls are crippled with the most self-doubt, and susceptible to the most isolation and bullying. They're learning how to go and be out on their own, but they're not quite adults yet. It's a tricky time.
MC: What issues do girls in that age range most care about?
EG: Well, there's the stuff that they want to talk about and the stuff that they need to talk about. The easiest things that girls want to talk about are things outside of themselves—something isn't fair, let's change the world, bigger, broader issues. But what they need to talk about, what they end up getting the most impact out of, is talking about whatever it is they're going through daily—what they're afraid of, what they're struggling with, what they've never told anyone before. That ranges from things like "I know I deserve a raise but I don't know how to ask for it" to "My boyfriend is treating me badly and I'm scared to leave him," from "My friends are bullies and talk about stuff I don't think is right, but if I'm not friends with them then who will I be friends with?" to "My grades are suffering and I feel stupid," stuff like that.
Then there is the other side of the spectrum. Things like "I have an eating disorder and I've never told anybody," "I'm being raped by someone I know and I don't know what to do about it," "I have depression or suicidal thoughts," drug abuse, violence…
MC: For people who have those more serious issues, how do you deal with that?
EG: The good news about the program is that because it's peer-to-peer, nobody in the room makes the assumption that the chapter leader is an expert in any way. Typically girls come to the group for support, and they say stuff like that out loud usually because they want the group to say, let's go talk to someone about this. And our leaders are immediately trained to then bring them to someone like a parent, counselor, advisor—a professional adult, and then whatever comes next is their own unique path. We're a community that listens to you and supports you and does what's in your best interest.
MC: Today, things like TV, magazines, and social media play a major role in how girls see themselves. What do you think is wrong with media today?
EG: Two things. One: a girl gets 3,000 messages every day telling her what she's not. We are a message she's getting celebrating who she is, and I would love for media to create more messages like that. I'm constantly working with brands and media who say they want to message positively to girls. Of course its important to have more strong roles for women on TV and in films, and less of an obsessive focus on beauty and unrealistic expectations, things like that. Two: we see media like we see food. You consume it, and it can be healthy or it can be unhealthy. And like food, it's fine to have a slice of pizza and a Snickers bar every once in a while, but if that's all you eat, you are comatose, and that's probably not a high functioning human being.
I feel the same way about media: yes, let's totally obsess over the latest [fill in the blank] and have fun doing XYZ, let's turn off our brains to consume garbage, but if that's all we're consuming, then our perception of reality is going to be skewed, and its going to create an unhealthy life.
MC: What is the best piece of advice you've ever received?
EG: It's okay to cry. I didn't believe it for a long time, but I teach vulnerability because its something that's still difficult for me. It's okay to let yourself experience emotions you may deem as weak. Don't push them away.
MC: When you feel down, what do you do to pick yourself up?
EG: I live close to the beach, so I like to go there when I'm feeling down. Nature makes me feel small in a really amazing way. It makes the things I'm feeling down about not seem so big. And my friends, my tribe, my girls, are everything to me. I have this incredible text chain with a group of my closest girlfriends where we're constantly getting super real. It's like our own little daily I AM THAT GIRL chapter. We pour our hearts out, and it makes us feel less alone.
MC: What is something girls can do every day to build self-confidence?
EG: Look in the mirror for 60 seconds. Just stare into your own eyes. After you look into the mirror for a certain amount of time, you start to see beyond your face and eyes and into who you are, and really connect with yourself. This is something I've done daily for a really long time, during hard times as well as happy times. I talk to myself, and say the things out loud that I wish other people would say to me, whether it's "I think you're really pretty" or "I think you're really smart" or "I'm so proud of you" or "I cherish you." If I wanted someone to ask me out I would literally say to myself, "I want to take you out on a date." It's anything and everything. It's super empowering.
MC: Do you think its important for girls to have role models, and find someone in their lives they look up to and aspire to be like?
EG: Yes, 1000 percent. You need to surround yourself with people you admire and aspire to be like. Girls in this community are my role models daily—no one inspires me like they do. After reading one email or doing one chapter visit, I'm completely rejuvenated and reminded why I do what I do. Even people like Diane, who are maybe less accessible day to day, but are setting an example and doing good by lending a hand out to someone like us. I wish there were more people like her, who have this massive platform and choose to use it in the way that she does.
MC: How did being nominated for the award change things for you?
EG: Diane's name has given credibility to our organization that has been nothing short of world-rocking. People are coming out of the woodwork to say, "Ok yes, I will take that meeting with you" or "Yes, I would like to donate." It's incredible.
MC: What do you plan to do with the $50,000 prize?
EG: To be determined. I have to talk to the rest of my team to see if there's something specific we can do to really make an impact. All I know for sure is it will go towards improving our existing program and getting I AM THAT GIRL in front of more girls, because they need to know it exists and a lot of them don't yet.
MC: What's your hope for I AM THAT GIRL 5, 10, 50 years down the road?
EG: Oh man. You know, the answer would be that IATG no longer had to exist because our culture is different. Utopia, I guess. More realistically, I'd say for us to be in every city in America, and in every community that would welcome us abroad and overseas. That we infiltrate pop culture and mainstream through brand partners and media partners that allow a girl to get just as many messages celebrating who she is as she does messages telling her what she's not. You know…world peace.
Follow Marie Claire on Instagram for the latest celeb news, pretty pics, funny stuff, and an insider POV.
Celebrity news, beauty, fashion advice, and fascinating features, delivered straight to your inbox!