Cool or Cuckoo? Fashion Says Two Pairs of Pants Are Better Than One
How are we supposed to feel about this?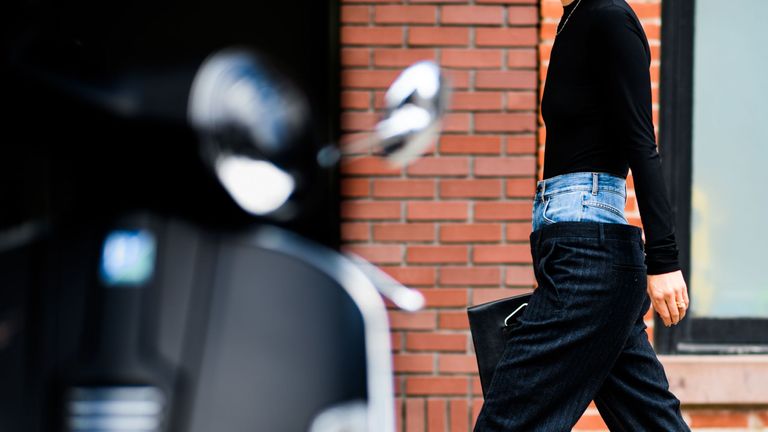 (Image credit: Tyler Joe)
According to internet lore, if you hear a gap-toothed Canadian sing about his daddy issues, you will feel an uncontrollable urge to make your pants look something like this:
Without the accompanying windbreaker and frying pan full of cancer sticks, that's not necessarily a bad move, given that the multi-trouser thing has jumped from the World Wide Web onto the road-as-runway, most recently seen at Alexander Wang this season. "Is Mica Arganaraz really wearing leather leggings under a denim diaper, even though getting horizontal to do up one zipper is already demeaning enough?" you ask. Yes, yes she is. (I mean, sorta—it's more likely than not trompe l'oeil.)
And in an extremely chic, actual street (style) application on Annina Mislin:
Maison Margiela, $1,245
BUY IT: farfetch.com.
That's the main point: the illusion of effort carried off with absolute ease, unless you've had a bushel of cruciferous vegetables for dinner. But for those who'd like to save themselves even the trouble of a not-terribly difficult DIY or digging out the ol' Chase Sapphire, there's always an elastic waistband. The following Pants Squared outfit, as seen during Berlin Fashion Week, is reminiscent of athletic warmups or that one dude in your weight-lifting class who's dressed like it's the first day of NFL pre-season training.
Shop similar: Adidas, $40
BUY IT: asos.com.
The sheerness of the basketball shorts against the tracksuit bottoms makes it, but because nothing can beat no pants at all, the most straightforward approach is to think like a married, middle-aged man. Cargo pants? Bootcut jeans? Nah—zip-off...khakis.
Follow Marie Claire on Facebook for the latest celeb news, beauty tips, fascinating reads, livestream video, and more.