How 'Project Runway' Contestant Ayana Ife Is Making Conservative the New Cool
The muslim designer refuses to believe that modest and sexy are mutually exclusive.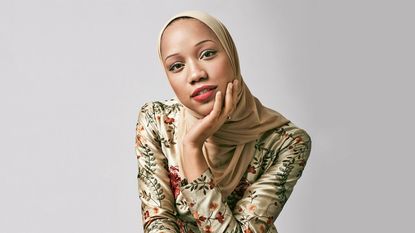 (Image credit: Kinya)
Marie Claire Newsletter
Celebrity news, beauty, fashion advice, and fascinating features, delivered straight to your inbox!
Thank you for signing up to Marie Claire. You will receive a verification email shortly.
There was a problem. Please refresh the page and try again.
You know what they say about one man's trash...Well, for Project Runway season 16's "unconventional materials" group challenge, contestants had no choice but to turn it into treasure. Tasked with creating outfits from materials fished out of bins at a Queens, New York, recycling center by Marie Claire Editor-in-Chief and guest judge Anne Fulenwider to promote sustainable fashion, the designers were off to a daunting start. But not 27-year-old Ayana Ife, who got her bachelor's degree in apparel design from Middle Tennessee State University. "My mom was a seamstress when I was younger," she says, "so I'd pick up her scraps and make doll clothes out of them, or remake the hand-me-downs I got from my sisters."
[pullquote align='C']"I couldn't find any Western-style clothes with a modest edge, like distressed jeans but lined."[/pullquote]
As a Muslim, the Salt Lake City–based designer couldn't find cool clothes that kept her covered in adherence to religious rules. "Growing up, I mostly wore long, loose-fitting, burka-type garments. When I entered the working world, I realized that didn't fit every environment. But I couldn't find any Western- style clothes with a modest edge, like distressed jeans but lined," she says. Refusing to believe that modest and sexy were mutually exclusive, she began designing pieces that, worn together, would cover the body from head to wrist to toe, but that more adventurous clients could opt to wear separately. (When lingerie slipdresses were trendy, Ife made her own full-coverage, negligee-inspired version.)
After mentor Tim Gunn showed up at the workroom to survey the designs of Ife and her four teammates, he deemed the group's overall look incohesive. It was Ife's long-sleeve fringed maxi dress with bodice detailing (made from vinyl, plastic, tray covers, bottle caps, and paint) that eventually pulled the collection together—winning them the challenge and her teammates' votes when asked to pick a single winner among the group. "The dress was deeply chic, and I didn't even know that she was trying to design modest fashion!" says Fulenwider. Adds former MC Creative Director and Project Runway judge Nina Garcia: "Ayana's strength is that she's able to contour her materials and use texture to express some- thing about the woman herself, instead of rely- ing on flesh to make a statement." Now that's a statement in and of itself.
This article appears in the October issue of Marie Claire, on newsstands September 19.
Celebrity news, beauty, fashion advice, and fascinating features, delivered straight to your inbox!
Megan DiTrolio is the editor of features and special projects at Marie Claire, where she oversees all career coverage and writes and edits stories on women's issues, politics, cultural trends, and more. In addition to editing feature stories, she programs Marie Claire's annual Power Trip conference and Marie Claire's Getting Down To Business Instagram Live franchise.