Emma Watson Named New Face of Burberry
The 19-year-old British actress, best known for her role as Hermione Granger in Harry Potter, will star in Burberry's fall advertising campaign.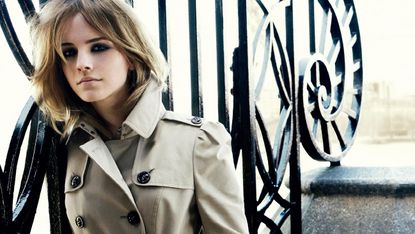 (Image credit: Archives)


Emma Watson has long been a fan of Burberry, having sported the British fashion house's wares both on and off the red carpet. Now the iconic brand is returning the favor—in the ultimate manner—by tapping the 19-year-old British actress, best known for her role as Hermione Granger in Harry Potter, to star in its fall advertising campaign.
"I wanted the images to represent both the rich history and the modernity of the Burberry brand whilst at the same time reflecting a quiet beauty, timelessness and strength that is particularly significant today," said Burberry creative director Christopher Bailey of the timeless, full-color images photographed by Mario Testino. "Emma's charm, intellect and brilliant sense of fun made the whole shoot feel like a picnic on the Thames."
Watson is joined in the campaign by five British guys from the worlds of film, music art. They include actors Douglas Booth and Tom Hughes, models Charlie France and Nick Wilson and model and deejat Tom Guinness.
All were shot in Westminster, in a historic part of London, not far from Burberry's new global headquarters Horseferry House not far from Big Ben and the Houses of Parliament.
Keeping in tune with the return to the brand's rich heritage and signature icons, the images feature Watson and her male counterparts outfitted in rich outerwear, including the time-tested Burberry trench coat, as well as eveningwear and tailored suiting. Accessories of note for fall include the Woolf bag as well as the Burberry snood scarf.
"Having known and admired the lovely Emma Watson for quite some time, she was the obvious choice for this campaign who like the images she fronts, has a classic beauty a great character and a modern edge," Bailey added. "I believe that these iconic images shot by Mario Testino will have longevity well beyond the season that this ad campaign represents."
Starting next month, shots as well as behind-the-scenes video footage from the shoot will be available to view on Burberry.com.