Big Girl in a Skinny World: New Twists on Classic Looks
Can a full-figured gal carry off sleek, classic clothing? Sure, she can. Here's how...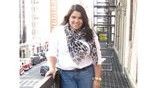 (Image credit: Future)
Hello Ladies,
Those of you who follow me on Twitter (@ashley_falcon) already know I was in New York this week for meetings, appointments, and a little bit of down time with good friends. Many of you have been asking for snapshots of my outfits, so I enlisted a good friend to snap a few pictures of the clothes I wore while running around the city. This week, I had classics on my mind. I mean, it's no secret that finding classic pieces is much easier than finding trendy ones. But unfortunately, an all-classic outfit leaves most curvy girls looking quite bland—not to mention sometimes looking older than they are. My solution: Spice up your classics with trendy pieces.
1. The White Button Down
Wear one with black pants and you might be mistaken for a waiter. Try wearing your button down with a pair of jeans, rolling up the sleeves, and adding a printed scarf or a pair of statement shoes. Keep this classic staple fresh by adding of-the-moment items.

2. The Tweed Jacket
This look is one that could easily teeter into "stuffy" territory. But that's not to say that a tweed jacket can't look very young and chic. The key is to pair it with a pair of ripped or trendy jeans and booties. A trendy necklace will also serve to spruce up the look.
3.The Cardigan
Try an updated version of this wardrobe classic to keep from looking like a grandma. Find a cardigan with visual interest like ruffles, embellishments, or structured sleeves.
Remember, avoid turning classic items into a stuffy uniform—work with what you have to make them your own! Do you have any favorite ways to tweak classic wardrobe staples? Let me know!
-Ashley
YOUR BIG GIRL IN A SKINNY WORLD