Big Girl in a Skinny World: How to Wear Prints
Ashley shares how to wear prints so they flatter the body.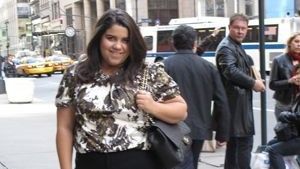 (Image credit: Marie Claire)
Hello Ladies,
Last week, I posted photos of some of my favorite ways to spice up classic wardrobe pieces, and this week I'm tackling the right way to wear prints. Prints can be very confusing for women (What's cool? What looks ridiculously out of style? Not to mention what's flattering!), and many times plus-size girls in particular tend to shy away from printed looks. The keys to pulling off prints are moderation and mixing. You certainly don't want to overload on a print and end up looking like your grandma's couch, or like you have a curtain wrapped around you (Sound of Music, anyone?). The best way for a curvy girl to wear a print is to pair it with a solid (I, of course, am a big fan of black). Beware of too-small prints; they can make you look bigger than you are! A few prints that work for curvy girls:
1. The Dark, Abstract Print
I pair this top with just about anything in my wardrobe. In this instance, I had just come from a meeting and was wearing it with a pair of black rolled-up trousers. Darker abstract prints are all-occasion appropriate!
2. The Watercolor Floral
This print is a springtime favorite! It can easily be paired with a pair of jeans or a pencil skirt. A colorful print helps to break up the monotony in an all-black outfit and can bring life to your wardrobe.
3. The Tribal Print
This tribal look is so of the moment. I have seen this pattern on just about every runway and every starlet lately, and it is always nice when us curvy girls can get in on the fun! While I love this skirt, it must be said that the blazer is what really ties the outfit together. (It creates a nice long line in the center.)
So go ahead, ladies, pick up a few printed pieces while you're shopping and try them on! A little print will go a long way this spring. Do you have any favorite printed items? Need advice on a particular kind of print? Let me know!
-Ashley
YOUR BIG GIRL IN A SKINNY WORLD
Celebrity news, beauty, fashion advice, and fascinating features, delivered straight to your inbox!