Collaboration Nation: Eddie Borgo at J.Crew
CFDA Award winner Eddie Borgo teams up with J. Crew for a special capsule collection.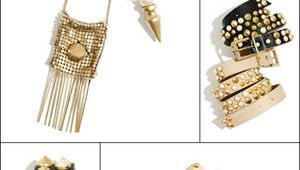 (Image credit: Courtesy of J. Crew)
We're unabashed suckers for young jewelry designer—and recent CFDA Award winner (for the Swarovski Award for Accessory Design)—Eddie Borgo's punk-chic treasures. Though his signature cone-studded bracelets and bear-trap rings would seem intimidatingly tough at first glance, their minimalist polish and luxe finishes make them wearable classics that garner infinite compliments (and trust us—we're speaking from experience).
He's a favorite among NYC's most buzzworthy ready-to-wear designers, too, having teamed up with everyone from Jen Kao to Jason Wu on special accessories. So when we learned that Borgo had joined forces with J.Crew, we were duly intrigued. We adore the polished retailer's cashmere tees and the jeweler's edgy wares, but how would these two aesthetics mesh? In short, Borgo's six-piece, limited-edition lineup is everything we could have wanted and more. From the studded bow pins to the fringed pocket necklace, we love every item—and at around $95-$175 each, all are more affordable than the designer's primary-line pieces.
Our personal favorite pick? The strand of pearls adorned with a single golden spike—a smart balance of preppy and punk. Shop the collection at J.Crew's website or at select stores—but hurry, as the pieces are bound to sell out faster than, well, the snap of a bear trap.